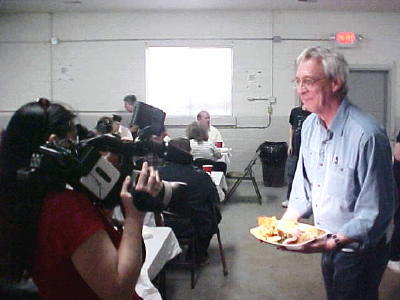 TV producer Steve Provence says UWFs Ramp Dinner has ...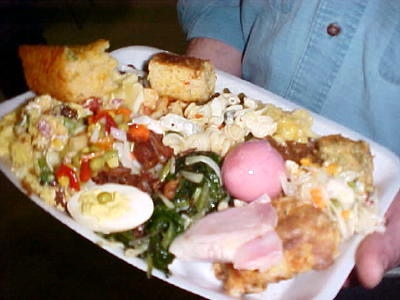 ... an "obscene amount of food."
By Bob Weaver
Steve Provence came to Calhoun last spring to sample some ramps and country cookin'.
The documentary filmmaker traveled five thousand miles, replaced two sets of front brakes and installed new bearings on his van chasing down one of West Virginia's delicacies - the ramp, wild leeks that pop through the snow in early spring.
His "King of Stink" ramp festival documentary weaves a tale of food, fest and celebration.
Provence and his documentary team visited Calhoun's famous Upper West Fork Ramp Dinner. His Calhoun stop was part of a project that included stops in four states, filming in 15 locations.
"We had no script, no formulated plan in mind other than to give viewers a feel of what it's like to attend a mountain ramp supper," Provence said. "That meant, number one, the food they'd expect to find and how it was prepared."
"The fellows in Chloe had to dig their ramps in six inches of snow," he said. "You'll never see a better plate of food, piled high and deep than here."
He learned that Calhoun folks, during these long winter nights, dream of spring and the small joys that bring life to the spirit.
Longer days and the warming of the earth, the budding of trees and the spring rains, but most of all it is the ramp, the wonderfully wild West Virginia leek, that means that spring is here.
Lots of folks consider it to be a spring tonic. Cleans the system, you know.
The "King of Stink" uses the words of local folks who celebrate the centuries-old springtime tradition of foraging for the wild greens from deep mountain hollows.
Gourmet chefs and urban "foodies" are now discovering this rare seasonal delicacy and it can be found on the menu of some America's finest restaurants.
The Upper West Fork Ramp Dinner draws hundreds of "out-of-town" visitors for a potent ramplicious taste of down home cooking, bluegrass music and nostalgia.
Provence filmed behind the scenes preparations from diggin' to cookin', said Michelle Sears, who helps with the festival. She said Provence and his crew joined right in and helped dig and clean ramps, peeled potatoes, and helped cooked.
"The West Virginia Bureau of Tourism told Provence that the ramp dinners at Chloe was one of the biggest and had a reputation for "an obscene amount of food," Sears said.
The bountiful event at the Upper West Fork Park is scheduled for April 9 at 4 p.m.
Chloe is a short distance from I-79 Big Otter exit, north on Rt. 16.
You can see a clip of the PBS special on the Golden Lion Media web site www.goldenlionmedia.com and you can buy a copy, but surely you'll watch the entire show on WV-PBS on March 2 at 9 p.m.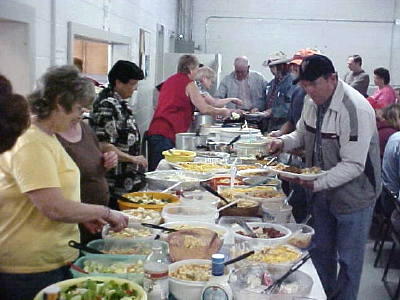 The Upper West Fork Ramp Dinner is April 9
at Chloe WV, starting at 4 p.m.