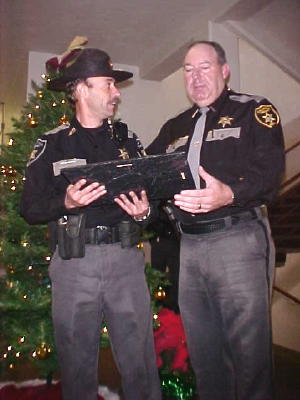 Carl Ballengee (L) honors Sheriff Allen D. Parsons (R) for his service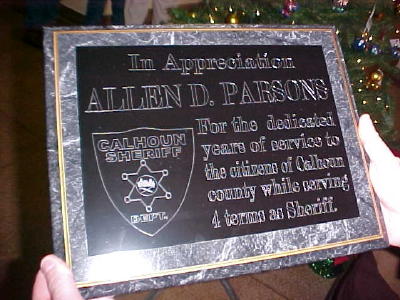 Plaque recognizes Parsons for his four terms serving Calhoun County
Sheriff Allen Parsons will be ending a long career in law enforcement at the end of the month, including four terms as Sheriff of Calhoun County.
Parsons, who is retiring, was presented a plaque yesterday by Sheriff-elect Carl Ballengee, in recognition of his service to the county. Ballengee said "I respect this man and have learned a lot from him."
Sheriff Parsons said "It has been a real experience for me. One I'll never forget. There have been a lot of hours up and down this roads. I thank the people of Calhoun for trusting me with this job."
A couple dozen county employees joined in the brief ceremony.