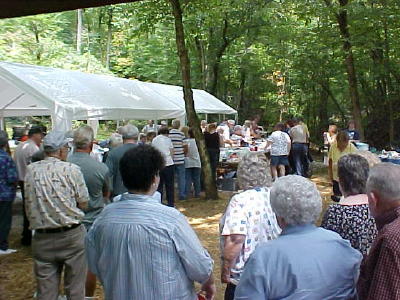 They came from far and wide, just like always ...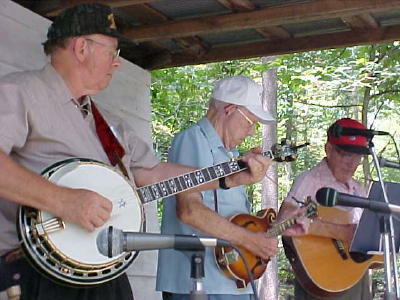 Music makers (L to R) "Tube Check" Parsons,
Woodrow Whytsell and Randall Whytsell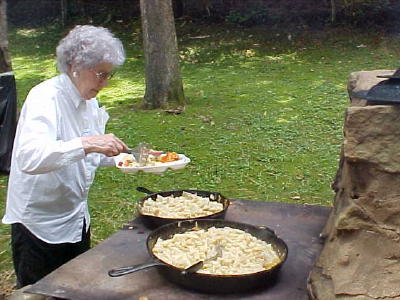 Dink Duskey heads for those cooked on the wood fried taters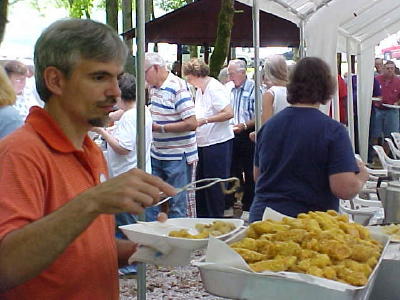 Jim Bell's fried fish is always a hit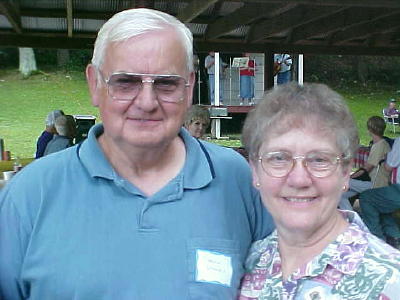 Marvin and Peggy Whytsell Stemple keep the famous reunion going
By Bob Weaver
It was the first Whytsell reunion in 25 years without Blanche, difficult to imagine after all these years.
It went on under the supervision of her daughter Peggy Stemple and Blanche's husband Randall (not to exclude Peggy's husband Marvin), with piles of fried potatoes in iron skillets, cooked to perfection on the fireplace.
Blanche, before she died earlier this year, left explicit directions, details, with Peggy about carryin' on with the reunion, including the potato fryin'.
The two large tables with A to Z country fixins', one for the reunion feast and the other for desserts, was an attention getter.
Guests also selected Jim Bell's popular fried fish and horseradish pickles. Someone ask Jim, "what kind of fish are they?" He said "dead." They're actually caught in Canadian waters, by Jim and his buddy Duck Stevens.
Randall always had fun kidding the attendees with Blanche standing nearby, saying "I worked real hard on these delicious dishes this year."
The reunion is held on the lower West Fork between long gone Rocksdale and Richardson, at the Whytsell Park. The park, situated in a grove at the mouth of a holler, was created by Peggy's 4-H endeavors back in the 1950s.
Randall and brother Woodrow, known musically as the "Whytsell Boys." sang their annual version of the well-known local tune "My West Fork Valley Home." It is likely that virtually every person in the park thought about Blanche.
Randall's friends, some of the area's mountain music makers, went to the stage to pick and sing throughout the afternoon, a customary event.
The photo albums of life from Joker and Hur to Rocksdale and Richardson attracts lots of folks, and many look at the "Whytsell Reunion Album" to discover the faces of dozens and dozens of folks who faithfully attended the event, but have now gone on.
Visitors bring their plastic jugs to fill with water from the cool, free-flowing Hart spring, named for Civil War renegade Nancy Hart, whose family once lived nearby.
Visitors bring chairs and visit under the shade trees most of the afternoon. It was a beautiful reunion day and things went along just like dear Blanche would have wanted.
The Whytsell's came from the Shenandoah Valley to Lewis and Braxton counties, settling in Calhoun during the Civil War, marrying into the Lynchs, Andersons and Starchers, among other early families up and down the Fork.
Randall's dad and mom, Edwin and Rettie Starcher Whytsell, were fixtures on the lower Fork for much of the last century, their home established in 1922 above the Village of Richardson.
All Calhoun reunions have great food and atmosphere, but many of them seem to be fading as a generational gap for such things seems to be happening.
Not so, at least yet, with this reunion, which welcomes not only family members but all their friends from far and wide.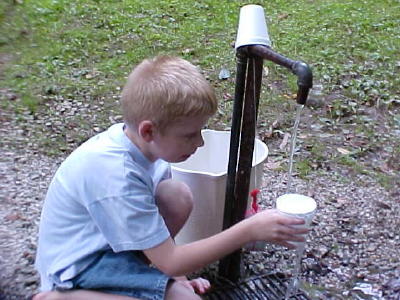 Riley Keaton samples the cool water from the Hart Spring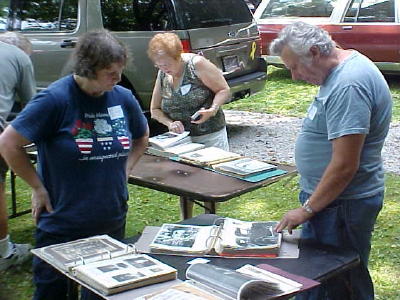 Old picture albums attracts lots of visitors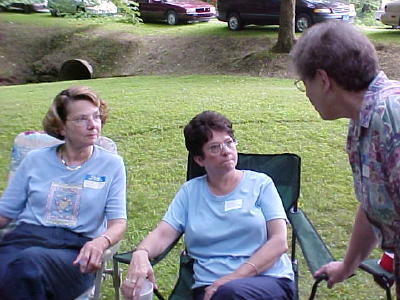 Peggy Whytsell Stemple (far right) visits with cousins
(L to R) Norma McCoy Kemp and Dottie Roach Williams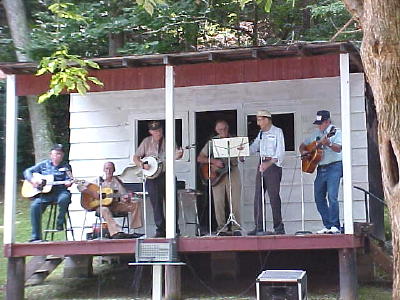 Music makers fill the stage throughout afternoon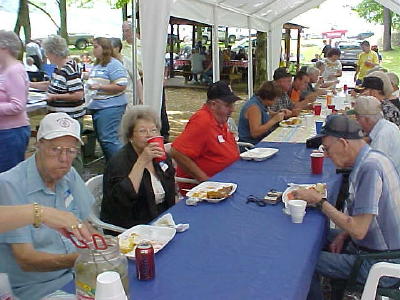 Another horseradish pickle lover dips in (far left)
with lots of folks enjoying reunion meal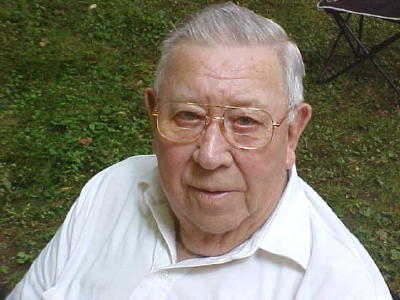 Victor Whytsell, one of the Whytsell Boys, still lives down on the Fork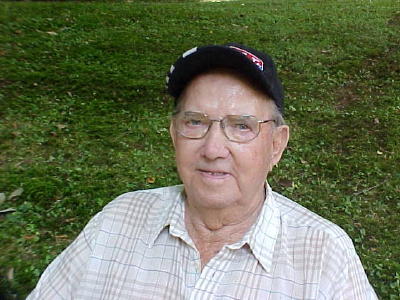 94-year-old Glen McCoy, former Calhoun school bus driver,
husband of the late Lizzie Whytsell, Randall's sister
REMEMBERING BLANCHE: A TASTE OF HOME (1921-2004)
Under People, Humor And History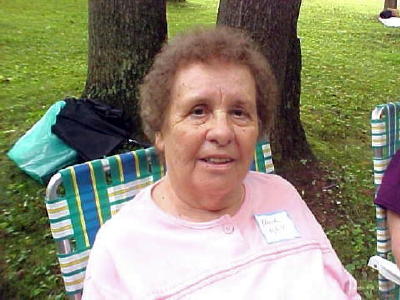 Blanche - Whytsell Reunion, 2003
By Bob Weaver
Blanche Whytsell may be best remembered for her biscuits, pies, cakes and country cooking, an art she shared with almost every activity in the community. From baking biscuits for the Molasses Festival to preparing food for families during special occasions, she would always deliver.
She took her cooking skills to a higher level, becoming a contributing editor of a national food magazine "A Taste of Home."
Last year she and Randall were the Molasses Festival King and Queen.
Others will remember the frequent phone calls to remind them of the upcoming Whytsell Reunion, which started years ago as a family affair but grew and grew to include most everyone up and down the West Fork and parts unknown.
"You don't have to be a Whytsell to be there," she said.
She and Randall looked forward to the event every year at the Whytsell Park, a short distance from their home on the lower Fork between long-gone Rocksdale and long-gone Richardson. She had been the postmistress to the last Richardson post office.
Randall has memorialized the place with his composition "My West Fork Valley Home," which he and his brother Woodrow have picked and sung publicly hundreds of times.
"They'll miss mom's potatoes," said daughter Peggy Whytsell Stemple, fried on the wood fireplace. Peggy said her mom requested a few more flowers planted at the park for future reunions. "I had clear instructions to keep the reunion going," she said.
Recalling my lifetime with Blanche, whose family has been part of my family ever since I can remember, is one of dedication to work, family and community. She showed up and helped, not only supporting her only child Peggy in dozens of youthful endeavors, but devoting time to 4-H, church and community.
I've always felt she would be there, because she always has been.
She was a strong, work-hardy and dedicated soul who, along with Randall, loved to garden and enjoyed their country roots and family history.
My mother Myrtle and her sister Thelma, rode to work with Blanche to the old sweater factory in Spencer for many years, usually cutting through the hills up bumpy Henry's Fork.
My mother and Thelma would become disgusted with Blanche because she never complained. My mom always had lots of aches and pains. They said "Blanche never has a headache. There's surely something wrong with her."
Peggy said she had little wrong health-wise during her lifetime, until last fall at the reunion when she began to have back problems. By Thanksgiving she had started going to the hospital.
She came home in late Winter, tired of being hospitalized, to spend her last days with her family and friends.
She quietly quit breathing yesterday.
Perhaps, most sadly with Blanche's passing, is a recognition of the fading families that once dotted the landscape along the lower West Fork of the Little Kanawha River, to be replaced by empty fields and woods.
Waiting for a future time, far distant, when a few souls will once again dig deep and create their special place, a West Fork Valley home.