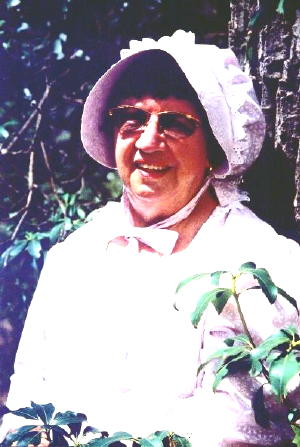 Calhoun County Community Outreach Services (CEOS) Council has selected Katheryn Burrows to represent Calhoun County as the Gilmer County Folk Festival Belle for 2004.
Katheryn's first appearance as the Calhoun County Belle will be at the Grantsville Lion's Club Wood Festival, June 3,4 and 5, and will be in the Wood Festival Parade. She will also be in the Gilmer County Folk Festival parade at Glenville, June 19. Katheryn and her husband, Coleman Gene Burrows, live in the White Pine area.
They are the parents of three daughters, Gail Warfield of Mogadore, Ohio, Sandi Rozonvsky of Kenna, WV and Leah Cheyney of Brunswick, OH. They have six grandchildren, as the license plate on their van proclaims.
Katheryn is the daughter of the late Jesse and Ethel Stump. She was born in Calhoun County, but grew up in the Sissonville area and is a 1952 graduate of Sissonville High School.
She retired from the Veterans Hospital in Brecksville, OH, where she had been employed as a Psychiatric Nursing Assistant. Upon retirement in 1988, she and her husband Gene returned to Calhoun County.
Katheryn is a member of the Pleasant Hill United Methodist Church. She is also a member of the United methodist Women and has been a member of the Pleasant Hill CEOS club for twelve years.
She enjoys reading, gardening, flowers, crocheting, weaving baskets and camping. Katheryn has also been a breast cancer survivor since 1979.