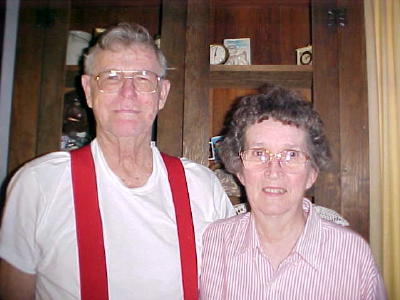 Virginia and Orvin Glenn Buck celebrate their 50th - "I tip my hat to the keeper of the stars, he sure knew what he was doin'...."
By Bob Weaver
"It has flown, flown by," said Virginia Ann Weaver Buck, celebrating her 50th wedding anniversary with Orvin Glenn Buck this past weekend in Grantsville. Dozens of family members and friends helped them celebrate the occasion.
"A highlight was my daughter-in-law Annie singing a favorite song "Keeper of the Stars," said Virginia Ann, the lyrics saying "It was no accident me finding you, someone had a hand in it, long before we ever knew..."
The couple attended school together, graduating from Calhoun High School in 1951. They have made their home in Grantsville all these years, she retiring from the Calhoun Bank after 31 years and he from Pennzoil after 36 years. They are both members of the First Baptist Church.
The Buck's are parents of two sons, Stephen and William. They have three grandsons, Jeremy, Michael and Jeffrey.
Virginia is the daughter of the late Oral Dewey and Oleta Marshall Weaver and he is the son of the late Vanna Buck Waldo and Orvan Buck of Columbus, Ohio.
Guests at the Buck anniversary had a chance to look at their large collection of pictures, stretching across the years. One interesting collectible was "The Old Woman Who Lived in a Shoe," a creation of their 6th grade teacher Edna Ferguson Swanson at Grantsville Grade School. The collage has pictures of all the students of the class. (See below)
"It was a wonderful day with our family and friends," said Orvin Glenn.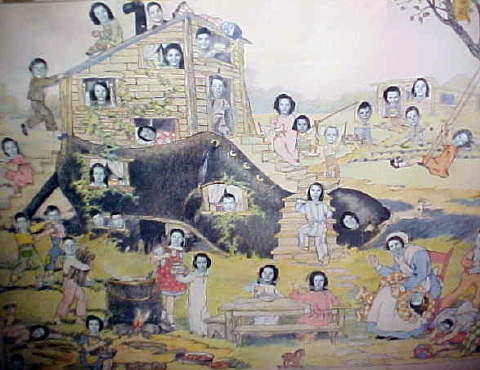 "The old woman who lived in a shoe" - 6th grade students in 1940s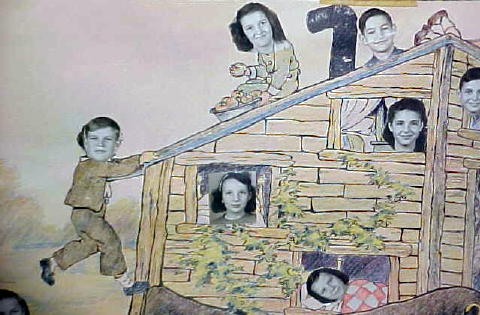 Hanging over roof is Orvin Glenn Buck, to his right on roof is Virginia Ann Weaver Buck and Robert Earl Bush; left to right below them, Betty Barr Blosser, Hazel Plant and Hoy Dobbins; lower is Freda Ball Whytsell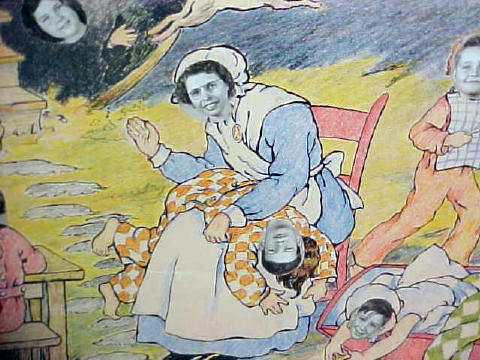 Teacher Edna Ferguson Swanson spanking Richard Hathaway (who drowned in 1950)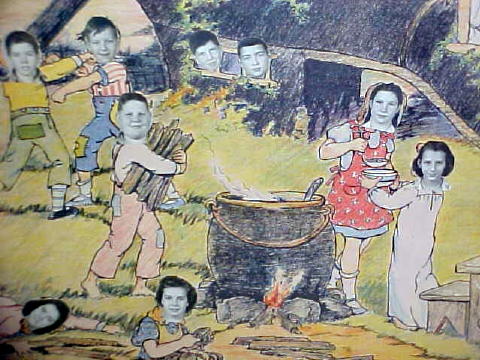 Top, left to right, Amos Burrows, Bill Summers, Denzil Whipkey and Charles Mosser; to left of pot, Denzil Leach, right of pot Kathryn Whipkey Heiney; below her, Annalene Smith Duskey; lower left, Carolyn Hathaway Doelling; far lower left Kitty Leggett