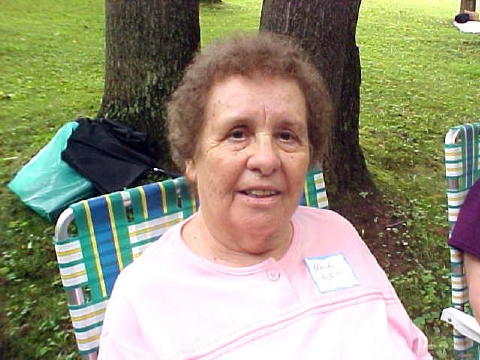 Blanche - Whytsell Reunion, 2003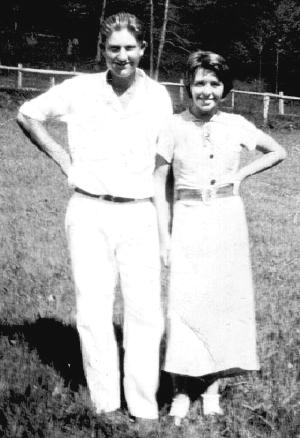 Randall E. and Blanche Parrill Whytsell
By Bob Weaver
Blanche Whytsell may be best remembered for her biscuits, pies, cakes and country cooking, an art she shared with almost every activity in the community. From baking biscuits for the Molasses Festival to preparing food for families during special occasions, she would always deliver.
She took her cooking skills to a higher level, becoming a contributing editor of a national food magazine "A Taste of Home."
Last year she and Randall were the Molasses Festival King and Queen.
Others will remember the frequent phone calls to remind them of the upcoming Whytsell Reunion, which started years ago as a family affair but grew and grew to include most everyone up and down the West Fork and parts unknown.
"You don't have to be a Whytsell to be there," she said.
She and Randall looked forward to the event every year at the Whytsell Park, a short distance from their home on the lower Fork between long-gone Rocksdale and long-gone Richardson. She had been the postmistress to the last Richardson post office.
Randall has memorialized the place with his composition "My West Fork Valley Home," which he and his brother Woodrow have picked and sung publicly hundreds of times.
"They'll miss mom's potatoes," said daughter Peggy Whytsell Stemple, fried on the wood fireplace. Peggy said her mom requested a few more flowers planted at the park for future reunions. "I had clear instructions to keep the reunion going," she said.
Recalling my lifetime with Blanche, whose family has been part of my family ever since I can remember, is one of dedication to work, family and community. She showed up and helped, not only supporting her only child Peggy in dozens of youthful endeavors, but devoting time to 4-H, church and community.
I've always felt she would be there, because she always has been. She was a strong, work-hardy and dedicated soul who, along with Randall, loved to garden and enjoyed their country roots and family history.
My mother Myrtle and her sister Thelma, rode to work with Blanche to the old sweater factory in Spencer for many years, usually cutting through the hills up bumpy Henry's Fork.
My mother and Thelma would become disgusted with Blanche because she never complained. My mom always had lots of aches and pains. They said "Blanche never has a headache. There's surely something wrong with her."
Peggy said she had little wrong healthwise during her lifetime, until last fall at the reunion when she began to have back problems. By Thanksgiving she had started going to the hospital.
She came home in late Winter, tired of being hospitalized, to spend her last days with her family and friends.
She quietly quit breathing yesterday.