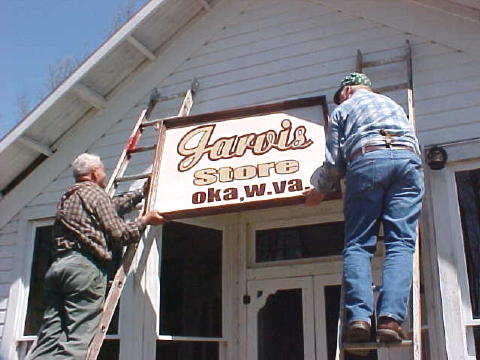 Sign is hoisted for old Oka store building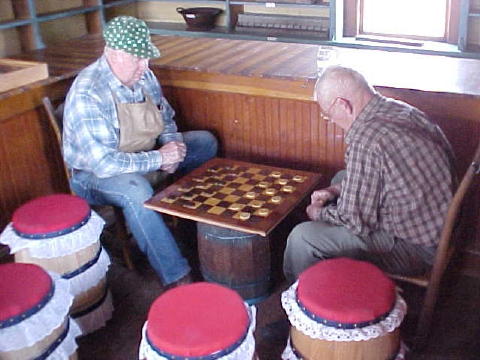 Jim and "Duck" play checkers, an activity held at early county stores
By Bob Weaver
"It's something to watch a couple of old guys like us hoist this sign," said Jim Bell. He and "Duck" Stevens lifted the heavy sign yesterday afternoon and attached it to the Jarvis Store, the latest addition of historical buildings to the Calhoun County Park.
"Duck" said "I'm 72 today," as he stretched up the ladder to hang the sign.
The Jarvis Store and post office was a fixture at Oka in the early part of the last century, and was later moved down the road to a newer site. The building was donated to the Calhoun Historical Society by Irene Jarvis Gunn last year, and the building was moved from the West Fork to the park on State Route 16.
It joins the restored Stevens one-room school, a longtime project of the historical society.
"A lot of work has been done to the store building," said Bell. "It's beginning to look pretty good inside and out. It's a well-built building, tongue-in-grove ceilings and counters."
Bell displayed his extensive nail and barb wire collections, after he sat down with "Duck" to play a game of checkers on the handmade checker board with handmade checkers.
He was proud of his nail kegs that "have been fancied up for good sitting."
Nearby on the counter is a large box used to sort and deliver mail.
Bell said he expects area residents to donate items that could be found in country stores.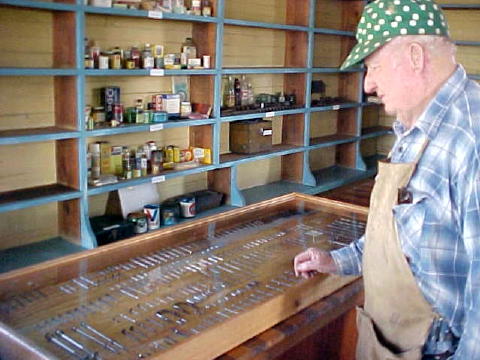 Bell displays his extensive nail collection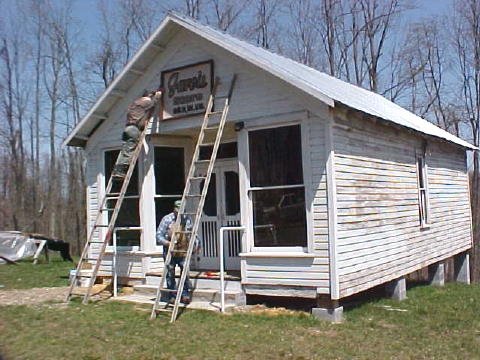 Work will continue on Jarvis Store, says Bell