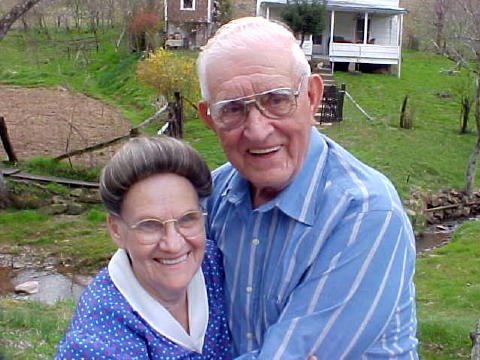 Denver and Pauline, always together after 59 years,
celebrating their anniversary Saturday, April 9th
By Bob Weaver
Driving down Annamoriah Creek in early Spring you will likely spot Denver and Pauline Garretson, always together, plowin' and diggin' and dropping seeds into their well-fertilized garden.
Pauline said at one time they grew about everything they had to eat.
"God has blessed our marriage and our lives over the past 59 years," said Denver. "I have never deserved such a wonderful woman as Pauline." She retorted with virtually the same comment about him.
They sat in their living room, smiling at each other.
Today they will be celebrating their 59th wedding anniversary. They were married in 1946 after Denver returned from World War II. "I wrote to her about every day when I was over in North Africa, Sicily and Italy and she wrote back," he said.
Denver was born up a holler from Cremo in 1919, the son of the late Robert and Mabel Dawson Garretson, with seven brothers and a sister "trying to make it on the farm."
Denver went out to work during the depression for the NYA program, helping build the stone structure that still stands above Grantsville along the Little Kanawha River.
"I walked down to Cremo, up Rowels Run, crossed the hill to Darky Fork, down lower Pine and over the hill to Grantsville," to get to work. "Had to get up pretty early. Hardly anyone had a car. If they did, they didn't have any money for gas," he said. It was about 12 miles or so "cutting through the hills." Later the NYA got a bus.
Denver went off to World War II, enlisting two days after the Japs bombed Pearl Harbor. "I was a gunner in a tank and things got pretty rough. I had some real friends with me in my unit, friends that would put their lives down for you."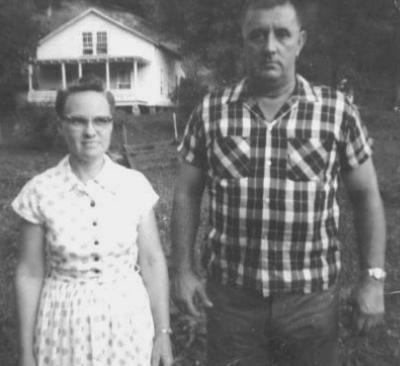 Denver and Pauline 42 years
ago on Annamoriah Creek (1963)
Denver and Pauline taken on Annamoriah Creek (2004)
"Many of them didn't make it," Denver said. "It's still hard remembering the faces and voices."
"I got seriously ill, losing weight and spitting up blood and had to be shipped back to America. I slowly recovered by drinking lots of milk." Denver later worked in a military hospital. He was discharged in 1945.
In 1956 he went to work at Spencer State Hospital as their barber, and retired from there after 24 years. But "I've always farmed and raised cattle," Pauline at his side. She said "I've always been a farmer and housewife."
Pauline was born in 1927, the daughter of the late Roy and Zela Morrison Cunningham. She was the only girl in her family, having four brothers.
They have lived in the same house in the narrow Annamoriah hollow these past 58 years.
Recently, Denver was injured in an accident with a truck. "I broke some ribs, but got well enough to go out and plant potatoes."
Denver and Pauline are frequent visitors to the Senior Center in Grantsville, and attend the Full Gospel Lighthouse at Big Bend.
They have a daughter and son-in-law, Jean and Don Cooper of Johnson City, Tennessee.
"Life hasn't always been easy, but God has provided," said Pauline, as they celebrate their wonderful life together.