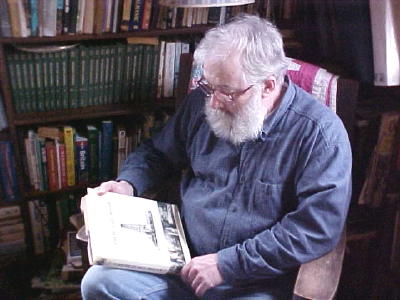 Alvin enjoys reading history of area in his library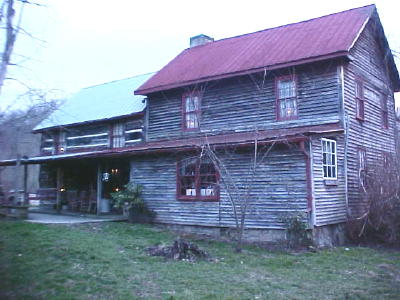 The sun goes down on Engelke's log cabin country home at Creston
By Bob Weaver
Alvin Engelke of Creston is a throw-back in time
He is well-connected to the sod of his ancestors, still living on an original homestead established in 1850.
He and his wife Nancy like old things, their log cabin home is filled with antiques and memorabilia of times past.
The Wirt County village in which they live is almost in Calhoun and Roane counties, a literal rock throw away.
They cling to the country and farm life on their 75-acre farm first settled by his great-grandparents, Francis and Eleanor DePue Hopkins, a short distance up the West Fork of the Little Kanawha River.
Engelke, who holds a degree in botany from the University of Wisconsin , is best known to area residents for his Creston News, a newspaper column which he has written nearly every week for over 25 years.
He also attended Glenville State College, where he graduated after studies in chemistry, biology and math.
"I have been amazed how many people have followed the Creston News," he said.
The column is a hodge-podge of personal items, oil and gas news and political commentary, and is published by the Wirt County Journal, the Calhoun Chronicle and the Hur Herald.
Engelke has not been without controversy when he has written about who is "sparking" who or about bad boy behavior up and down the narrow hollers.
The "personals" are newsy columns that appeared in small town newspapers since early America. They still exist in a few rural counties in West Virginia, reports of who visited who, who is on the sick list and how well gardens are growing.
He is known for his fictitious names, allowing the reader to wonder who he is talking about, filling in the gaps.
"They keep coming back to read it again," he said. He rarely departs from his well-known positions.
Some of Engelke's fans have complained about his personals, which are sometimes downright, well, frank.
We once asked him how he got by with such descriptive accounts without getting sued. He replied "It's hard to bring a lawsuit when its the truth," he replied.
His right-wing leanings and often provoking take on West Virginia and national politics stir up more detractors than you can shake a stick at, although many of his readers agree with his every word.
He grew up in a smaller cabin owned by his parents, Chauncey and Nellie Cottrill Engelke. That cabin has been expanded with the placement of a second log structure that once belonged to the Bell family and was moved from Rowel's Run in the 80's.
The old structures, among other additions, provide an expansive array of rooms for every purpose, from a sitting room, library and music room to living areas, kitchens and bedrooms, all reminiscent of a hundred years ago.
Engelke mostly likes to talk about the Creston that once was, a river-port village and center of commerce on the Little Kanawha. "I think I enjoy history and genealogy the most," he said, being an encyclopedia of information about families in Wirt, Calhoun and Roane.
While most of Creston burned to the ground in the early 1900s, Engelke said he lived to see the final activity die away."
"Captain Boyce had a service station, which still used "hand-pumped" gasoline pumps. They had to take the Captain out of the building to keep him from drowning in the flood of 1967," he said, ending the business which was originally operated by M. J. Belt.
"Our old barber Cliff Snyder would walk down the hill to his tiny little shop for many years," not far from where J. P. Campbell had his emporium.
"The Creston Store (building), which is still standing, was built across from where everything burned, and was in operation since the 1880s, sometimes as the post office, sometimes as a store."
"They had to close the store because the electric service is so bad around here, it wouldn't power the coolers," he said. "Sorta like the phone service that clicks on and off and cuts out a lot."
"We're not near a superhighway, you know."
Engelke said "It was a great experience working for the Department of Highways. I met some really good people. We even had some accomplishments that really helped the circumstances under which people have lived."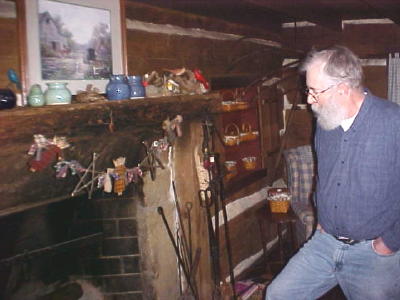 The house has more than one fireplace with rooms for all occasions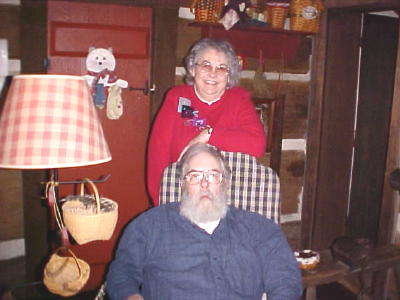 Alvin and wife Nancy "pose" for the story
He just retired from his position with the Department of Highways as County Supervisor for Wirt County and plans on spending more time with his oil and gas business, Creston Well Service.
Hopefully, Engelke will continue his Creston News for the lively response it has given to readers these many years.
"Some people even drive in here to get their name in the column. Would you believe that?" he concluded.
THE ENGELKE FAMILY
Alvin Engelke married Nancy Martin Engelke of Michigan in 1976.They have two daughters.
The Engelke's oldest daughter Jane is a graduate of WVU-Parkersburg with a Bachelor of Science in Business Administration. After working a few years for others she decided to follow in her fathers footsteps and go into business for herself.
Jane's passion for years has been pageants and that was what led her to opening Elizabeth Michael's in Parkersburg, a pageant and special occasion store. In addition to clothing, Jane offers pageant training with Kim Parrish, photography sessions and a place to have fun while shopping.
Jane is the Director of the Wirt County Fair pageant and is Co-Director of the new Miss Teen West Virginia Pageant.
Jane has held the titles of Miss Wirt County Fair Queen and Miss Parkersburg Homecoming Queen and was a semi-finalist twice in the Miss WV USA. She represented West Virginia in the National America's Miss pageant and won the people's choice award for that pageant.
Jane teaches a program called GOALS she developed based on the success of her life to the youth of the region. She also does television commercials for CAS Cable Company and has modeled in Atlanta. She is active in community work in Parkersburg.
Their youngest daughter Anna is a graduate of Fairmont State College with a Bachelor of Science in Business Administration. Anna is the adventuresome daughter of the Engelke's. She spent a semester in Hertford, England studying International Business and has traveled abroad to Italy, Ireland, and Scotland. While at Fairmont, Anna served as a Freshman Counselor and worked in the college recruiting office.
Anna now lives in Middletown, VA and works at Evergreen Health and Rehabilitation Center in Winchester, VA. She is in the Human Resource Office. Anna loves to read, ski and hike. Anna is a part of the "Funchester" group that takes "spontaneous" trips to different places. They recently visited New York City and will be going to Washington, DC soon.
Engelke has a brother George in Tennessee.