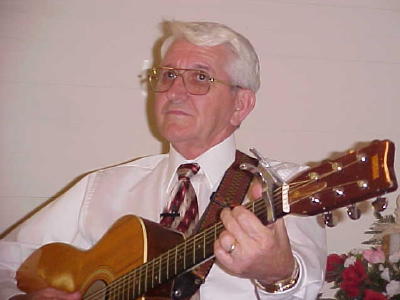 Carl Marks sings one of his old favorites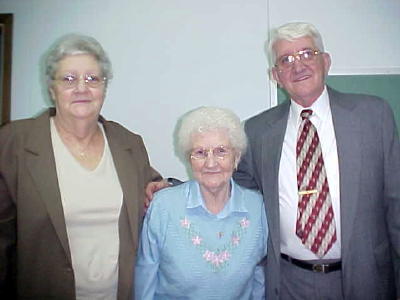 L to R: Wife Barbara Marks, Mother Lucy Marks and Carl Marks
By Bob Weaver
Pastor Carl Marks' musical family honored him last night for his 50 years in the ministry with the old Porter Waggoner song "My Daddy Was an Old Time Preacher Man."
"Daddy was an old time preacher man.
He preached the word of God throughout the land.
He preached so plain a child could understand.
Yes, Daddy was an old time preacher man."
Marks celebrated his 50th year in the ministry with a dinner and service at the Barnes Run Church, also known as Walnut Grove. Rev. Marks has often preached at the church, sometimes as a pastor, over the past 50 years.
Established in 1853, it sits high on a bank overlooking the West Fork of the Little Kanawha, south of the faded village of Rocksdale. Last night it was packed with church members, family and lots of long time friends of the country preacher.
Marks recognized his family and visiting ministers, saying "It has been a great journey with the Lord," expressing thanks to church members and those who have stayed the course.
Besides the country meal, the evening was filled with old-time gospel music, scripture and spoken prayer, with knees bent before the altar.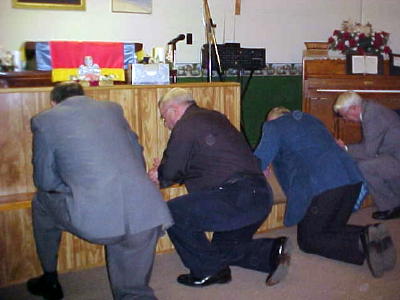 Men kneel before altar, praying out loud with the rest of the congregation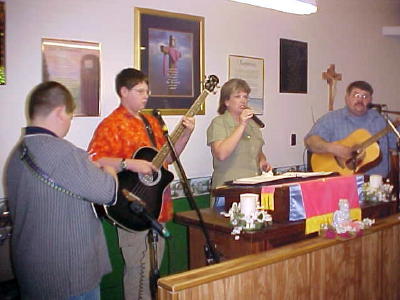 Marks family singers bring the gospel music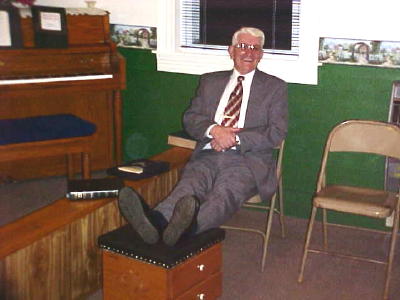 Jim and Fern Overbaugh designd a special footstool
made from wood from an original church bench
In many ways, the flavor of the service has changed little over the past fifty years, with shouts of praise and lots of amens.
Rev. Marks recalled his days as a country preacher, which appropriately matched the words of Porter Waggoner's song: "Revivals and camp meetings went for weeks,
Folks came from all around to hear him preach.
Daddy said if one is saved it's worth it all,
But the aisles were always filled at altar calls....
Carl Marks has been an old time preacher man, dedicated to the cause.