By Norma Knotts Shaffer and Robert J. Weaver 1999

INTRODUCTION

There is a conspicuous absence of record on the black families that graced our Calhoun wilderness, some of them arriving before the Civil War.

Many of them are buried on the hillsides of farms on which they labored for others, some of them as slaves, marked only by field stones.

There is no mention of black families in the Calhoun History Book in 1989.

While it seems that most of the Calhoun blacks were widely accepted in the community, before and after the Civil War, it was not without prejudice or stereotype that they lived on Darkey Fork (down from "Nigger Low Gap") and on Raccoon Run or Nigger Ridge.

In Calhoun County the Klu Klux Klan was alive and well during the early part of the twentieth century, although there is little record they directly harassed our black families, but that could be debated.

This account is a collection of history, stories, and genealogy, compiled from various sources, with the intention that others will be inspired to contribute.

A Day Trip To Darkey Fork

Retired schoolteacher, Marvin Stemple, joined me for a day trip to Darkey Fork. I love the adventure, as does he, of burrowing deep into narrow, tree sheltered Calhoun hollows, exploring primitive paths and abandoned roads, or just running the sparsely populated ridges.

Calhoun County has about 600 miles of "upkeep" roads, and hundreds more of back paths, well roads and abandoned byways.

"Darkey Fork" is one of them, the abode to one of Calhoun's most memorable black families - the Hicks. It is listed on the map as Big Fork, situated on the edge of Center and Lee Districts, between the Joker Ridge Road near my home place, and the waters of lower Pine Creek.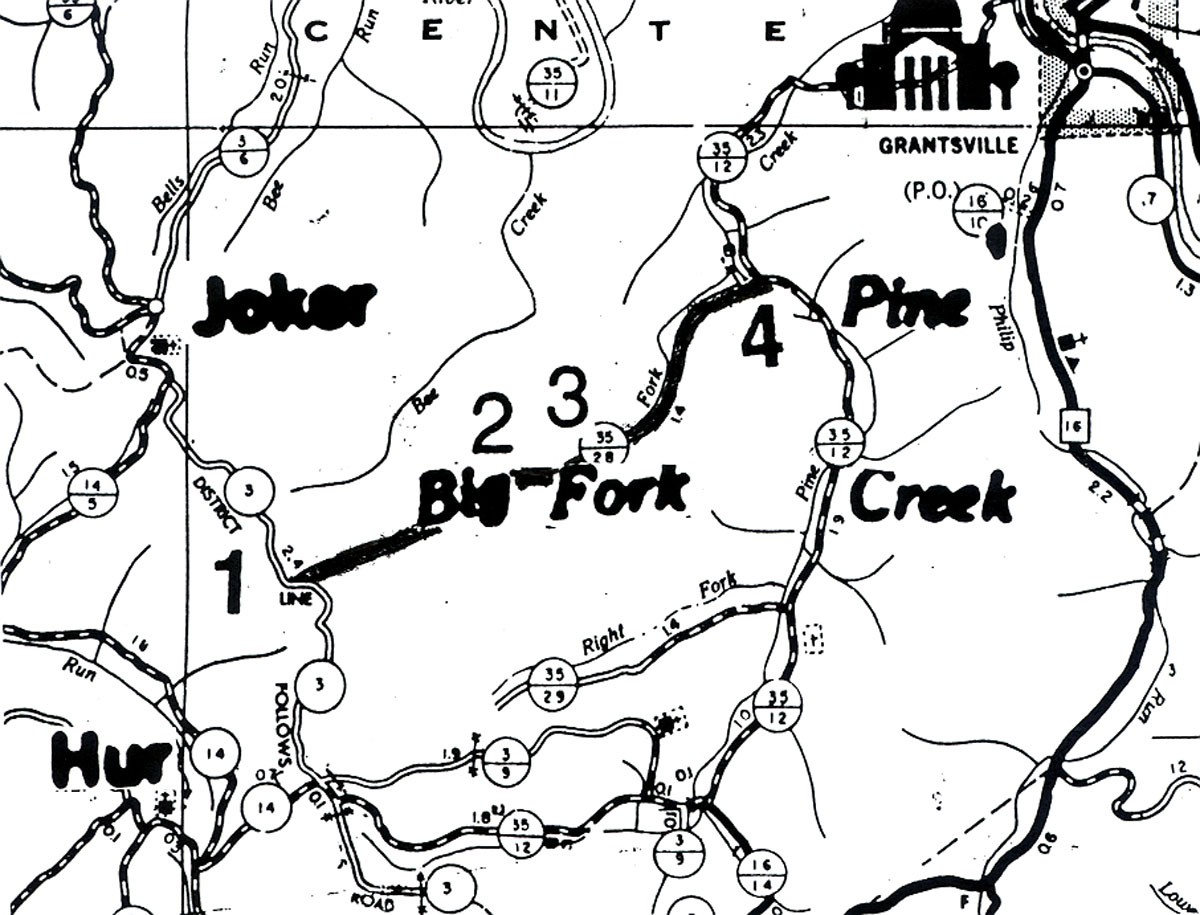 KEY - THE HICKS SETTLEMENT


1.Joker Ridge (Center-Lee District Line) "Nigger Low Gap"
2.Main Hicks Settlement on Darkey Fork (Big Fork)
3.Hicks Cemetery
4.Mouth of Hollow at Lower Pine Creek Rd.

We traveled around the ridge from Hur toward the long-gone village of Joker, to dip down into the politically incorrect "Nigger Low Gap."

Here we took down the narrow "Darkey Fork" traveling by 4-wheeler to seek out the site of the Hicks community, the location of the Hicks Cemetery, and other house sites which once graced this remote valley.

At the foot of the hill, up the first hollow, once stood the home of Sherman and Annie Hathaway Barr (both born in 1866), now marked by a few flowering yard plants. They probably built the house shortly after their marriage in 1892.

A short distance beyond, but leading back toward the ridge, resided the Filmore and Dessie Weaver Reynolds family, he being born in 1877, son of James Reynolds who lived in the same area.

Using the creek bed as a road, we arrived at a spot once occupied by a Calhoun mountain woman, Clara Jane McDonald Blosser (1873-1950) and her husband, Oliver (1878-1955), who came from Roane County.

I remember her long red, hand-knitted wool socks circa 1940's, which went to her thighs, often trudging around the ridge to a Hur store on cold winter days. Others will remember the Sunday afternoon square dances at her place, and those held at the Hicks settlement.

Near the main settlement was the one room black school, first taught by my grandfather, Franklin D. Weaver about 1910.

Weaver, who was later a Superintendent of Schools in Calhoun, took his new wife, Emma Burns Weaver into the deep woods to live with the Hicks family for the most of two years. Not a stick or stone marks the school site.

Then we came upon a slightly wider area of the hollow, where most of the Hicks houses were located, there are remaining remnants of a large stone cellar, rock walls, a dug well and a few rotted logs.

We discovered one of the abandoned buses, more specifically an old hearse which many will remember from the 1940's used by the clan to come to Grantsville to shop.

A fire destroyed the main house and adjacent buildings about thirty- five years ago, which was said to contain thousands of items collected by the family, including every edition of the county paper, going back to "The Sunbeam," as well as a complete set of "The Grantsville News."

As a small boy, while visiting the Hicks, I recall walking through an outbuilding filled with these papers, catalogs, and assorted containers. Some old timers recall that one of the items in the Hicks collection were carefully preserved samples of each of the family member's wedding cakes.

As a boy in the late 1940's, I walked from the Village of Hur to the Hicks community with my mother, carrying food for a funeral wake.

The clan had an early gas powered electric generator which provided lights in their village, long before electricity was generally available from the REA in Calhoun in mid-century.

It was at this site that James Madison (Peter) Hicks (1849-1932) first settled and married Laura Ellen Brown Catlett in 1874, daughter of Jake and Mahalia Catlett from Calhoun's other black community, Raccoon Run.

He was referred to in spoken word as "ole Pete Hicks."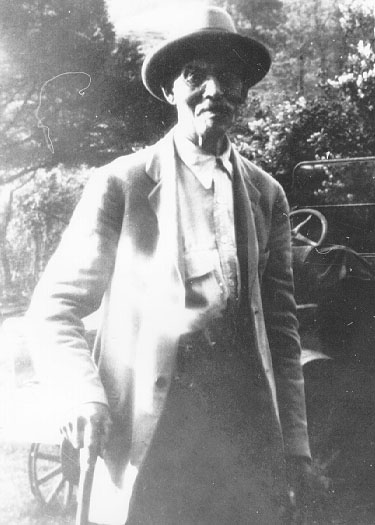 James Madison "Pete" Hicks
Said to have been the son of Hardin Neale of the prominent Neale Family of Parkersburg.
He was given surname Hicks when his mother, Lucinda, married Charles Hicks, possibly a brother of James Ashby who is buried in Hicks Cemetery.
Husband of Laura Ellen Brown Catlett
Hicks was born under the refined roof of one of Parkersburg's leading white families, the Neales.
Hardin Neale, Pete's white father, and grandson of Capt. James Neale, impregnated his slave, Lucinda, who later married a Charles Hicks, after which Peter assumed his surname.
It has been told for many years that Neale helped support Pete Hicks in his efforts to build a life for himself in Calhoun, and probably helped him purchase the large acreage of wooded land that was occupied by many of his descendants.
"Pete" was, by occupation, a barber and had shops in Grantsville and Brooksville during the early part of the century.
Some of his advertisements read, "Peter Hicks, Tonsorial Artist and Hair Dresser" and may be found in the Calhoun Chronicle during this period.
The Hick's land has now been subdivided many times, mostly for hunting property.
Marvin and I digressed from the main hollow about one-eight of a mile to search for the homeplace of William Stemple, later occupied by his son Lemuel and his wife, Eva Propst, discovering only wood remnants and a dug well.
Lemuel's daughter, Clara Ethel, married "Pete's" grandson, Ralph Leonard McDonald, for her first husband.
Ethel and Ralph Leonard were the parents of a number of children and lived in the Hicks community on Darkey Fork.
Then returning to Darkey Fork, we discovered the Hicks Cemetery against a steep hillside. It was my third attempt to find the burial ground with the graves of the clan, twenty or more being unmarked.
A few named markers exist, including James Madison ("ole Pete') Hicks (1849-1932) and his wife, Laura Catlett Hicks exist. On a small scrap of paper from my family, this notation:
"Laura Hicks died May 20, 1934 and her funeral was on Wednesday 25, age 81 years, four months and 14 days. All 14 of her children living. The Hicks are the finest of people..."
Other gravesites noted in the cemetery: French Queen (1882-1937) and wife Anna S. Queen (1883-1974); James Ashby Hicks, died Feburary 8, 1886 at age 47; Ashby Neal Hicks (1874- 1962); Ralph Leonard McDonald (1914-1963) and his eldest child, Veda Maisie McDonald (died 1950); and an infant, Ralph Leonard McDonald (1946).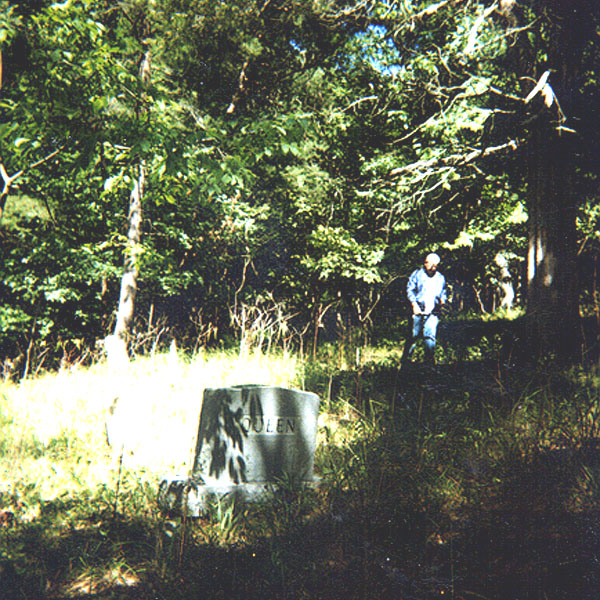 Marvin Stemple Explores Hicks Cemetery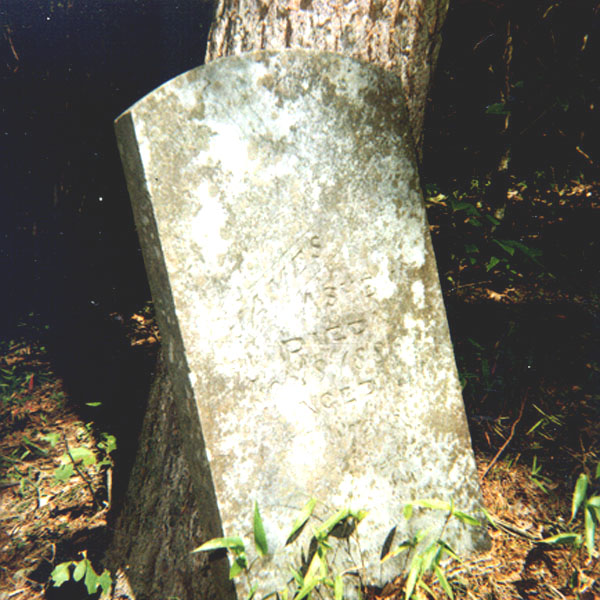 James Ashby Hicks Tombstone
Although a more complete genealogical picture will be presented later, it seems fitting that mention of James Ashby Hicks be included here.
Blurred with the passage of time, is the oral history of James Ashby, Calhoun's only known black Civil War soldier. An associated bit of oral history is the tradition that the Louisa Chapel Methodist Church at Arnoldsburg was built on top of at least three graves in which were buried black persons who were slaves belonging to the Peregrine Hays family in Arnoldsburg, and one of the graves is that of James Ashby, the Civil war soldier.
According to the publication, Calhoun County in the Civil War, published by the Calhoun Historical Society, James Ashby was a private in Company K, 39th WSC Troops, enlisted July 1864 and was discharged in 1865.
Research shows that probably James Ashby and James Ashby Hicks, buried in the Hicks Cemetery, are the same individual.
The 1880 Calhoun Census enumerates James Ashby a black male, age 41, and his wife, Minerva, a black female, age 45, along with a niece, Mary Williams, a black female, age 13.
If the census information for James Ashby is compared with the information on the tombstone of James Ashby Hicks, one is led to the conclusion that they are one and the same individual.
Forever lost is the "familial connection" between the two. One possibility is that James Ashby Hicks may have been an older brother (or half-brother) to "Pete" Hicks since some of "Pete's" descendants were given the name Ashby.
Ahead down the creek was a house occupied by the black Queen family, and at the mouth of Darkey Fork where it empties into lower Pine Creek, stood the houses of Henry Probst (Propst) and Orville Hayhurst.
A map of 1911 indicates at least ten dwellings in the hollow.
Marvin noted that the "hills are closing in" on Darkey Fork, the narrow primitive road becoming almost impassable at places, but its peaceful quiet remains the same since the respected black families lived here for 100 years.
As this century ends, it is the absence of people in the tiny valley that is most notable.
The Other Settlement - Bear Fork and Raccoon Run
The following article, written by Treacy Jane Wilson Stump, who died in 1994, was written several years ago and published in 1971 in The Calhoun Chronicle.
It is an excerpt from her recollections of growing up and living all her adult life in the Rush Run Community on Steer Creek.
A Negro Community Once Flourished in Calhoun
By Treacy Jane Wilson Stump
From my earliest recollections, there was a colony of colored people living not far from our home, perhaps I should say across the hill from our home. I never knew the year these folks settled there; however, they owned several hundred acres among the hills, from Raccoon, Three Forks and extending to Bear Fork.Their farms were all hillside, no roads, only paths.
Occasionally one would find a wagon road (that is the path was wide enough for a wagon to go on).
These people dug their living out of these hills, with a few days extra work they did for their white neighbors.
They were poor, but independent, had their own school, which building also served as a church. Most all were church going people.
Some couldn't read or write, but some had a little education. They all had one thing in common, to give their children all the education they could. There was a man named John Sutton who had married Amanda Radcliff.
He was well educated and taught their school for years. There were no preachers among them and they depended on their white neighbors to fill their pulpit.
The Rev. Billy Schoolcraft of Millstone is the only minister now living that filled their need.
They purchased their supplies mostly from the late W. Ellsworth Stump and the late Ralph W. Bennett of Stumptown. The Stump store was closer for them. They received their mail at the Apple Farm postoffice, now discontinued.
Even though their education was limited, they were very polite and courteous. When they had revival meetings or Christmas programs, their white neighbors were invited and given the best seats in the house.
They never went to church with the whites unless invited.
One man I remember stands out among the others for his long prayers at our church. He was Jacob Catlipp, better known as Jake. A large man, he came very reverently into church and always took a back seat.
After the pastor would deliver an hour-long sermon, he would call on Brother Jake to pray.
He would walk halfway down the aisle, fall on his knees and how he would pray! His wife's name was Dora. They had a family, and when this family was grown, they moved to Parkersburg.
A family by the name of Ivory lived on the Bear Fork side of the hill. There were some children, as all these families had several in number. Mrs. Ivory's name was Jenny, and she was blind for many years before she died.
Despite her handicap, she found her way to church. One of the daughters married a man by the name of Lewis "Lew" Grant. As their family grew, they moved to Clarksburg.
Most all the family are now deceased. Their heirs still own the farm on Three Forks. Other family names were Martin, Galloway, Muse and Henderson.
One family perhaps most widely known was that of Bone and Carry Radcliff. Bone was a nickname, but no one would know him by any other name. He was born during slavery and was owned by the late Samuel Hays of Arnoldsburg.
He always had high respect for his former master. The Radcliffs owned a farm and lived at the head of Raccoon. Mr. Radcliff was married twice and I've been told he was father of 24 children.
His last wife was Carry McDonald. He used to be called on to care for sick animals or stock by his white neighbors, and Carrie and her girls worked for whites, especially if there was sickness - they never refused.
They did well toward educating their family, and all had enough to get by with, and some were college graduates. I remember Raymond, who was principal of a school near Morgantown; also Lottie, a teacher in Detroit and Beulah, who retired not many years ago after teaching 42 years in Scott's Run section of Monongalia County.
For years, after all the rest had moved out, one daughter, Libby, and her husband, John Adams, lived at the old home. All that remains of the colored community is a cemetery with a few markers still standing at the head of Raccoon.
Miscellaneous Recollections and Notes
Uncle Bone's real name was Napoleon Bonaparte Ratliff.
Earl Minney (deceased) related to Bob Knotts (deceased) of Stumptown that when the blacks first came to Steer Creek, they settled on Little Laurel Creek, which enters Steer Creek adjacent to Mr. Minney's home.
On the waters of Little Laurel there are large piles of stones which Mr. Minney claimed had been piled up during the time Uncle Bone's family were there. The stones were probably plowed out as they attempted to establish fields for growing crops. Later, the family moved to and established a community on Raccoon.
Brown Wilson (deceased), who lived on Sycamore Creek, related to Bob Knotts that the Ratliff and Catlip families were in close association with the McDonald and Hicks families who were members of a black community located on Darkey Fork which is located off Pine Creek.
He claims that during the Christmas and New Year Holiday season that one-half the time was spent by the combined groups at one community, and then the groups would travel to the the other location and spend the second half of the holidays.
During the early 1900s, the Parkersburg's Neale family send Christimas gifts and supplies to the Hicks family.
Bob Knotts, remembers that there also was a man in the group who lived on Raccoon by the name of Sandy Muse who was visually impaired and always kept a small boy with him to help him when he left the community.
He also tells me that many of the members of the community were musically inclined, and that they had their own band consisting of a guitar, banjo, fiddle, and probably other instruments.
During the 40's and 50's, a member of the Raccoon family by the name of Libby Adams, worked for Dr. Boling in Grantsville and Holly Nester at Mt. Zion.
Virginia Weaver Buck remembers "Aunt Libby" also work for her late parents, Dewey and Oleta Marshall Weaver as well as for Clint and Ina Hannah.
Glada Shields Stump, who is librarian at the Calhoun County Library, has added some information, as she was raised in that area, and has told me that some of these folks "adopted" or considered themselves to be her brother's God-parents. Their surname was Fulkner and were related to the other black families on Raccoon.
Glada says that Mrs. Fulkner was named Mary and that she was a daughter of Jake Catlip. She also remembers that Mary had a sisters named Clara and Libby who married John Adams.
Libby Adams was the closest neighbor to Glada's family, and Glada's mother, Frances Pearl Suttle Shields, tells of her mother sending her to borrow needed items from Libby. In order for her to get to Libby's house she had to pass the graveyard, and her mother said, "Wings couldn't have carried me fast enough to get past there."
When the Fulkner's left, they moved to Illinois. Glada's mother used to receive letters from them, and they frequently sent money or gifts for Glada's brother.
Bob Knotts, Jr., often told the following story: Bob Bennett, who lived in the big white house just across Steer Creek opposite the Rush Run Church, reportedly had a disagreement over church affairs with his brother-in-law, "Doc" Stump, who was a deacon in the church.
As a result, Bob did not attend church services (nor was he on speaking terms with "Doc"), but it is said that when Jake Catlipp attended church, knowing that Jake would be called on to pray, would come across the creek and stand outside the church so he could hear Jake offer one of his lengthy prayers.
It has been said that Jake Catlipp was one who could "pray the house down."
On Raccoon Run, 2 miles up the creek from Steer Creek on what was once the Ratliff farm, now owned by Ott Suttles and James Shaffer, is the Catlip Cemetery.
It is located about 150 yards from the creek in a grove of big trees, sugar maple and yellow poplar. The site is downstream from the old house site and a gas well, on the right hand side of the run going upstream.
John Sutton was a schoolteacher here. John Adams was killed by an accident with a horse here and is likely buried here. Most of the folks left this community in the mid 20's but some few were here until after WWII.
The black families on Three Forks and Raccoon were intermarried with the Hicks and McDonald families who had a community on Darkey Fork of Pine Creek.
School records in Sherman District show the payment for teaching at the black school in Sherman District.
The record for payment for teaching shows John F. Sutton receiving payment on Sept. 3, Oct. 17, Oct 31, and Dec. 10, 1892. Each check was in the amount of $22.00.
When comparing salaries of other teachers, it appears that the male teachers were paid $25.00, the female teachers $22.00, and John Sutton $22.00. John Sutton is listed as teaching the 1907-1908 term and seems to have been paid equally with his white male counterparts.
The 1908-1909 term shows Lottie J. Ratcliff as teacher. This is probably the same Lottie Ratliff who is enumerated with the household of Napoleon B. Ratliff in the 1900 Census. She is listed as 9 yrs., born Sept. 1890, and a granddaughter of Bone. Salary, $30.00 per month.
Male teachers appear to have been paid $35.00 per month. Only one other female teacher is listed and she was paid $35.00 per month.
Enumerated in 1880 Lee District census is the family of Charles W. Ratcliff, a black male, age 30. This could possibly have been a brother to Bone Ratliff.
More to follow...