By Bob Weaver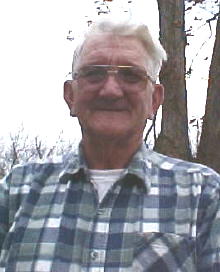 "The first revival I preached was at Rocky Flat Church on Upper Nicut beside Roud Lane's. They lit the oil lamps and people came out of those hollers for miles around, not enough room to sit down. We baptized 17 people," said Rev. Carl Marks, who will be celebrating his 50th year as a minister next weekend.
Marks commenced his ministry in 1954 at the age of 17.
A special anniversary service is scheduled Saturday (March 13) at Barne's Run Church, where Marks is the pastor, starting with a covered dish dinner at 5:30 p.m. and a Fellowship Service at 7 p.m.
Marks is well-known to Calhoun folks not only for his ministry, but his work as a firemen with the Arnoldsburg Volunteer Fire Department. Equally known is his mother, the county's energy-blessed senior citizen Lucy Marks, who is still clogging at 89.
"It has been a great life in service to the Lord. The reward has been those folks who came to Him as their savior," said Marks.
Marks was going to church up at Fairview, and started preaching when he was in high school. He said the Rev. Glendon McKee, a Methodist minister who was teaching at Calhoun High School in the early 50s, was a great inspiration. "He was always there for help me," said Marks.
"Then there was an old-time preacher named Billy Schoolcraft," said Marks. "He'd pick me up in his old Model T Ford and take me up Frozen to church."
Marks tells the story about the old preacher: "During the Great Depression Billy went out to preach revivals on Bear Run, Frozen and Walker, a week at each church. His dad got worried about his wife and child, and sent word he should come home."
"Billy said he had no money and one of the men attending the last revival said it might be a good idea to take up a collection. They passed the hat and got one Bullmoose Nickel and a button. He said that nickel looked as big as a $100 bill," Marks said. Billy lived to be 99.
Marks recalled two favorite community women, who when filled with the spirit, would sing and shout, sometimes jumping across the church pews or circling the outside of the church. "You could not ignore the testimony of Oma Nester and Nellie Reed," he said. In those revival days they called it "getting happy."
He has pastored churches at Otter Lick in Clay County, Barnes Run, Cremo, Leatherbark and Wilmont, Ohio. "But I have preached all over this county," he said.
"I hope some of my old friends come over Saturday evening. It's been quite a journey."
There may be up to fifteen ministers attending, his wife Barbara, their children, his aunt Madeline King from Gassaway - and mom Lucy.
Marks and his wife Barbara live on Leatherbark.