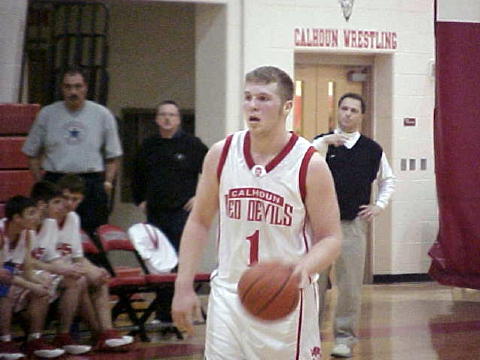 Marcus Davis (forefront) scores 44, coach father looks on (right rear)
By Gaylen Duskey
realfang@citlink.net
It was a big night for the Davis Family and by virtue of that a big night for Calhoun County High School basketball.
First family patriarch Robert 'Tank' Davis made his first appearance at a Red Devils basketball game since life threatening spinal surgery.
Second grandson Marcus accepted an award for breaking the school's all-time scoring record of 1,807 set 25 years ago by his father. Then he went out and scored 44 points against Herbert Hoover.
Finally Marcus' scoring outburst led the Red Devils to a 68-58 victory over a team that Tim, Tank's son and Marcus' father, called "the best team we've played this year."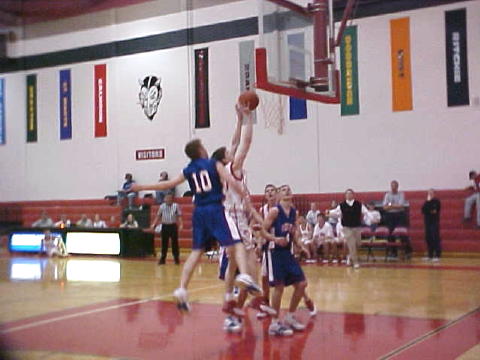 Red Devils pull away from good Hoover team
Not that the game was not without excitement because it was fraught with excitement as the score see-sawed back and forth with the Huskies in the lead most of the way.
As a matter of fact the Huskies were on top by six, 47-41, early in the fourth quarter.
But that's when Marcus Davis and Jake Perkins took the Red Devils on their backs and carried them to victory.
Davis started the rally with a basket then Perkins followed with two more hoops to tie the score at 47-47.
Then Davis took over.
First he hit a trey to give the Red Devils their first lead since midway through the third quarter, 53-50.
A Herbert Hoover basket cut the margin to one but that was the closest the Huskies were to get as Davis hit a two then a three to give the Red Devils a six-point margin, 58-52.
Herbert Hoover rallied, outscoring the Red Devils eight to two over the next couple of minutes but that was the last gasp for the Huskies as Calhoun scored the last eight points of the game.
Davis led the 15-5 Red Devils with 44 points, including 24 on eight three-point shots, and 15 rebounds.
Perkins followed with 16 points and 14 rebounds while Chris Sampson added eight.
Ironically they were the only three Red Devils to score.
However, players like Zach Houchin, Mike Batten, Tristan Harris, Derek Roberts, Shawn Hillegas and Ryan 'Goob' Fitzwater all played key rolls by handing out assists, getting rebounds and playing strong defense.
For Herbert Hoover, now 9-12, Nathan Koepsel led the way with 20 while Chris Westfall added 13 off the bench.
Calhoun will entertain Richwood Thursday night before closing out the regular season at home against Wahama Saturday night before heading into sectional play.
Herbert Hoover won the junior varsity game 35-30 despite 12 points from Tommy Gerwig and eight by Steve Cunningham.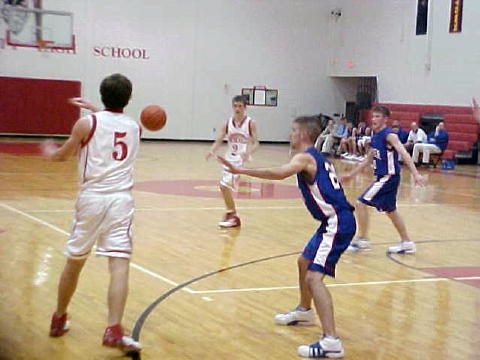 Calhoun played a roaring game to move ahead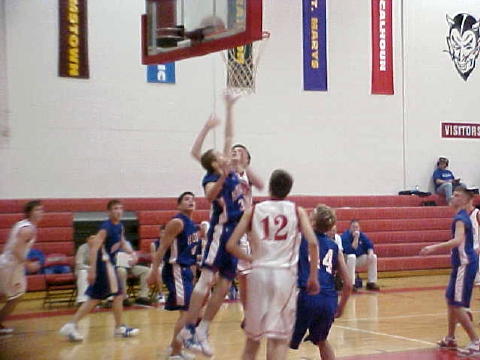 Team is having a winning season