By Bob Weaver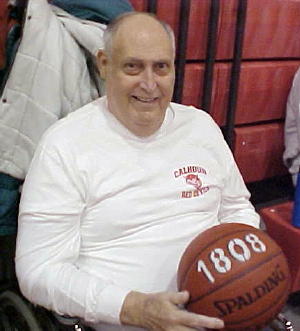 "Tank" Davis on the rebound, holding record breaking ball
Bob "Tank" Davis was back in his favorite position last night, watching his grandson Marcus Davis play basketball and his son, Tim Davis, coach the Calhoun Red Devils.
"Tank" recently had some severe health problems and was hospitalized 21 days.
"Here look at this ball, look at the this ball," the ball that Marcus used last weekend to break his dad's all-time scoring record at Calhoun. "It has 1808, one point above Tim's record," he said. Of course, with young Davis. scoring 44 points in last night's game with Herbert Hoover, the number went up.
The elder Davis is still remembered for his sports career at Calhoun High.
It was obvious his health is improving, almost rising out of his chair to cheer Marcus on.
"Tank" said he wanted to thank his friends for their prayers support and cards. "God pulled me through for another day."