Debbie Mechling of Newton Falls, Ohio and Albert Ball of Greenwood, Indiana wrote regarding the Sunny Cal Journal story "Clutching To Memories Of The Husk."

Ms. Mechling says the picture is of her family cemetery. Evelyn Husk, who was being buried on the remote ridge, was her aunt and Steve Husk is her mom's baby brother.

"You spoke about the fallen down houses in those hollers. I would like to tell you about one of those monuments to the past - Samuel Clayton and Flora Gay Husk's house," she wrote.

"Last year my husband, my sister and I were visiting Calhoun and we wanted to get back to my grandparents house, located in a holler off Barnes Run. They had been logging and I hadn't been back there since I was 14 in the early 1970s and couldn't remember just how far it was around to the house."

"Since it was warm and I got scared of copperheads, we gave up our plan until it got good and cold when the snakes go to sleep."

We went on to visit our Uncle Steve and Aunt Evelyn Husk and some of our cousins. We talked about our trying to get to the old house. I said that I would like to have a piece of wood from it to keep. He said that in November you wouldn' have any danger of snakes."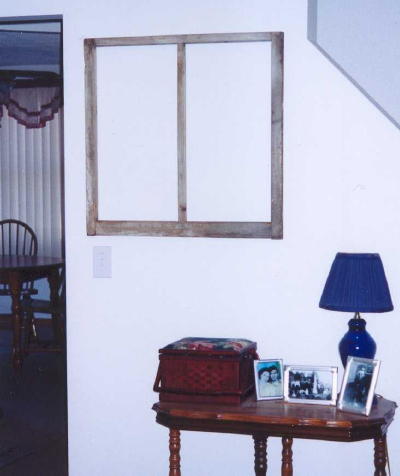 Wooden window frame hangs in Mechling house in Newton Falls, Ohio
"The house is caved in but the old log cabin is still standing. One of my cousins got more than a piece of wood, he got a whole window frame. It hangs on the wall in my living room and will hang in my house till I pass it on. So I also clutch to memories about the ridge, many told to me by my mother," she concluded.
Albert Ball, son of the late Lennie and Lelah Ball, wrote to say the story brought back some memories of my childhood.
"My mother (Lelah Ball) taught at the Tuttle Hill school from 1929 to 1933. I think that this school was located on the Husk Ridge that you refer to. Before I was old enough for serious school, mother took me on horseback to school with her; sort of a "baby-sitting" arrangement. We traveled up the steep hill in back of grandpa's house (Albert and Sadie Scott Ball) and on the path that let to the schoolhouse."
"One cold winter morning I rolled off the back of the horse, but was not injured because mother had me bundled in warm clothes as tightly as a mummy. In a year or so, and when the weather was nice, I would walk to school. Mother going ahead so she could get the school ready for classes."
"Your mentioned a large persimmon tree. Well, I will never forget a very large persimmon tree that was located along the path that I followed to and from school. One cheery and frosty autumn morning I noticed that this tree was filled with birds who were pecking at the persimmons. Memory tells me that they were Robbins, but am not sure that this is accurate."
"The Godfrey Fritz house I remember well. I was always afraid of Mr. Fritz. I don't remember him as being the very friendly sort. There was a small grove of plum trees on his farm. He once allowed Mother and me to pick some of these plums. Our farm orchard did not have plum trees."
"Most if not all of the Jimmy Roberts children attended the Tuttle Hill school (called Snuff Box Glory in Hur Herald stories) when Mother taught there. Dad had installed a teeter-totter and a carousel-type swing on the Tuttle Hill School playground. This consisted of an automobile wheel that was mounted on the top of a tall, vertical pole. Four ropes were attached to the outer edge of this wheel and the rope extended to two or three feet above the ground. There was a series of spaced knots tied near the end of each rope. These knots provided stops for gripping hands. One day, during the lunch hour or recess when the swing was full of swingers." "Tessie Roberts (not sure about the spelling of her name) was swinging higher than she liked and started screaming for help. Big, strong brother Ted started running in pursuit and grabbed Tessie around the waist and saved her. I was terribly impressed by the quick action, and this taught me something about sibling love. I always liked Ted. In fact, I liked all the Roberts children."
"On a windy March day, those of us who were fortunate enough to have a long, narrow strip of rubber that had been cut from an old inner tube, would hold the stretched piece of tubing above our heads and race down the hill and "create" a vibrating/humming sound."
"I remember waiting outside the one room school that was close to Hur - during a general election while mother and dad went inside to vote."
"There was a young man sitting there who had stopped by with his father after purchasing two half-gallon jugs of vinegar at the Sturm store. These jugs were tied around the neck by a long piece of heavy cord which made it convenient to carry them by picking them up after stooping over and placing the string over ones head and in then in back of the neck, kinda like a yoke carrier."
"Earl Stout came along and it was immediately evident that he had tipped a bottle a few times. He had the reputation of doing this once in a while. Earl spied these jugs and showed an interest. He proceeded to walk over, remove one of the vinegar jug lids and take a drink. Then he smacked his lips, returned the lid to the jug and moved on, without comment."
"Along the path that I followed to Tuttle Hill School and not far from the schoolhouse, I witnessed the building of a log cabin by a crew of men. I think they did this in two days. I particularly remember watching them split the roof shingles. Of course they did all this with axes, a clever-like tool for splitting the shingles and a maul. I was very impressed by all this," concluded Ball.
Albert Ball: EveAndAl@aol.com
Debbie Mechling: Doobug21@aol.com