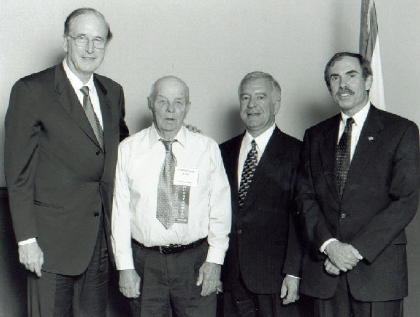 Left to Right: Sen. Jay Rockefellar, Scott Bailey,
Congressman Nick Joe Rahall and Gov. Bob Wise
Calhoun County and West Virginia Democrats honored seventy-six-year-old Winfield Scott Bailey of Minnora as a Democrat of the Year at the annual Jefferson-Jackson Day dinner in Charleston on November 8.
Bailey, a lifelong Democrat, said "I've always been a firm believer in the Democrat party, which has always tried to look out for the common working people. I don't have enough money to be a Republican."
Bailey lives with his wife of 56 years, Gae Hoover Bailey, on their farm on Sear's Run near Minnora. They have three daughters, Sharon Groves of Orville, Ohio, Martha Park of Minnora and Joyce Meek of Lexington, Kentucky. Their son, John Scott Bailey, 52, tragically died in a car accident on I-79.
Bailey and his wife are featured in a story under PEOPLE, HUMOR AND HISTORY on October 27, 2003.