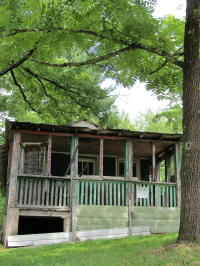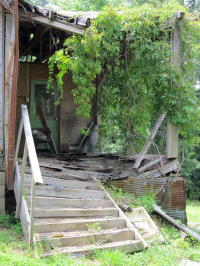 The Craddock's empty and collapsing humble abodes on the Joker Ridge (2012)
are reminders of their simple life in the Calhoun Woods
Excepts From Hur Herald Stories
By Bob Weaver, July, 2005
She was the last of her Craddock family, all gone from the Joker Ridge where they held forth most of the last century.
Pauline Craddock Hamblin has died at age 76.
The Craddock's have always represented the hardy life of Calhoun back woods folks, who lived simply with quiet dignity, possessing survival skills soon to be forgotten in the 21st century.
In recent times she gave up her Joker Ridge abode to move to Bramblewood Apartments near Grantsville, where we last visited her. She graced us with her generous smile and easy words.
See SUNNY CAL JOURNAL - My World Ended At The Farthest Hill
BESSIE HAS DIED - Averil Remembered
Reprinted from (7/19/00)
Bessie Craddock, my Joker Ridge neighbor has died. She was a wisp of a woman, bent at that, leaving this world at the ripe old age of 82. It was her smile and her silence for which she will be best remembered, a kind heart that spoke softly, most often inquiring of the health of her neighbors.
She was born in the backwoods of Bee Creek, in later years moving along the remote Joker Ridge road. She was the daughter of the late James Ernest and Rosie Slider Craddock, and has three deceased brothers, Roy, Holly and Averil and two deceased sisters, Lona and Millie.
Calhouners of years gone by will remember the Craddock family for their weekly foot journeys to Grantsville between 1930 and 1970. They walked from the deep woods of Bee Creek to shop and stay in town for most of a day, talking and shopping. In more recent years they have been brought to town by Dale King, their official chauffeur.
After Averil died in 1997, she tried to live in her little house, stoking the wood fire on cold winter nights, a chore unto itself. In later months she moved across the road with her last family member, Pauline. Long after Averil's death, she tended the offspring of his collection of cats.
Treasuring her photographs, she sat close to the wood burner on the winter days of our visits, recalling with detail the people who lived in her world.
The silence of life remembered by long pauses between conversations and the sound of a ticking clock.
I find myself mourning the last remaining remnants of that quiet life in Calhoun County, not to be experienced in the conflict and hustle of this new century. Good-bye Bessie.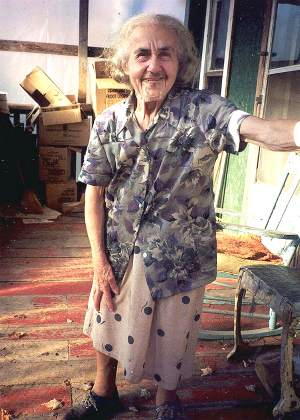 Bessie Craddock - 1996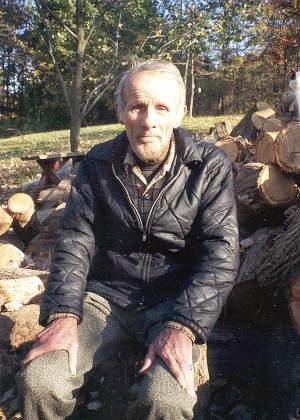 Averil Craddock - 1996
AVERIL
Averil died today sittin' up in Joe Miller's car on his way to the hospital in Grantsville, lookin' straight ahead down the narrow road that led away from his Joker Ridge home. His chronic emphysema played heavy on his heart, not struggling or complaining, he quietly slipped away as the car took him by his familiar landscape.
It was most fitting. No ambulance. No resuscitation. No emergency room clamor. Just fading away, wrapping his shroud about him and going away to peaceful dreams.
Averil, like a few remaining gracious souls in Calhoun County, stuck close to his Bee Creek origins, much like his ancestors of a hundred years who rarely crossed the county line.
His most notable excursion, the weekly visits to Grantsville with his family these past 65 years. He, like his brother Roy and his two sisters, Lona and Bessie, never married. His youngest sister, Pauline, has been married twice and lives across the road.
They moved from the Bee Creek wilderness to the slightly less remote Joker Ridge about 1960, sticking together. Roy and Lona passed on a few years ago, and Averil stuck with Bessie to help take care of her.
He was of the sod, simple needs and scarce wants. He would often sit for hours at a time on his woodpile looking toward the road coming down the hill from Long Point, waiting to greet a friend or stranger with his broad, wide smile.
Never within the hearing of any person, did he speak an unkind word toward another. Averil would trudge up the hill to the Bryner Chapel Church on Sunday mornings to build a fire and take his seat for the worship service, or he could be seen on certain nights walking over to Glen Dawson's house with his lantern to watch TV in the early 50's. He and Glen were great buddies since their childhood school days at Bell Hill.
I drove by his house on my way from work, tooting my horn as usual, to later learn of his death from Dale King on Pine Creek Hill, who for many years has transported the Craddocks to town on Thursdays.
Driving back to Hur that night, I struggled to control my feelings.
Leaving Calhoun many years ago to live in faceless towns with slicked down sub-divisions, struggling to prove my worthiness in work and success and fighting off their demons, I would place my tired head upon the pillow grasping to recall some peaceful spots and peaceful people, and yearn to be close to them again.
Thoughts would come of the Craddocks, their faces, demeanor and quiet woods life, and in a kind way I would envy them, their gifts of simplicity, honesty and humility. Maybe my night dreams would bring me back to be near them, hoping that some important things would rub off.
Bessie said she heard the death bells in her ears for three days before he passed away. She is 78 now. "I will miss Averil. We all loved him, you know. I will stay here as long as Pauline and her boy can look in on me - until my time comes." she said.
Her small, bent body then leaned forward in her split-back chair and put a stick of wood on the fire.