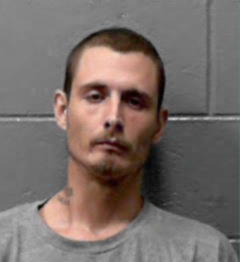 UPDATE 12/12/2017 - A suspect in a Calhoun home invasion gone wrong that ended with an elderly man's murder last week was released from a Charleston hospital Tuesday evening and taken into custody.
Travis Boggs, 25, of Chloe (Stinson) is now charged with nighttime burglary and conspiracy to inflict injury to person or property.
Boggs (pictured left)is the second person arrested in the murder of Eugene Stevens, 77, who died in a blaze of gunfire. Boggs himself suffered severe gunshot wounds.
Boggs is in Central Regional Jail with bond set at $100,000.
State Police expect further arrests.
By Bob Weaver 12/12/2017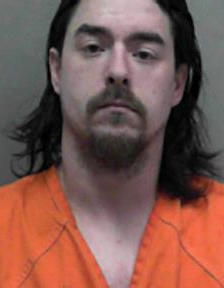 A criminal complaint against Evan Lee Hershman, 29, of Lizemores (left), reveals some new information regarding the murder of Eugene Stevens, 77, of Cain Road, Calhoun County.
Stevens was shot to death on Dec. 5 at his residence in what appeared to be a blaze of gunfire, a number of intruders attempting to enter his domicile.
Video surveillance from the crime scene and Minnie Hamilton Health System is providing State Police with information to solve the crime.
Video surveillance at the murder scene on Cain Road showed the same vehicle, a Ford Explorer, that appeared at Minnie Hamilton with another injured man (see below).
Police say Hershman is believed to be one of four intruders at the Stevens residence and has been charged with armed robbery and conspiracy, and is currently in Central Regional Jail.
Hos bond is set at $100,000.
State Police say one of the intruders, Travis Boggs, 25, of Stinson, was shot in the gunfire exchange and was dumped at the emergency room door at Minnie Hamilton Health System in Grantsville.
A vehicle containing a number of individuals left Minnie Hamilton and was later discovered to be a victim of arson on Nicut Road. The vehicle was stolen.
Boggs was taken to a Charleston hospital in critical condition, where he is being held with State Police surveillance, and will be charged with a crime at the time of his discharge.
The criminal complaint says that Hershman allegedly traveled in the stolen Ford Explorer from his residence at Lizemores, Clay County, to the crime scene, with "intent to rob the victim of jewelry, money and drugs."
"While traveling to the residence he (Hershman) was given camo and a black toboggan and mask. Once at the residence, all the individuals exited the vehicle and made contact with the victim (Stevens) at the front door," the complaint says.
Multiple shots were fired, striking Stevens, as they forced their way into his house, with Stevens returning fire and striking Boggs, according to State Police.
First Sgt. O. S. Starsick said the agency is moving forward with the investigation, with further arrests anticipated.