Boyd Duskey, 90, died Sept. 25, 2017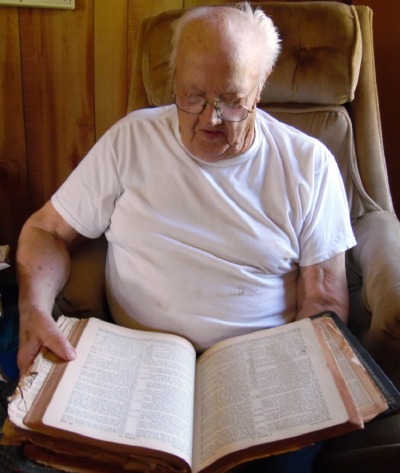 Boyd Duskey, holding 100 year old Cedar Grove Church Bible,
recalls early days of lower West Fork of Little Kanawha community
By Bob Weaver 2015
A descendant of the infamous Civil War rebel Daniel Duskey of Moccasin Ranger fame, Boyd Duskey, 88, a veteran of World War II, told a story about the old warrior, passed down by the family.
Daniel was living on the lower West Fork of the Little Kanawha, an area above Creston known as Duskey Falls, when he decided to build a water-driven mill for grist and saw milling.
No longer had he got the dam in place, a storm hit and the roaring water of the West Fork washed the dam away.
Daniel went to work and rebuilt the dam for his mill, and after days of work, he raised his fist to the Heavens and said, "I dare you to wash away my dam again."
Within 24-hours, flood waters washed it away again.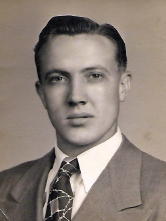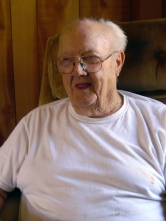 Boyd Duskey believes that renegade Daniel Duskey, not overly defending him, said, "He was not as bad as history makes him out. He spent most of his time protecting local families."
Daniel Duskey led the raid against the federal arsenal and post office at Ripley and against the oil depots at Burning Springs during the Civil War.
Captured and tried by a federal tribunal, he avoided execution by being pardoned by President Lincoln, although he escaped from jail and returned to the war.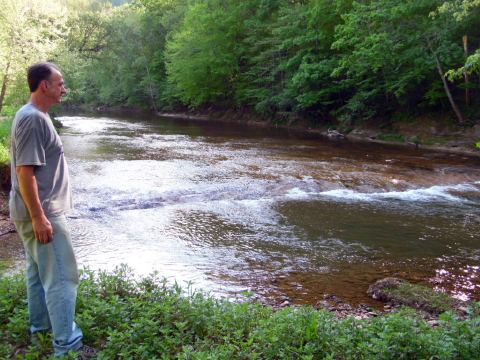 Bill Duskey, son of Boyd, stands at the LK river
spot where Daniel Duskey lived before and likely
after the Civil War, known as Duskey Falls, where
a mill was built in 1843
Where Boyd Duskey's house now stands on the lower West Fork of the Little Kanawha, was one of Calhoun's 80 early post offices known as Donze, in operation between 1905-15. Upstream was another early post office, Cremo, named after the famous Cremo cigar.
Boyd Duskey has long been connected to the long-closed Cedar Grove Church, likely established about 1880. The first church building burned to the ground.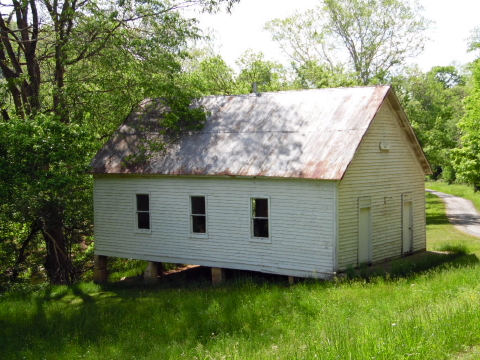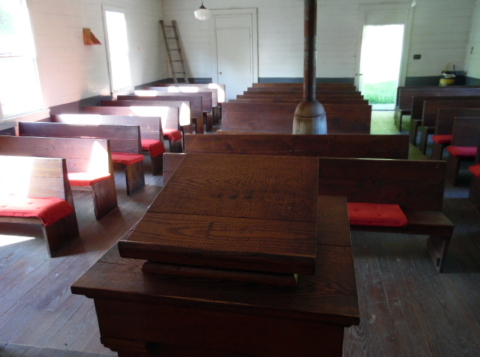 Cedar Grove Church about 135 years old,
still standing along the river bank
The still standing church has had a homecoming event annually, with families whose roots are in the nearby areas returning, such as Lower Barnes Run (Roane Co.) Sweet Potato Dan Connolly, who would fjord the river to attend.
During the last century the old church has been flooded numerous times and washed off its foundation, washing down stream at least once.
There were two one-room schools nearby, Goose Nest and Cedar Grove.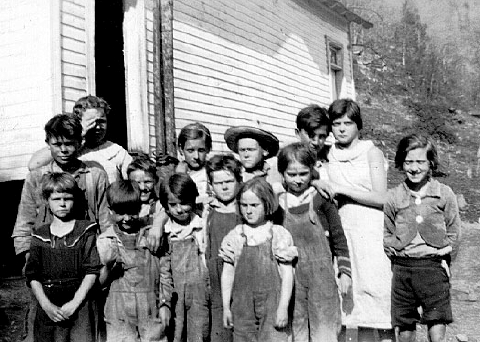 Cedar Grove School-Early 1930's Wanda Lee Bell, Virginia
Garretson, Harley Starcher, Opal Meadows, Paul Cunningham,
Boyd Cooper, Ernestine Wright, Junior Meadows, Alva Meadows,
Gladys Wright, Pauline Cunningham, Marion Wright, Loraine
Cooper, Edith Garretson. (Photo Courtesy of Pauline Garretson)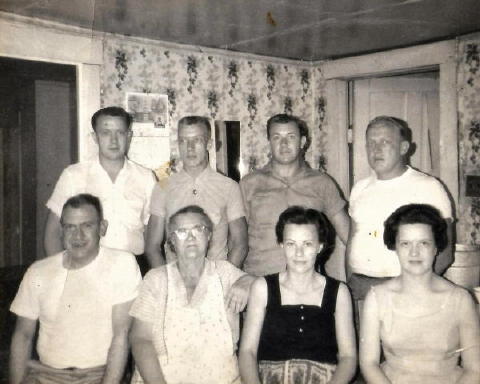 Back - Robert Boyd Duskey, Richard Eugene Duskey, Ira
Frank Duskey, George Glen Duskey; Seated - Charles Roscoe
Nelson, Lydia Duskey, Marthe Jean Bell, Marion Jeanetta Smith
Duskey remembers going to the general stores in the remote area, Poling's Store at Cremo and Richard's Store on Little Creek.
"But sometimes we'd go to Hur, the McCoy Store, during the end of its 100 year run, then operated by feisty Scottie McCoy.
"Scottie would either like you or express her dislike for you," said Duskey. "She liked me and my family and always gave a bag of free candy when we left the store."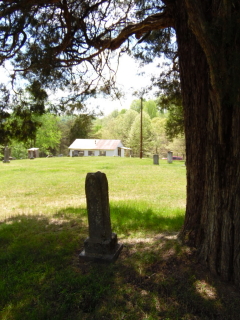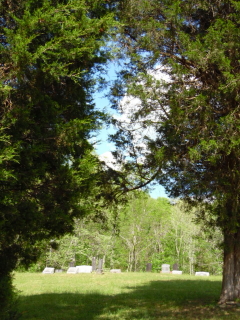 The Wright Cemetery, a small chapel for funerals, has
veterans buried their from the Civil War to more recent wars
Many of Duskey's family members are buried in the nearby Wright Cemetery at Cremo, know best as the burial spots of Civil War foes, George Wilson and Col. C. W. Feathers, who were shot to death and hauled to the cemetery by sled in 1861.
Rebel George Wilson, 50, was on furlough and at a dance, probably at the Daniel Duskey home, when he was captured and killed.
Yank Col. C. W. Feathers was shot to death, and the account says the morning a Mrs. McCune and two other women put the bodies on an ox-sled and brought them to a knoll, now known as the Wright Cemetery, "foes to lay side-by-side.
After being charged for being a bushwhacker, Daniel Duskey boasted, "I had a little graveyard (Wright Cemetery) of my own in which I buried a considerable number of Union men."
ee CIVIL WAR BLOOD-LETTING AT CREMO - 1997 George Wilson Memorial Service
CEDAR GROVE HOMECOMING - Scrapbooks, Tales And Hymn Singing
2015