UPDATE - Columbia officials say one of several compressor stations for the $2 billion 165 mile 36" Mountaineer Xpress pipeline is scheduled for Calhoun County, in what appears to be a remote area of the Coal Fork/Leading Creek area.

The proposed compressor station in Calhoun is named White Oak.

The compressor station is reportedly a $100 million project, although a Columbia press release indicates it could be shifted to Ritchie County, likely depending on which county abdicates to the best tax break agreement the company is requesting.

Calhoun Commission president Chip Westfall said, "The commission is doing what we can to encourage Columbia to locate the compressor station in Calhoun."

"But we must balance potential short term gains with potential long term cost and obligations," he said.

"We will do everything we can for the interests of Calhoun people," Westfall concluded.

Requested tax breaks would preclude normal taxes the company would pay for the facility.

The 36" pipeline crosses Ritchie County into Calhoun, crossing near the edge of Calhoun-Ritchie for a few miles, then barely entering Wirt County, and then crossing a few miles across Roane County.

A public meeting by the Columbia Pipeline Group is set for Thursday, 6-8 p.m. at the Smithville Elementary School, to inform affected parties and area citizens about the project.

"All the property owners should have been contacted by this point," said Columbia spokesperson Scott Castleman.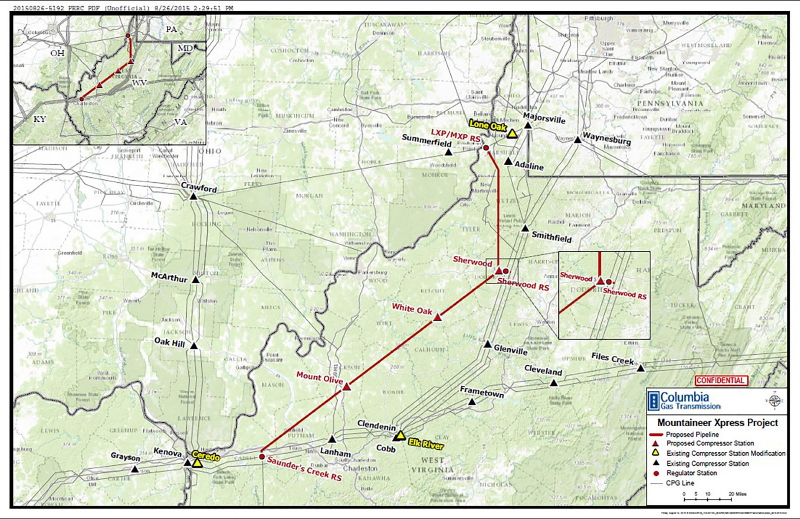 Further details appear on this web site Columbia Pipeline Group
ORIGINAL STORY 9/23/15 By Bob Weaver
A major $2 billion dollar 36" pipeline project with compressor stations was pre-filed Wednesday by Columbia Pipeline Group and its subsidiaries with the Federal Energy Regulatory Commission.
The 165 mile project is called Mountaineer XPress.
The proposed pipeline project will cross the northern part of Calhoun County for a short distance, with a proposed compressor station to be built near the Calhoun and Ritchie County line.
Calhoun commission president Chip Westfall said, "The Calhoun Commission and Assessor are working to get the best deal possible for the county."
"This project could be a game changer for the finances of Calhoun County and the school system," Westfall said.
Compressor stations have construction costs of $100 million, with reports indicating a station will be built in Calhoun.
Pipeline, according to a press release, will be constructed in Cabell, Calhoun, Doddridge, Jackson, Marshall, Mason, Putnam, Ritchie, Roane, Tyler, Wetzel and Wirt.
Two other compressor stations are proposed for Doddridge and Jackson.
The company says it is reaching out to landowners, governments and communities regarding the project with "full transparency."
Public meetings will be held, with construction completion in 2018.
The project will move compressor gas from Utica and Marcellus shale fields in West Virginia and adjacent states to the Gulf of Mexico.
The Mountaineer XPress project will move gas to a station in Leach, Kentucky, to then be sent to the Gulf of Mexico.
The project to move gas on to the Gulf is called Gulf Xpress.
OFFICIAL PRESS RELEASE
Charleston, WV (September 23, 2015) - Columbia Pipeline Group, Inc. and Columbia Pipeline Partners LP (together, "Columbia") today announced that their subsidiary, Columbia Gas Transmission, LLC received notification that its Mountaineer XPress Project ("MXP") was recently accepted into pre-filing by the Federal Energy Regulatory Commission ("FERC"). (Docket number PF15-31).
Columbia plans to formally file its application with the FERC for MXP and Gulf XPress ("GXP") in April 2016.
The approximate $2 billion MXP project will include the construction of roughly 165 miles of natural gas pipeline from Marshall County to Wayne County, West Virginia. It will create approximately 2.7 billion cubic feet per day of firm transportation capacity from existing and new points of receipt along or near Columbia Transmission's system, providing producers in the Marcellus and Utica shale areas new transportation options to move gas out of the capacity-constrained supply basin and into the interstate market.
Columbia has already begun outreach to landowners and communities in areas where MXP will be constructed. Prior to construction, the project will undergo a comprehensive and transparent environmental review overseen by the FERC.
Throughout the review period, the MXP team will continue to work closely with landowners, local officials and communities to provide up-to-date information and ensure community involvement in the process.
Pending FERC authorization, Columbia expects to commence MXP construction in the fall of 2017 and place the project in service in the fourth quarter of 2018.
The project includes upgrades to three existing Columbia compressor stations in Kanawha, Wayne and Marshall Counties, West Virginia, as well as the construction of three new stations in Doddridge, Jackson and Calhoun (or Ritchie) Counties, West Virginia. Pipeline construction is expected in the following West Virginia counties: Cabell, Calhoun, Doddridge, Jackson, Marshall, Mason, Putnam, Ritchie, Roane, Tyler, Wetzel and Wirt.
For more information on MXP and GXP, please visit cpg.com or columbiapiplinepartners.com. The FERC pre-filing document can also be viewed in its entirety by visiting elibrary.ferc.gov and searching docket number PF15-31. Forward Looking Statements
This press release includes "forward-looking statements" as defined by the Securities and Exchange Commission ("SEC"). These statements include statements regarding the intent, belief or current expectations of Columbia and its management. Although Columbia believes that its expectations are based on reasonable assumptions, it can give no assurance that its goals will be achieved. These forward-looking statements are subject to risks and uncertainties that may cause actual results to differ materially from expectations, including required approvals by regulatory agencies, the possibility that the anticipated benefits from such activities, events, developments or transactions cannot be fully realized, the possibility that costs or difficulties related thereto will be greater than expected, the impact of competition, and other risk factors included in Columbia's (or its affiliates') reports filed with the SEC. Readers are cautioned not to place undue reliance on these forward-looking statements, which speak only as of the date of this press release. Columbia expressly disclaims any duty to update any of the forward-looking statements contained in this release.
About Columbia Pipeline Group, Inc.
Columbia Pipeline Group, Inc. operates approximately 15,000 miles of strategically located interstate pipeline, gathering and processing assets extending from New York to the Gulf of Mexico, including an extensive footprint in the Marcellus and Utica Shale production areas. Columbia Pipeline Group also operates one of the nation's largest underground natural gas storage systems. Columbia Pipeline Group is listed on the NYSE under the ticker symbol CPGX. Additional information can be found at www.cpg.com.
About Columbia Pipeline Partners LP
Columbia Pipeline Partners LP, based in Houston, Texas, is a fee-based, growth-oriented master limited partnership formed to own, operate and develop a growing portfolio of natural gas pipelines, storage and related midstream assets.
Columbia Pipeline Partners' business and operations are conducted through CPG OpCo LP and its subsidiaries, which own and operate substantially all of the natural gas transmission, storage and midstream assets of Columbia Pipeline Group, Inc. Columbia Pipeline Group operates approximately 15,000 miles of strategically located interstate pipelines extending from New York to the Gulf of Mexico, one of the nation's largest underground natural gas storage systems, and a growing portfolio of related gathering and processing assets. The majority of its assets overlay the Marcellus and Utica Shale production areas. Additional information can be found at www.columbiapipelinepartners.com or www.cpg.com