Shae Straight and Fairmont University students present
video visioning the dark skies project at Calhoun Park
Calhoun Park's Dark Skies observatory is on-track with development plans moving forward, according to Tim Ezzell, Ph.D. Research Scientist with the University of Tennessee.
Ezzell told park board members and the Calhoun commissioners that additional development grants have been obtained and that the Appalachian Regional Commission is "excited" about making the park a national stargazing destination.
A number of funded and development activates for 2015 were announced, with efforts being directed toward official certification as a dark skies area.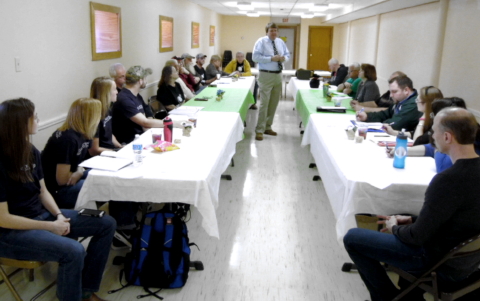 Tim Ezzell meets with park board members, Calhoun commissioners
and community members saying funders are excited about project
Shae Strait and the architectural/development team from Fairmont State University presented a concept or visionary video of what would be included in the park's development.
Calhoun is one of few places left in America that the night skies are not blurred by artificial light, making it a popular destination for astronomers.
Ezzell said the park has enormous possibilities as an attraction, with additional elements in the plan attached to stargazing.
More than 300 astronomers responded to a survey done last year, supporting the project.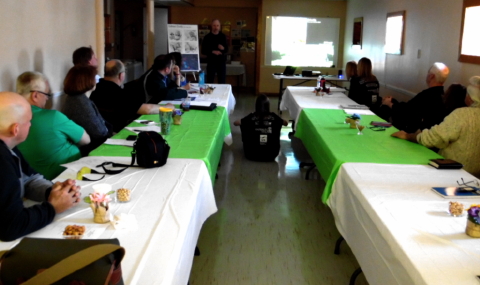 Group views video of proposed Night Skies development
See CALHOUN'S DARKNESS COULD BE WORTH A LOT OF MONEY
UNIVERSITY OF TENNESSEE RESEARCHERS VISIT CALHOUN - "Area Faces Many Challenges, Tremendous Potential"
DARK SKIES STARGAZING CENTER AT CALHOUN PARK MOVES FORWARD - "Vision Pretty Big"
CALHOUN DEVELOPING PLANS FOR STAR PARK - Planners, Astronomers Gather This Weekend
VISIONING: REACHING FOR THE STARS - Calhoun's Stargazing Park Moving Ahead
CALHOUN'S DARK SKIES - County Could Become Tourist Destination For Astronomers
CALHOUN'S WONDERMENT OF DARK SKIES - Highlands Voice: A Test Case For Darkness
"DARK SKY PARK" STARGAZING/ASTRONOMY DEVELOPMENT COULD COME TO CALHOUN - Calhoun's Night Sky "Will Take Your Breath Away"