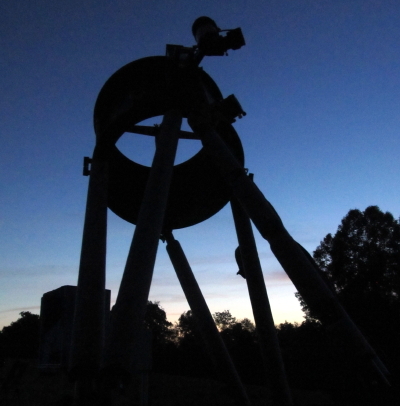 A telescope is set up in Calhoun County Park in Grantsville, one of the darkest places on the East Coast. Photo courtesy of Robert Weaver
Calhoun County to become tourist destination for astronomers
By Cynthia McCloud for statejournal.com
Calhoun County's economic future may be found in looking up.
Since the late 1990s, stargazers have visited Calhoun County Park in Grantsville because it's one of the darkest places on the East Coast. Now thinkers from Fairmont State University and the University of Tennessee in Knoxville, with input from astronomers, are directing county leaders to develop nighttime observatory facilities at the park.
"It's a very rural county that doesn't have a lot going for it," said UT researcher Tim Ezzell, who does asset-based economic development, determining what assets communities have to grow themselves and helping them build on their resources.
"What you don't want to do is try to create something you don't have," he said. "Darkness is something they have that really nobody else has. And it's a resource that's becoming increasingly rare and scarce. Darkness is something other places can't create. They can't turn the lights off."
Calhoun County has been thinking about how to capitalize on its dark skies for about 15 years, said County Commissioner Robert Weaver. Satellite images show Calhoun as a dark spot without light interference and still about 90 percent forested.
"We are very rural and very backwoods and very much off the beaten path with highways and our tourist ideas are rather limited," Weaver said. "We have to be a destination in terms of a stop-off place because we're way off the interstate. We don't think there's going to be a huge amount of development around the dark skies project. We really think it's going to be a great thing for the community."
The researchers, amateur astronomers and stakeholders who included county leaders scoped out the site on a recent September weekend night. The astronomers set up their equipment and let the others look at nebula, galaxies and planets.
Even in places with light pollution, stars with higher magnitude are readily visible and it's easy to pick out features such as The Big Dipper and Orion.
"When you go to Calhoun County, you can't make out those constellations the sky is so populated with stars," said Anthony Orzechowski, who teaches an online astronomy class at Westmoreland County Community College in Youngwood, Pennsylvania.
"Our experience down there was wonderful," Orzechowski said. "Most important is keeping the dark sky dark down there through awareness and education of the population and officials to keep their pristine resource."
What else do astronomers want?
"Power is very important," Orzechowski said. "Unless you bring a battery backup, but you still need a place to recharge them."
Telescopes are computerized now, said stargazer Al Paslow, who studied astronomy at the University of Arizona but now works in the oil and gas industry.
"Telescopes serve a number of purposes besides looking," he said. "Once you focus something on something you need to be able to track it (with an electric-motor device called a clock drive).
"We'd like to be able to plug our telescopes into a power source. And of course everyone's running around with laptops that have programs to identify what we're seeing in the telescope. If you're into taking pictures, there is software that controls the camera."
Some astronomers travel to dark places with camping trailers so accommodations for those might be nice but not necessary, Paslow said. Currently, an online guide to stargazing destinations suggests renting the barn to stay overnight at Calhoun's 250-acre park.
"Very clean rest room facilities and a shower would be great," Orzechowski added.
The Pittsburgh astronomers live three hours from Calhoun County, closer than the five-hour ride to the next-nearest dark spot, Cherry Springs in north-central Pennsylvania. The astronomers want a place dark enough to pursue their interest and interact with others who share that interest and pass on their passion to others, Ezzell said.
"They see it as an opportunity to do some good at the same time, helping build jobs and opportunities for outreach such as STEM programs, bringing this into the classroom," he said. "It's a gorgeous site. I think this enhances the park actually."
Undergraduate students and a master's student in Fairmont State's architecture program's Community Design Assistance Center are coming up with some of the functional planning to get electricity into the stargazing areas and to provide restrooms, showers and support facilities as well as semi-permanent lodging, said Philip Freeman, associate professor of architectural engineering technology at FSU.
"They're developing some concepts for some built shelters," Freeman said. "Our programs here place an emphasis on sustainable design and green design. One approach to power generation would consider solar harvesting. A sustainable approach to waste collection and water conservation is a really important aspect the students are looking at.
When the Fairmont State students wrap up their designs, Ezzell said, the next step will be seeking funding.
The commission has already received $8,307 from grants through the Appalachian Regional Commission and the Claude Worthington Benedum Foundation to conduct a feasibility study of the park, Weaver wrote on his Hur Herald news website. Development could initially be funded up to $150,000.
By Cynthia McCloud for statejournal.com