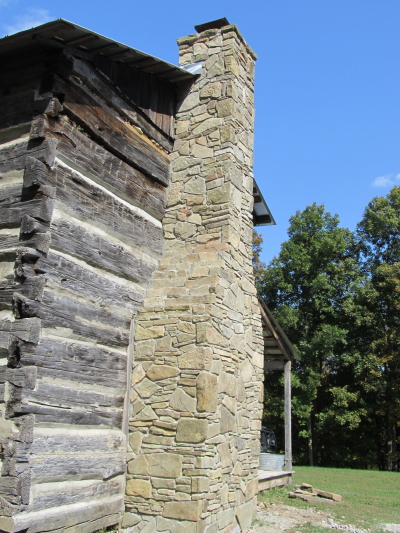 "A monumental piece of work" - Stemple Cabin chimney
By Bob Weaver 2014
"It's a monumental piece of work," say long-time Heritage Village volunteer Jim Bell, the stone chimney recently completely for the village's Stemple Cabin.
The artistic stone work was done by Calhoun craftsman Peter Cobbett of Five Forks, the stone donate by Francis and David Cain
The development of the Stemple Cabin, donated by Georgia Stemple Weaver, has been a long-time project of the Calhoun Historical Society, the project made possible by volunteer and community donations.
Jim Bell, 87, and his son Alan did the interior work on the fireplace, including the placement of a 500-pound headstone, the rock coming from Grantsville's original Pell house.
"We worked hard using cut stone and wood to replicate a historic fireplace," Bell said.
The Ahab Stemple cabin was moved from Rowels Run to Heritage Park a number of years ago, and reconstructed.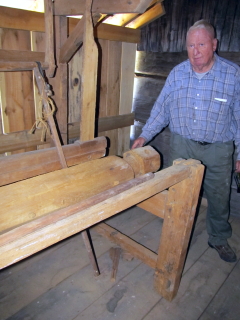 Bell proud of fireplace construction, reveals 19th Century rug loom
"A lot of work has gone into the structure," said Bell, which will be furnished with furniture and artifacts from the late 1800s.
Bell said the Society is grateful to those who have made it possible.
"To me it is as impressive as the Washington Monument," he concluded.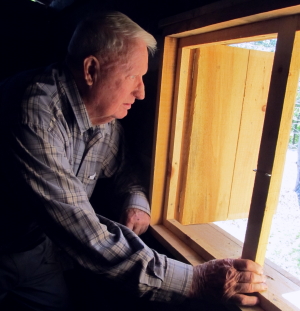 Bell says Heritage Village is a significant con-
tribution for Calhoun generations to come, "It
reflects the lives and times of our pioneer citizens."
See HISTORIC STEMPLE LOG CABIN BEING MOVED TO HERITAGE VILLAGE