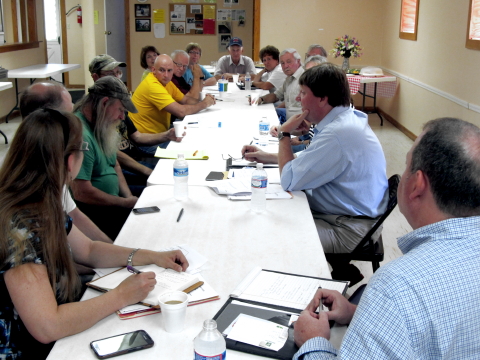 Community members and leaders support Dark Skies Stargazing
Center at Calhoun Park, a future destination for astronomers
The development of Calhoun County Park as a national stargazing destination is moving forward, according to Tim Ezzell, Ph.D. Research Scientist with the University of Tennessee.
Ezzell and a number of his associates, with Phillip Freeman, Associate Professor of Architectural Engineering Technology from Fairmont State College, met Monday at the park with Calhoun commissioners, members of the park board and interested citizens.
The county has received an initial $8,000 grant which is being used to launch the development, which could initially be funded up to $150,000.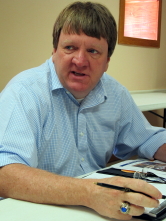 Ezzell (left) said planning for the project could leverage "a large amount of funds" for the Dark Skies Stargazing Project.
Calhoun is one of few places on the east coast that has a "dark sky" resource, the lack of urban illumination, attractive to thousands of amateur astronomers.
More than 300 astronomers responded to a survey done last year, supporting the project.
"While we're relying on community support, the astronomers will have a part in developing the visionary project," Ezzell said. Astronomers have been coming to the park for several years to view the universal sky.
Roger Jarvis, with the help of the park board, will be selecting two or three county residents to attend the Brushy Fork Institute at Berea College this fall for training on development.
Calhoun Commission president Chip Westfall said, "The vision for the project is pretty big."
The group, with invited astronomers, will likely meet again in September, for further planning.
Read more about the Calhoun project:
"DARK SKY PARK" STARGAZING/ASTRONOMY DEVELOPMENT COULD COME TO CALHOUN - Calhoun's Night Sky "Will Take Your Breath Away"
CALHOUN COMMISSION GETS STARGAZING STUDY GRANT FOR PARK - "Sky Will Take Your Breath Away"