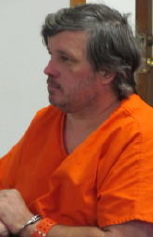 Thomas Lee Husk (left) accused of murdering John Dale Cyrus (right)
The Thomas Husk murder case is set to start in Spencer today with the seating of jurors, with the trial likely commencing Wednesday, according to Calhoun prosecutor Shannon Jones.
Husk is accused of the murder of John Dale Cyrus in 2011, a charge of second degree murder.
The Calhoun case ended with a with a third mistrial in December, 2013, with a failure to seat a jury, at which time a move was made for a change of venue.
In December, prosecutor Johnson said that out of 122 jurors receiving a subpoena, the court needed 23 eligible jurors. That didn't happen.
"In the jury pool, jurors were excused because they either knew the defendant or victim, or had formed an opinion about the case," Johnson said.
The 2011 shooting death of Cyrus resulted in what has been reported in a criminal complaint as a bitter dispute between the two men over family issues.
UPDATE: CALHOUN MAN MURDERED AFTER CHASE TO DEAD-END HOLLOW - Husk Charged With 2nd Degree Murder
HEARING SET FOR HUSK THURSDAY - Memorial Will Be Held For Cyrus
JOHN DALE CYRUS VICTIM OF CALHOUN SHOOTING - Complaint Describes Encounter, Husk Charged With 2nd Degree Murder
HUSK WAIVES PRELIMINARY HEARING - Murder Case Sent To Grand Jury, Placed On Home Confinement, "Clearly A Case Of Self Defense," Says Attorney
CALHOUN PROSECUTOR SAYS CYRUS MURDER APPEARS PREMEDITATED - Husk Made Statements Implying He Planned To Kill Cyrus, Says Holmes