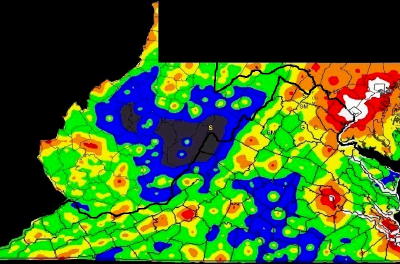 Calhoun is one of few places in USA
with a dark sky asset for astronomers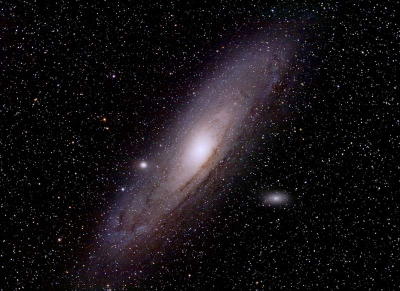 The Andromeda Galaxy M31 as photographed from
Calhoun County Park (Copyright 2006 Dave Miller)
By Bob Weaver
One of Calhoun's little-known assets is having dark skies, made possible by not having radiated light from development, making it an attractive place for amateur astronomers to view the universal sky.
Calhoun is one of few special places in the USA, a dark spot without light interference, spotted and mapped by satellite, still about 90% forested.
The astronomers have been coming to Calhoun County Park for several years to use their telescopes.
Now, with the help of University of Tennessee researchers, the Calhoun Commission and Calhoun County Park Board, are moving to develop the park as a dark skies astronomy center to attract some of the devout 300,000 hobbyists in the USA.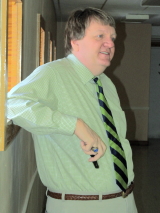 Researcher Tim Ezzell (left) with the University of Tennessee made a presentation Friday regarding the proposed project to members of the Calhoun County Park Board and the Calhoun Commission, saying "Amateur astronomers are looking for such a site. This place is special and unique," with over 350 astronomers responding to a survey conducted by his group.
Stargazers travel great distances for stargazing parties.
Roger Jarvis, long-time member of the park board, "I'm encouraged that funding for development for stargazing could happen," saying he was impressed what stargazers said about the park in the survey.
Jarvis said the park is in the process of becoming a dedicated Dark Sky Park by the International Dark Sky Association.
Attending the meeting regarding funding was Kostas C. Skordas, Regional Planning and Research with the Appalachian Regional Commission, Washington DC and James Bush, Community Development Representative, WV Development Office.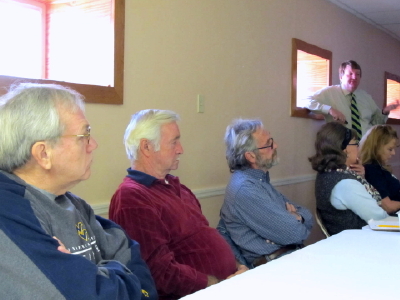 Park board members expressed excitement over stargazing opportunity
Calhoun commissioners Kevin Helmick, Chip Westfall and Bob Weaver, pledged their support to see the stargazing project become a reality, and Calhoun School's Donnie Pitts said the county school system would provide support for educational components.
Ezzell said his group would provide initial services for a feasibility study and proposals to obtain grant money.
Park board members have long been aware of the park's dark skies potential, and expressed their support of the project.
Commission President Kevin Helmick said, "This is a project that could develop our natural assets."
"I've always been stunned about looking at the night sky in our county," said commissioner Chip Westfall.
The proposed project could initially include astronomy pads, camping facilities, rest room and shower facilities, among other features.
Jarvis said officials toured the 250-acre park and were impressed with the pastoral acres for the development.
UNIVERSITY OF TENNESSEE RESEARCHERS VISIT CALHOUN - "Area Faces Many Challenges, Tremendous Potential"
CALHOUN NO. 1 FOR STARGAZING - Maps Prove It, "It Took My Breath Away"
THE DARK BRINGS ASTRONOMERS TO CALHOUN - "It's A Special Place"
A UNIVERSAL NIGHT AT CALHOUN PARK - Stargazers Travel To Sunny Cal
THE UNIVERSE FROM CALHOUN SOD - The Distant Stars
CALHOUN'S NIGHT SKY "WILL TAKE YOUR BREATH AWAY" - Stargazers Photograph Universe From Calhoun Park
SUNNY CAL JOURNAL - Curiosity, Art And Beauty, Universal Sky From Calhoun Park
THE FLAMING STAR NEBULA - Calhoun's Pristine Park
CALHOUN SKY BEST LOCATION FOR 'SUPER MOON'
SKY WATCHERS RETURN TO COUNTY PARK - Perseid Showers Hit Earth, Watch The Sky
2007: SAGITTARIUS SEEN FROM CALHOUN PARK
2001:THE GREAT PRODUCER GAVE QUITE A SHOW - Hardy Folks Gather To Watch Leonid Meteors
"MY WORLD, MY UNIVERSE" - Hathaway Recalls Universal Connection
ROCKET BOYS OF CALHOUN COUNTY - Crashing Through Misty Clouds, Discovering The Universe