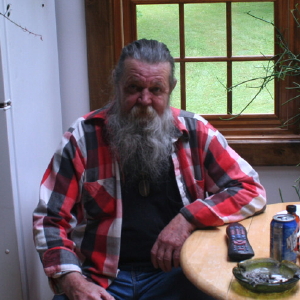 The body of Peter Callanan, 69, shown here at his residence,
who perished last week in an Orma fire, is still at the medical
examiners office, with arrangements for his funeral pending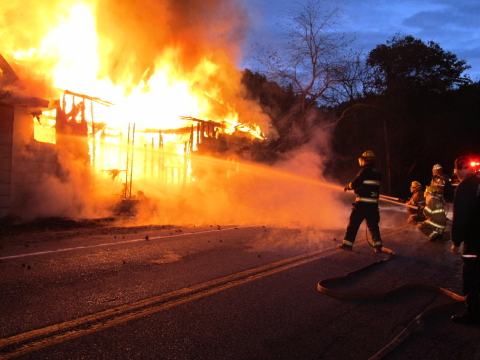 Disabled man dies in Orma house fire Friday night
UPDATE 10/28 - Peter Callanan, who died in a house fire at Orma on October 25, 2013 was born February 23, 1944 in Brooklyn, New York City.
He came to West Virginia 33 years ago. He leaves a daughter Lois of Columbus Ohio and grandson, and son Rodney, of Las Vegas.
He was predeceased by his wife and a brother. Funeral arrangements have not been announced.
UPDATE 11 AM 10/26 - Sources at the scene of the fire identified the victim of Friday's blaze as Peter Callanan, in his late 60s. Callanan, who was described as "a highly disabled man." Callanan had moved to the property about a year ago, owned by former Calhoun resident Carol Giar Odell.
UPDATE 2:30 AM 10/26 - The Upper West Fork VFD was dispatched to the fire location for a re-kindle and the fire was quickly put down.
UPDATE 10 PM 10/25 - The State Fire Marshal ordered Rt. 16 at Orma closed for a period for investigation purposes, the dwelling within a short distance of the highway.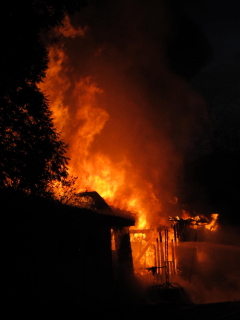 ORIGINAL STORY - A house fire claimed the life of an Orma, Calhoun County man Friday night, the efforts of a passerby failing to rescue him from the inferno, the flames leaping 75 feet in the air.
The disabled man, who neighbors said was about 70, had lived alone in the house for about one year. His name is withheld pending notification of next of kin.
Roger Metz was driving down State Rt. 16 when he spotted flames coming from the house and attempted to rescue the man, but was driven back by fire and smoke.
The State Fire Marshals office and the Calhoun coroner were responding to the scene.
911 received the call at 6:17 p.m. Firemen from the Upper West Fork and Arnoldsburg Fire Departments battled the blaze, with Minnie Hamilton EMS responding.
The house was fully engulfed when firemen arrived.
Rt. 16 was closed to traffic, the house being near the highway.