EARLY MAPS OF CALHOUN REGION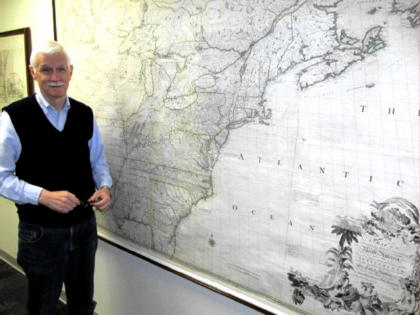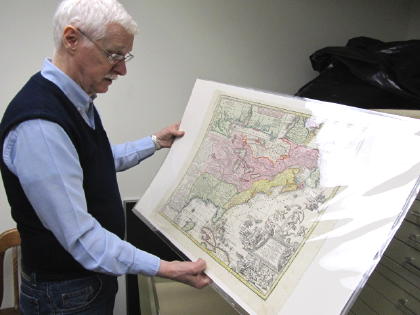 Marshall University map curator displays Weaver's
Trans-Allegheny maps at Marshall University library
By Bob Weaver 2012
Grantsville native, the late Carlton "Buck" Weaver, a man of the Greatest Generation who served as a Marine fighter pilot in World War II and Korea, never forgot his Calhoun roots, treasuring every memory of his youth to earn a college degree in engineering and become a long-time executive with Ashland Oil.
Weaver died at age 90 in 2011.
Weaver's ancestors were among the first to move into the land that later became West Virginia, emigrating from Pennsylvania after emigrating from Germany.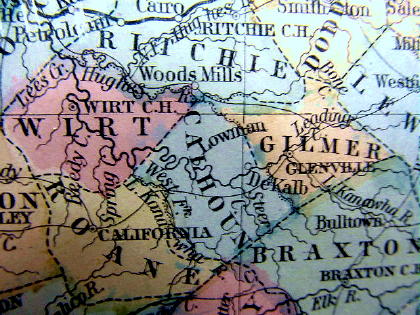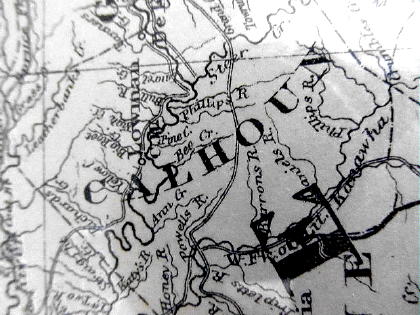 Early 1800s map shows Little Kanawha River and West Fork
of Little Kanawha (by name variations), Phillips Run,
Steer Creek, Pine Creek, Bee Creek, Big Root and others
He was fascinated with land on which his ancestors lived and traveled. Having a love of maps, he began devoting his spare time to collecting maps of the Trans-Allegheny region.
His collecting took him to map dealers throughout the United States and England. In 1992 he donated about 30 rare maps to Marshall University's Morrow Library - the Carlton D. Weaver Trans-Allegheny Map Collection, maps from the 1600s through the late 1800s.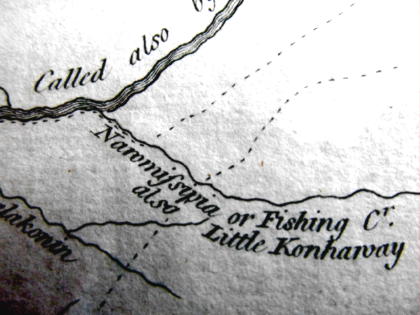 Late 1700s map lists Little Kanawha with
Native Indian name, also called Fishing Creek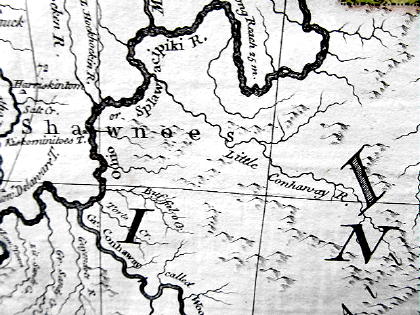 Late 1700s map shows region part of Shawnee Territory
The early 1700 maps denote Native American names for what is now West Virginia, Shawnee territory.
In this region, central West Virginia and Calhoun, early maps show the Little Kanawha River as being "Petite (Little) Conhaway River," a combination of French and Native American.
Fascinatingly, over hundreds of years, the Little Kanawha has been called: Fishing Creek, Little Canawha River, Little Canhawa River, Little Conaway River, Little Cunnaway River, Little Kanahaway River, Little Kanahwa River, Little Kanahway River, Little Kanawah River, Little Kanhaway River, Little Kanhawey River, Little Kawahwa River, Little Kenawah, Little Kenhawa, Little Kenhaway, Little Kennaway River, Nau-mis-sip-pia, Newmissipi, O-mom-go-how-ce-pe, O-nim-go-how.
WEAVER MAP COLLECTION-MARSHALL UNIVERSITY
WEAVER RECALLS EARLY GRANTSVILLE DAYS - Earns His Wings
GLORIOUS RIVER LIFE ALONG THE LITTLE KANAWHA - A Faded History Recorded By Early Photographers
A TINY STREAMLET GIVES RISE TO LITTLE KANAWHA RIVER - Winding Path Travels 160 Miles
KANAWHA HEAD SCENIC SPOT ON LITTLE KANAWHA WATERS