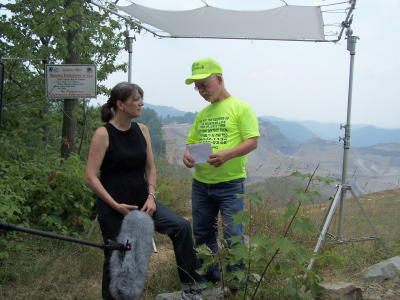 Gibson with country musician Kathy
Mattea on his beloved Kayford Mountain
By Bob Weaver
Well-known environmentalist and mountaintop removal opponent Larry Gibson, 66, has died of a heart attack on his beloved Kayford Mountain.
Mountaintop removal came within a few feet of his family homestead and burial ground, which dated back to the 18th century, and was the resting place for his 300 ancestors.
Gibson refused to sell and he refused to budge. While looking across the vast wasteland left by mountaintop removal, he said to me, "I'm no educated guy, but this is a crime against God and creation - our land and water."
The founder of Keeper of the Mountains, he traveled across the country, went to Washington, the United Nations, and foreign countries, giving his message: "Love'em or leave'em, just don't destroy'em."
Despite being arrested many times and his life frequently threatened, he kept a cheerful disposition. One of his best known events was his annual 4th of July event on Kayford, which spawned one of YouTube's nastiest confrontations against Gibson and his cause.
See DRUNKEN COAL SUPPORTERS CRASH JULY 4 ENVIRONMENTAL PICNIC
Gibson said he understood miners concerns for their jobs, but their buying the coal corporations message to demonize environment's concerns for the land, water and the families that live on it.
"The miners have always been allowed to come and disrupt our gatherings on our property or at our events," he said, "But this is a King Coal state."
"I've never met anyone as courageous Larry Gibson. He was a true icon in this work and showed his love for the mountains through action. He didn't sit around and simply enjoy the mountains. He worked everyday to protect them," said Janet Keating, executive director of the Ohio Valley Environmental Coalition.
Bill Price, environmental justice coordinator for West Virginia's Sierra Club, said "He took simple tools and used them to engage people in the fight for justice in Appalachia."
Gibson said about mountaintop removal, "This is not an act of God, this is an act of greed...No one should have to live like we are."
"My mother gave me birth, but the earth gives me life."
Gibson now joins in death, internationally-known and award-winning environmentalist Judy Bonds.
Surely God will not chastise them for trying to protect his creation.
A LOOK AT GIBSON'S WORK:
KATHY MATTEA SAYS MOUNTAINTOP REMOVAL DEVASTATING
COALFIELD RESIDENTS PAVE WAY FOR GRASSROOTS VOICE IN UN - "Keepers Of The Mountains"
NASA SCIENTIST JAMES HANSEN, ACTRESS DARYL HANNA, CONGRESSMAN KEN HECHLER ARRESTED AT MARSH FORK RALLY - 30 Arrested At Mountaintop Mining Protest, Tensions High
90 YEARS LATER: BATTLE AT BLAIR MOUNTAIN CONTINUES - Crimes Against West Virginians And Nature
CRIMES AGAINST WEST VIRGINIA - Blowing Up Mountains "For The Sake Of The Children"
PLUNDERING APPALACHIA - "Strip Mining On Steroids"
LEST YOU FORGET: COAL IS STORMING HEAVEN - Patriot Paid $6.5 Million On 1,400 Pollution Violations, Massey Paid $20 Mil On $2.4 Billion Fines
TWLIGHT - "My Conscience Is Completely Clean"
(02/12/2008) THE NEW BATTLE OVER BLAIR MOUNTAIN - Historical Designation Short Lived, Over 100 Miners Died In 1921, Government Ordered Bombs, Gas Dropped