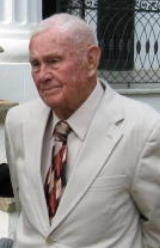 Ross Hays (right) at his great granddaughter's
wedding in Athens, Georgia in May 2007.
A well-known man with Calhoun roots will be celebrating his 100th birthday on January 27, 2012 with a special celebration set for Feb. 4.
George Roessing (Ross) Hays of Tampa, Florida, is a descendant of Calhoun historical figures Samuel Lewis and Peregrine Hays.
"We would like to inform you of the upcoming 100th birthday of George Roessing (Ross) Hays on Jan. 27, 2012," says his family.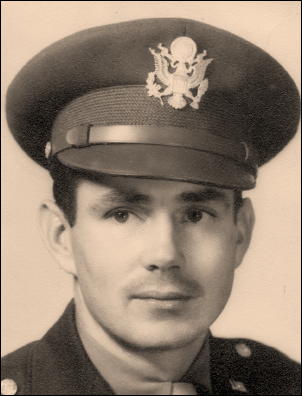 Ross Hays during WWII circa 1944
Ross was preceded in death by his brother Bernard Reading Hays, a prominent citizen of Spencer. Ross and Bernard were fortunate to attend the 100th birthday of their mother, Myrtle Reading Hays of Arnoldsburg in 1977, who lived to be 103.
Ross' daughter, Carol Moore, resides in Spencer and another daughter, Barbara Hays Henderson lives in Chadds Ford PA, and sons Robert (Butch) Hays lives in Hartsville SC and Ross Jr. in Tampa FL.
Birthday cards can be sent to: George Ross Hays, 4902 Bayshore Blvd, Grand Court Tampa, Unit 402, Tampa Florida 33611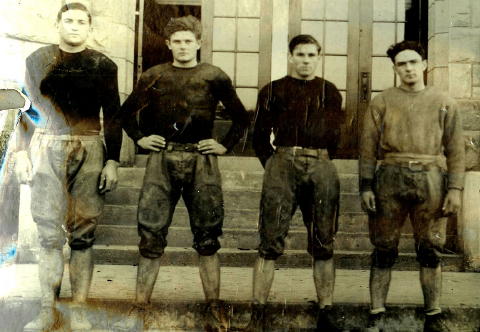 Calhoun High School football team members 1929-30'
(L to R) R. McDonald (fullback), G. Stump (right halfback),
Ross Hays (left halfback), Bernard Hays (quarterback)
PEREGRINE'S GHOST - His Presence Lingers Over Calhoun Since 1840
THE HAYS-KNOTTS HOUSE MOVES SKYWARD - Musings On Arnoldsburg History
A LITTLE TOLD STORY: CALHOUN REGION WAS CLOSE TO BEING PART OF ROANE COUNTY
EARLY 1905-1920 PHOTOS OF ARNOLDSBURG - Village Established In 1832
150 YEARS AGO: THE SKIRMISH AT ARNOLDSBURG - A Confederate Victory, Calhouners Saurborn, Downs, Duskey, Conley And Hays