Two West Virginia citizens have filed a new complaint  with the Federal Energy Regulatory Commission (FERC), alleging that the PATH Transmission Company subsidiaries of FirstEnergy (formerly Allegheny Energy) and American Electric Power have continued to improperly charge millions of dollars in promotional expenditures to ratepayers in 13 states and the District of Columbia.

With this complaint, PATH's overcharges total nearly $5.8 million over the past two years, when combined with the first complaint filed in January 2011.

Keryn Newman, a Shepherdstown resident, and Alison Haverty, of Chloe, filed their second Formal Challenge to the Potomac-Appalachian Transmission Highline, LLC 2010 Annual Transmission Revenue Requirement, on December 23 with FERC.

Their review of 2010 project costs reveals a propaganda pattern, using funds inappropriately recovered from ratepayers, to influence state regulators, as well as a large number of simple accounting errors. The complaint asks that FERC reject PATH's Annual Update filing and begin a broader investigation of more overcharges by the power companies.

"We contend that the Commission never intended to hand PATH a blank check signed by electric ratepayers in 13 states to use as they see fit to promote their for-profit endeavor," said Newman.

The PATH Companies recovered expenses of nearly $1 million for an advertising campaign utilizing recognized propaganda techniques and more than $1 million to create and manage fraudulent "grassroots" groups and an advocacy program carried out with private groups and inappropriately billed as "public education." The recovery of these costs from electric ratepayers violates FERC regulations.

Bill Howley, of The Power Line blog  has been covering PATH for the last three years. "The fact that ratepayers in PJM Interconnection are being charged for a dead PATH project is bad enough. The PATH companies should not be allowed to get away with sloppy accounting and dishonest representation of their promotional costs as 'public education,'" Howley said.

The citizen complainants discovered improperly recovered expenses related to lobbying by West Virginia Democratic Party Chairman Larry Puccio, and attempts to exert influence on the Loudoun County, Va., Board of Supervisors to release a conservation easement along PATH's proposed route - by creating a more destructive route around the easement and pitting neighbor against neighbor.

Also detailed in the complaint are efforts by PATH lobbyists to interfere in the Maryland Public Service Commission's consideration of PATH's application through the intervention of the Maryland Chamber of Commerce, which received a $20,000 "platinum sponsorship" from PATH that was charged to ratepayers' electric bills.

The Challenge also details generous payments to former state regulators and prominent local businessmen along PATH's proposed route in exchange for their support of the project, as well as over $100,000 spent on public opinion surveys and focus groups.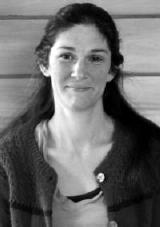 "This Challenge is not about the contemptible acts which PATH performed as they were trying to get approvals for their project. This Challenge is about who should pay for those acts. The electric bill which my family works to pay every month should not include these charges, and neither should yours," said Haverty (pictured left).
Newman and Haverty have been examining PATH's costs for the past two years using rules designed to provide public transparency. Despite PATH's attempts this year to suppress the release of information, the women have persisted in examining the company's accounting practices, and support for their efforts was recently expressed in comments filed by regulators from both Illinois and Maryland, and an amicus letter from the Sierra Club, EarthJustice, Piedmont Environmental Council and National Resources Defense Council.
On December 30, FERC issued a decision finding that, "…the consumers have demonstrated that they have a direct interest in the PATH Companies' rates that will be flowed through to them."
The PATH Companies have 20 days from the filing date to produce their answer to the Commission. Exhibits to the Formal Challenge can be found here
Background
The Potomac-Appalachian Transmission Highline (PATH) project originally was to run 275 miles from the John Amos coal-fired generation plant in St. Albans, WV, to a new 42-acre substation in Frederick County, Md., passing through Loudoun and Frederick counties in Virginia.
After more than two years and multiple hearings in three states, the project was "suspended" in 2011 by regional grid operator PJM Interconnection after opponents demonstrated it was not needed. The utility companies then withdrew their applications before state regulatory agencies.
Despite PATH's suspension, AEP and FirstEnergy are allowed to recover project costs, collected since 2008 from the 54 million ratepayers in the PJM region - all or parts of Delaware, Illinois, Indiana, Kentucky, Maryland, Michigan, New Jersey, North Carolina, Ohio, Pennsylvania, Tennessee, Virginia, West Virginia and the District of Columbia.
This cost recovery will continue at a level "necessary to maintain the project in its current state" until the project is officially abandoned at FERC. PATH also was guaranteed the right to apply for 100% recovery of abandoned project costs as part of an incentives package they were granted by FERC in 2008.
A copy of the recent complaint and related filings can be viewed on FERC dockets ER08-386 and ER12-269.