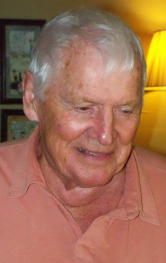 Calhoun native Dr. Charles "Mug" Albert Stump, 84, died in Daytona, Florida on Christmas evening after celebrating the holiday with his family. He died after a bout with cancer.

A memorial service will be held on Saturday, January 7, 2012 at the First United Methodist Church of Ormond Beach, 336 S. Halifax Drive, Ormond Beach, Fl., 32176 at 4:00 p.m. with a reception for friends and family to follow in the Fellowship Hall of the church.

See complete obituary Charles A. Stump

Dr. Stump was the only MD in Calhoun through much of the 1950s, before continuing his education and practicing obstetrics in Daytona for most of his career.

He reveled on his childhood days in Grantsville and the county, the son of the late Albert and Gladys Weaver Stump. Graduating from Calhoun County High School at the end of World War II, he began his medical career and joined the US Navy.

He and his wife JoAnn Campbell Stump, married almost 60 years, donated the Stump property on Main Street, Grantsville to the Calhoun Historical Society, including the historic Stump Hotel and his mother's old dress shop building, which is now a Family History Center.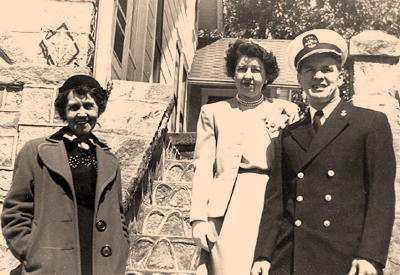 (Pictured L to R) Nettie Stump, the Stump Hotel's last
proprietress and Calhoun poet; Gladys Weaver Stump, his
mother; Charles Albert "Mug" Stump on leave from Navy, post WWII.
Returning to the county this October for a final visit, he paid a brief visit to Minnie Hamilton Health System, saying "I would hope the people of Calhoun would be grateful for this facility, considering in the 1950s I was the only MD in the county."
He and his wife often returned to the the annual CCHS alumni gathering.
"During those years it was seven days a week, with few nights I slept through without being called out, often making house calls," he said, "I quickly learned to deal with trauma and sudden on-set illness."
"Besides a wonderful life growing up in Grantsville, it was a rewarding and humbling experience to practice medicine in Calhoun, but quite frankly, it almost put me under. I was a young man, always rather small, and I lost about 25 pounds, which I couldn't afford to lose."
His awareness of the privilege and responsibility of being a physician caused him to serve mankind with a 2-month tour of duty in Brazil with the U.S.S. Ship Hope, a 2-month tour of duty in Columbia also aboard the Hope, and a 1-month stint on a Navajo Indian Reservation in Ganado, Arizona with Project Hope.
His last medical mission trip was to Camanchaj, Guatemala with the medical-surgical-dental team from Coronado Community United Methodist Church in 2006 at the age of 79.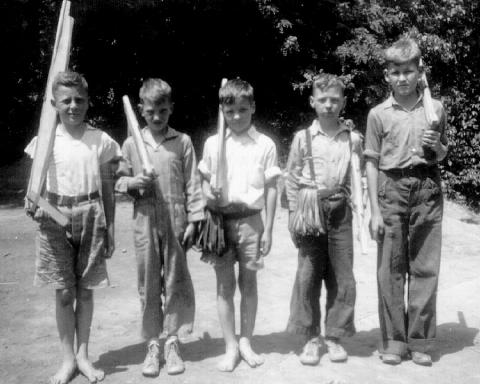 THE RUBBER GUN GANG - Jack Elliott, James Hardman,
Charles Albert Stump, Eugene Shaffer, Herbert Criss on
Grantsville street in 1935 (Photo Courtesy of James Hardman)
"I loved softball, and after coming back as an adult, I had a great time playing with the 'old men' in the community, many who played into their 40s."
Perhaps, one of Dr. Stump's most compelling comments, after delivering thousands of babies - "Every-time I have been in awe when I looked into the face of a newborn. I think of the thousands of things that must fall into place at the right moment to re-create human life."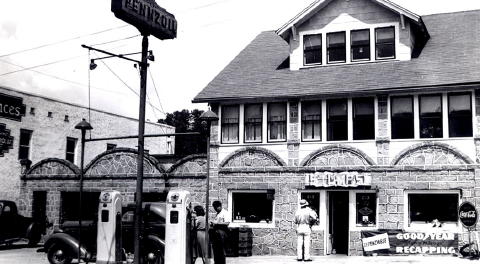 It was above the service station run by his parents
that Dr. Stump lived during his childhood, his windowed
bedroom on the second story overlooking High Street
In addition to his wife JoAnn, he is survived by a daughter Ann, a son Mike and one grandson.
He will be cremated, and returned to the Bethlehem Cemetery in Grantsville.