With West Virginia's leading politicians, all multi-millionaires with strong ties to the coal industry, leading the battle against the "war on coal," the state has been unable to move the Mountain State forward to other endeavors to bolster the economy.

Since Charleston politicos ordered the massacre of coal miners at Matewan and Blair Mountain those many years ago, little has changed in the extraction business, except to use the public relations, lobbiests and politicians to get their way.

Senator Joe Manchin just voted to water-down the laws regarding polution of land and water by the emission of mercury. In WV and many other states it is a health hazard to eat too many fish from mountain streams and rivers.

Now, those very coal miners have been polarized in fear of losing their jobs, and support an industry that uses their services and cares little about the use of our greatest resources, our mountains and rivers.

Most West Virginians know that coal is king, and rarely stand up against its violation of the the mountains and the health of West Virginians.

THE MARCH OF 2011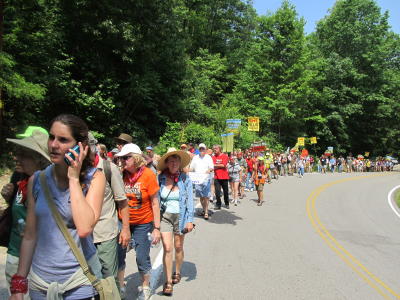 A thousand marched to Blair Mountain, many in the
footsteps of miners 90 years ago, climbing up the grade ...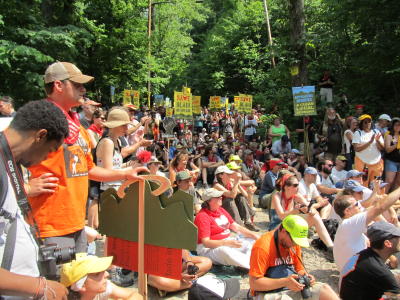 ... with a message to place it back on the National
Register and save it from mountaintop removal of coal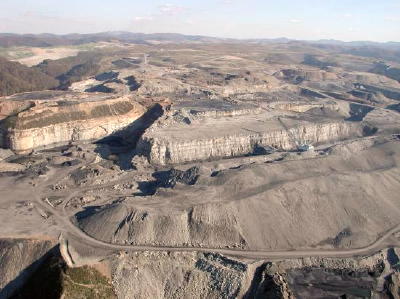 Most of the nearby mountains have already been destroyed
shown here is Kayford Mountain, one of the region's
largest mountaintop removal sites (Vivian Stockman Photo)
By Bob Weaver
Hur Herald Photos
June, 2011 - Ninety-years after one of the nation's most bloody and historical labor conflicts, the battle for Blair Mountain continued this weekend as a thousand marchers walked in the steps miners took in 1921, a 50-mile trek from the Kanawha Valley to Logan County.
Over 100 miners died in the conflict which involved 10,000 marchers, with the State of West Virginia ordering gas to be used on the miners and the US Army to drop bombs.
All were fired on by law enforcement and hired guns, including armed agents of the Baldwin-Felts detective agency who also killed miners and their supporters at the Matewan Massacre a year earlier.
The latest efforts by civic leaders, community members and environmentalists, is a renewed effort to place the site on the National Historical Register again and stop the impending destruction of Blair Mountain by the mountaintop removal of coal.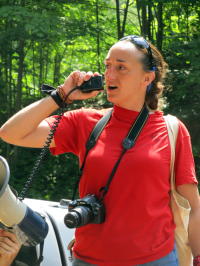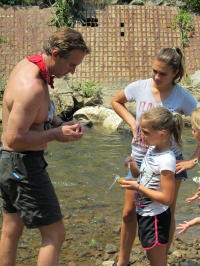 WV's award-winning environmentalist Maria Ganoe
(L) says "It's time to change," Robert
Kennedy, Jr. shows butterfly to family members (R)
The site was being placed on the National Register, but efforts by coal companies got the site de-certified using the objections of local landowners.
Saturday, on Blair Mountain about a dozen people waited for the marchers to arrive after their long ascent, listening to the blasting for coal on nearby mountaintop removal sites.
Frequent coal supporters drove-by shouting profanities at the "outsiders," many of them issuing a warning about getting out of Logan County alive.
Blair Mountain is an island among the mountains surrounding it, many destroyed by mountaintop removal with mountain streams filled with the spillage and debris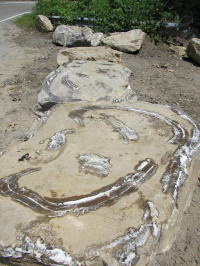 Mine supporters smeared lard on rocks to prevent
seating, local woman says she's a "mountain hugger"
Most of the dozen were from West Virginia, all standing because 40 boulders in a narrow space off the highway had been smeared with lard by coal supporters, marchers not being allowed on coal property.
Blair Mountain, surrounded by mountaintop removal operations, is the subject of Robert Kennedy, Jr's. recently premiered film, "The Last Mountain."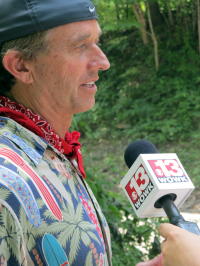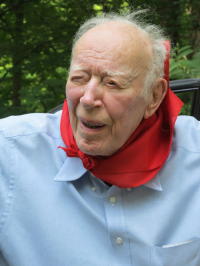 Robert Kennedy, Jr. (L) one of America's leading
environmental activists, said mountaintop removal is
a crime against West Virginians and a crime against nature;
Former congressman and WV Secretary of State Ken Hechler,
96 (R) physically attacked by a miner at the last Blair
march, is still speaking out against mountaintop removal
Kennedy's film focuses on Massey Coal, a company that racked up 60,000 health, safety and environmental violations, and fines amounting to over two billion dollars.
Massey in 2008 agreed to pay $20 million in penalties, less than 1 percent of the total amount of fines the company had accumulated.
Kennedy has long contended that Massey and other West Virginia coal operations are committing crimes against the state's citizens and crimes against nature.
Kennedy said that in New York and most states, the pollution or valley fill in streams and rivers would be followed by immediate arrest. In West Virginia, it's business as usual.
"The agency that's supposed to protect West Virginians from pollution (the state Department of Environmental Protection) has become the sock puppet of the industry it's supposed to regulate," he said.
In Washington, Republicans are fighting to decrease the funding to the EPA, with more deregulation that would allow the free market to work.
Virtually all of West Virginia's politicians support the effort.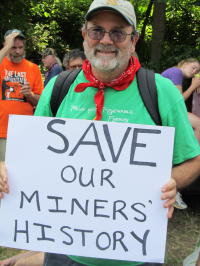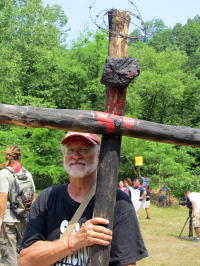 Marchers carry their messages up the mountain
Massey, in a recent scathing report, was charged with dozens of violations and "crimes" that led to the death of 29 miners at the Upper Big Branch disaster.
Massey (now purchased by Alpha) is saying the disaster was an act of God, a defense that should be familiar to most West Virginians.
During the past few decades, coal production has increased by more than 100 percent, but the number of jobs has dropped dramatically, with fewer workers needed for mountaintop removal.
Nearly all of the marchers expressed respect for miners, understanding full-well they are being held hostage for a job, but saying it is a fascinating shift in positions since 1921 when miners stood-up to the coal barons. Now, most of the miners seem to support them, in fear of losing their job.
"If coal mining is so important to the economy, why is this [West Virginia] one of the poorest states in the country?," asked Kennedy.
"West Virginia is the template of the worst of what can happen when corporations take over a democracy," and a state government, Kennedy said.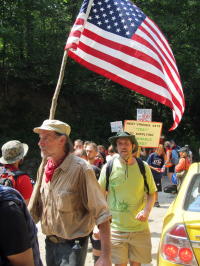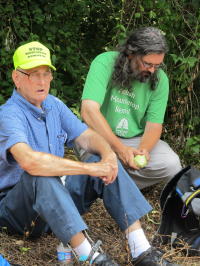 Most marchers trekked 50 miles beginning last
week, Calhouner Mark Geiger takes a break (far right)
When WV coal outfits kept getting cited for coal trucks violating highway and bridge weight limits by thousands of pounds, the legislature just exempted them.
"I love God's earth and I don't like seeing the destruction from this kind of coal mining," Alan Balogh said.
"It puts coal miners out of work, it destroys communities. We're not against coal miners. We understand people have to have jobs, but we've got to start supporting politicians who aren't just prostitutes for coal companies."
"We want it all, we don't want just a little bit of it," said miner Josh Woody. "When we get it we don't want nothing to be left, we're greedy and we've got to make a living just the same as everybody else does."
The marchers say they're protecting West Virginia's mountains for future generations, with hopes that the state's politicians can move beyond the control of coal.
Brandon Nida, of Salt Rock said, "The coal companies threw everything they had at us, but we're here. Their power is waning ... this is a turning point."
More on Blair Mountain:
NATIONAL TRUST FIGHTING TO RESTORE BLAIR MT. TO HISTORICAL STATUS