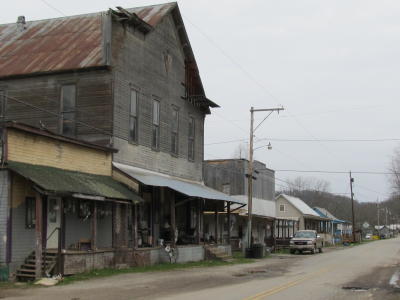 Town of Auburn is a shade of its' former self ...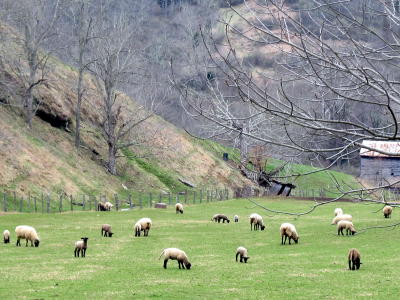 ... surrounded by Ritchie County farms
UPDATE - The US Postal Service posted a proposal to close the Auburn post office on June 2, 2011.
Phyllis Groves, local activist to save the post office, says there's 60 days from that date to contest the closing.
Then local holders will have 30 days for filing an appeal to the Postal Regulatory Commission.
A community meeting protesting the closing was held last week.
"We are still fighting," said Groves.
"Auburn is the last post office in this valley. Over in the next valley, they have four post offices in a 11-1/2 mile area," she said.
UPDATE - Phyllis Grove, former Auburn postmistress, says there will be another community meeting Wednesday evening to save the rural post office from closure.
The meeting with US Postal officials starts at 7 p.m. at the Auburn Community Center.
By Bob Weaver
ORIGINAL STORY - Ritchie County's Auburn post office is one of many US Postal offices slated for closure, one of several currently on the block in West Virginia.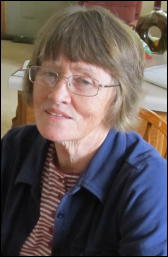 Retired postmistress Phyllis Grove (right) says, "Many efforts have been made to close our office in the past, and they've even scheduled meetings without the public being aware."
Grove, a native of Braxton County, settled in the rural farm community after her retirement from the postal system in 1999.
She says thousands of rural post offices are being targeted, even though closing the small offices would only save seven-tenths of one percent of the post office budget.
So far, only the people who have in-house boxes have been notified about the latest closure meeting, set for the Auburn Community Building at 6 p.m. on April 8.
"We're hoping to pack the center with folks who do not want their office closed," she said. Petitions protesting the closure are circulating in the community.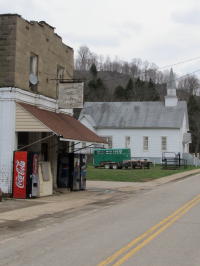 The Baptist Church resides on Main Street
and nearby the town's last store is closed
The Village of Auburn, still an incorporated town, had a post office before West Virginia became a state. It was known as Bone Creek, Virginia. Auburn was the site of the last one-room school to be closed in West Virginia.
The village was home to Stephen McCormick (1784-1875) noted inventor and manufacturer, who introduced the cast-iron plow to America.
Chester Osborne is the mayor of Auburn, with a population of about 100. The town has active churches, civic organizations and a community building.
"We live in a time when communities no longer matter, bigger is better. Those things important to small communities have been removed, like schools and post offices. After a while we're just a number, a consumer, and people are no longer connected in a meaningful way," said Grove.
"We hope the community will turn out for the hearing," she concluded.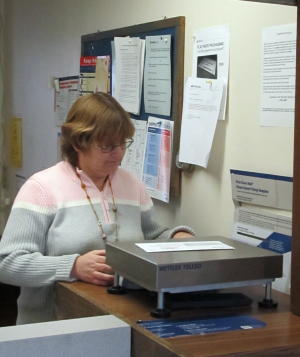 Postal clerk sorting mail for
rural community, now facing closure
See related stories POSTAL SERVICE IN TROUBLE, RATES GOING UP - PO's Fail Business 101, Offices Not In Phone Book
POSTAL SERVICE CLOSING OFFICES IN POOR, RURAL AREAS - Creston PO Expired Lease An Example
US POSTAL CLOSING MOSTLY RURAL POST OFFICES - A Closure Coming To You Soon