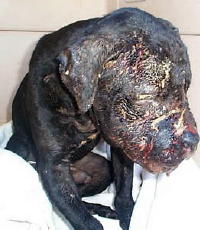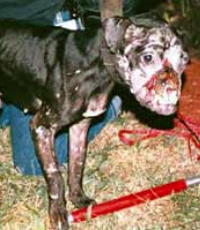 Humane officials say "fighting dogs" have few
friends, living lives of brutality and unspeakable
cruelty at the hands of those who gamble on their deaths
(The pictures above are examples of some of the results of dog
fighting, they are not dogs removed from the Barrera property)
By Bob Weaver/Dec. 2010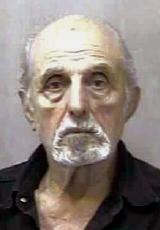 A search warrant was issued last week, followed by the confiscation of what appears to be dog fighting apparatus at the Edward Barrera property south of Arnoldsburg, indicating authorities are continuing to investigate the dealings of the late 87-year-old Calhoun man.
Janette Reever, deputy manager of the animal fighting law enforcement unit of the Humane Society of the United States, said Barrera was previously involved in dog fighting. She called him a "well-known figure" in the dog-fighting scene.
"We don't know anything concrete about any of that stuff," Chief Deputy Carl Ballengee told the Charleston Daily Mail.
"Right now we just suspect," he said.
Officers secured a tread mill, weights, a hoist and a spring pole, objects that could have been used in training Pit Bulls to fight, in addition to Barrera's computer.
The search warrant indicates that "there were in fact dog fights that occurred in a...mobile home," on the property.
WCHS-TV reported on one vicious pit bull called "Crazy," that was extremely violent and restrained by a heavy-link chain.
Calhoun's Animal Control officer, Bob Groves said all the surviving dogs have been placed, the pit bulls with Pit Bull Haven in Hardy County, a group that rescues, rehabilitates, and re-homes abandoned, neglected, abused and trained fighting Pit Bull type dogs.
Jo Staats, founder of wvpitbullhaven.com a rescue, rehabilitation, and retraining of Pit Bull breeds organization, said "We are hopeful that when the [Barrera] estate is settled, we can use the confiscated equipment for educational proposes."
DOG FIGHTING ATROCIOUS ACTIVITY
Staats said West Virginia changed their dog fighting laws in 2007, to prevent one of the most atrocious, blooding-letting activities in the Mountain State.
She said Pit Bulls are frequently misunderstood, that fighting dogs can be retrained.
Pit Bull fighting generally involves high-stakes gambling, and is frequently connected to organized crime, according to the Humane Society of the United States.
Reever, with the Humane Society of the US, called the community response to the incident phenomenal, saying officers checked on the animals around the clock, feeding them, laying straw in their doghouses and playing with them.
"These dogs were fortunate to have the support of the county after such a tragic ordeal," she said.
Groves said, "It was a real challenge first of all to place the dogs, even before the other problems flared up."
BARRERA'S DEATH OPENED CAN OF WORMS
Barrera was found dead inside his residence with one of 32 dogs discovered on the property, mostly pit bulls, prompting Officer Groves to seek placement of the dogs that had not starved to death.
State Police say Barrera, a retired IBM employee, had been dead two or more weeks.
Several weeks before Barrera died, he reported a masked figure entered his house and took $800, beating him in the head. He was taken to a hospital for treatment of multiple injuries.
The Calhoun Sheriffs Department investigated the incident, but no arrests have been made.
Earlier this year, Barrera was arrested in Jackson County with one-and-one-half pounds of marijuana, and had been released from jail on bond, yet to make an appearance in court on the matter.
Barrera, a native of Spain, had reportedly lived in North Carolina and Wyoming before coming to rural Calhoun County, West Virginia.
Sgt. O. S. Starsick of the Grantsville Detachment said officers felt no foul play was linked to Barrera's death, and his body was not sent to the medical examiner.
He was cremated at the request of a daughter who lives in New York.
See related stories 87-YEAR-OLD ORMA MAN FOUND DEAD
CALHOUN MAN REPORTED DECEASED TWO WEEKS WHEN DISCOVERED - Six Pit Bulls Died, 26 Others Being Placed
'DO NOT SUSPECT FOUL PLAY' IN BARRERA'S DEATH - Calhoun Man Had Been Beaten And Robbed; Training Fight Dogs, Says Humane Society
CALHOUN MAN COULD HAVE BEEN IN DOG FIGHTING BUSINESS - Humane Society Discovers Fight Training Equipment, Dogs Placed Following Barrera's Death
BARRERA WAS 'WELL KNOWN FIGURE' IN DOG FIGHTING SCENE