By Bob Weaver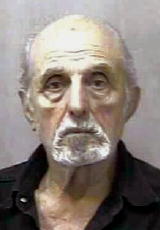 Humane Society officials told WCHS-TV yesterday that Edward Barrera (pictured left) 87, of Orma, could have been training pit bulls to be fighters for illegal matches.
Calhoun Animal Control Officer Bob Groves was working to have about 25 pit bulls and other breeds removed from the Barrera property, with WCHS-TV saying "Early reports point to natural causes" for his death, and that authorities "do not suspect foul play at this time."
Barrera's body was discovered Tuesday in his house with a deceased dog, officials indicating he was likely dead for about two weeks. He was a former employee of IBM.
Initially, Barrera had 32 dogs, with some apparently dying of starvation before the situation was discovered.
Trooper J. E. Kincaid, the investigating officer, denied access to the Herald to photograph the investigation and removal of the canines by the Humane Society, indicating it was a "crime scene."
A short time later, access was granted to WCHS-TV cameras, who came to the county to cover the story.
Trooper Kincaid did not respond to a written public information request regarding matters surrounding Barrera's death.
The station says a Humane Society Of The United States cruelty to animals investigation team was on site, indicating the animals will be farmed out to various animal rescue groups.
Humane Society members found numerous tools for training fight dogs, saying that some of the dogs were abrasive and had old wounds.
A few weeks ago, Berrera was badly beaten by an unknown assailant who gained access to his house, Barrera said $800 was stolen from him. He was taken for medical treatment for multiple injuries to his head.
WCHS-TV reported that Barrera was found dead on the floor, his phone being off the hook.
Barrera's remains were not sent to the State Medical Examiner's office following the State Police investigation, and his body has been cremated.
Barrera, at 87, was likely among the oldest West Virginians to be charged with a drug buy.
Jackson County police arrested Barrera earlier this year after about one-and-half pounds of marijuana was discovered in his truck.
The case was pending in Jackson County.