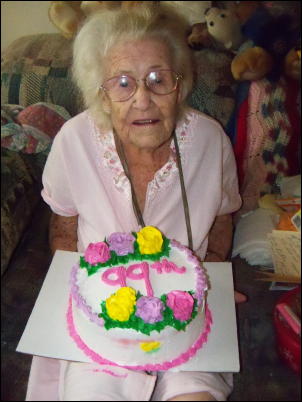 Ruby Strikes 99
Ruby Husk Craddock of Grantsville has been saying her goal is to have those double zeros next to her age.
Yesterday she got a little closer, celebrating 99 years with her friends at Bramblewood village.
Last year, Ruby returned to her ancestral home near Hur for a visit, saying, "It is deep in a holler as far as you can stick a butcher knife."
Still alert, and interested in life, she enjoyed her flowers, gifts and birthday cake, after which she likely fired-up a non-filter cigarette as an after dinner reward.
BORN IN THE DEEP WOODS NEAR HUR - Ruby Husk Craddock Celebrates 94 Years
RUBY'S GETTING A LITTLE CLOSER TO 100
BORN IN THE DEEP WOODS NEAR HUR - Ruby Husk Craddock Celebrates 96 Years
RUBY GOES HOME AFTER 50 YEARS - Calhoun Woman Wants "Double Zeros" Next To Age