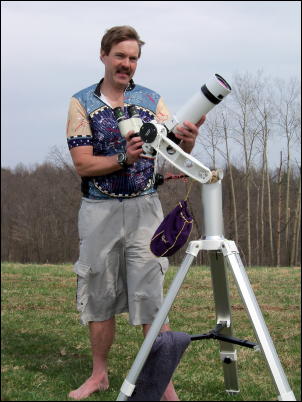 Ottum has been star gazing since age 12
By Bob Weaver
Brian Ottum traveled seven hours from Ann Arbor, Michigan to spend a few days at Calhoun Park to stargaze a few years ago.
"All it takes is dark to bring astronomers to remote locations," Ottum said, and Calhoun County is one of the darkest places on the eastern seaboard, joining Spruce Knob for the honor.
"Few places still exist where the night sky is not illuminated with development, which makes this a special place," he said.
Ottum, now in his 50s, has been a universe watcher since he was 12.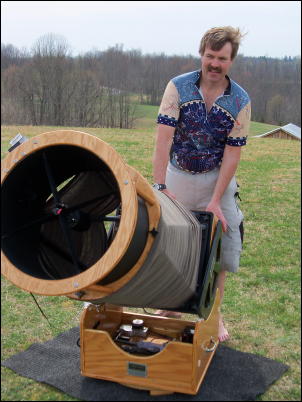 Ottum's computerized Stradivarius reflecting
telescope was made by "a craftsman"
He plans to plant himself in one of the park's open fields for a few days, to observe and photograph the universe.
The Easter weekend forecast fumbled a little with some cloudy skies, but Ottum was hopeful the skies will clear.
Astronomers have been coming to the Calhoun Park for over ten years, enthralled with the location.
Spruce Knob has an annual astronomers event known as Almost Heaven Star Party. (2010)
A UNIVERSAL NIGHT AT CALHOUN PARK - Stargazers Travel To Sunny Cal
THE UNIVERSE FROM CALHOUN SOD - Photo Takes 1st Place "Sky At Night"