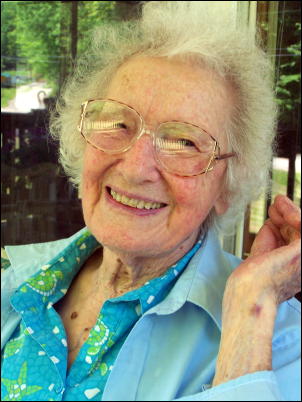 Opal Houchin Jett was 100 on February 1, 2012
2008
Opal Houchin Jett gives praise to her long life, alert and active life as she approaches 100, saying "I've been blessed. I never wanted to be a burden to anyone."
"I think I'm among the oldest Houchins, ever," she said, resting on the porch of her Spring Run home near Arnoldsburg in 2008. Opal was preparing to attend the Houchin Reunion the following day, an event which she helped organize.
She and her husband, the late Claude Jett, went off to Ohio to find a job during their married life, "but stayed away from the hills only four years."
They spent most of their life at Milo and Minnora. "I came to Spring Run in 1989 after being flooded out," Opal said.
She has an adopted son, Michael, who lives in Canton, Ohio.
Growing up on Beech, a section called Cabin Run, she has fond memories of her hard working parents, Grover Cleveland and Stella Metheney Houchin. "They tried to teach us right. Every time we'd leave the house, they'd say 'behave yourself'."
"I went to the one-room Liberty Hill "high school," trudging down muddy Beech Road to the structure located on a hilltop. She fondly remembers her teachers, Opal Wayne, Lizzie Fritz Reynolds, Rev. Harrison Marks and Wheeler Chennoweth.
"Most everyone wore gum boots," she said.
"I was 16 in 1928 when they built the road down Letherbark, staying with the Metz family and cooking for the laborers. When they blasted the big rocks, they would warn us and we'd all go to the cellar."
"I remember the horse-drawn grocery wagons from Spencer delivering goods to Calhoun stores."
She recalled a childhood event, the destruction of the family outhouse. Her brother Forrest was coming off the mountain with a huge sled load of hay and it started sliding rapidly down the hill.
"It struck our outhouse, destroying it, and causing the laying chickens inside to scatter to the wind," she recalled.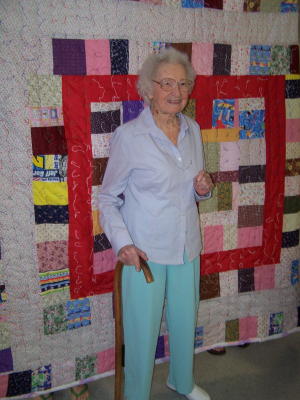 Opal brings her latest quilt to a Houchin Reunion
Married during the Great Depression, Opal said her husband went to work in the corn fields for Charley Witt for fifty-cents a day, "Twelve hour days at that, and glad to get the pay."
"They would thrash wheat and take it to the Farmer's Roller Mill in Spencer and trade it for flour."
"We never went hungry during the Depression, having meat and vegetables, but some kids only had cornbread in their lunch pails."
Brother Grover Houchin, Jr. still lives on Beech.
HOUCHIN REUNION: 2009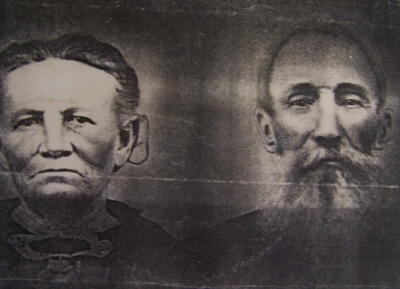 Early Calhoun Houchins - Francis Marion (born
1837) and wife Sarah Mace Houchin (born 1850)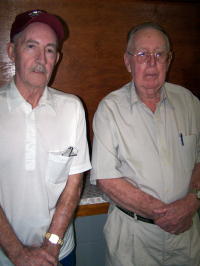 Ray Laughlin of Sarasota, Florida and Grover Houchin,
Jr. of Beech (left); Wendell McKown and Peyten (right)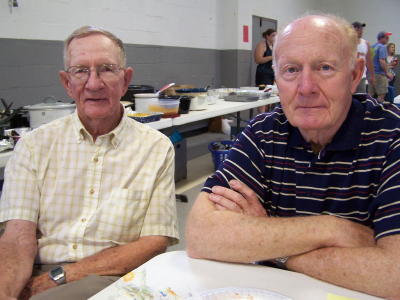 Donzel "Tar" Hall (left) former Marshall football player
and resident of St. Paris, Ohio and brother Paul Hall (right)
of Alliance, Ohio, formerly of Spencer, with roots in Calhoun