By Bob Weaver

The last surviving grandchild of well-known Civil War Confederate marauder Daniel Duskey has died. Elva Duskey Wilson, active and alert until recent months, has died in Parkersburg at the age of 96. She was the last survivor among twelve siblings.

One of twelve children of James and Joanna Shaffer Duskey, she was born in 1905 at Richardson, Calhoun County, a well established village along the waters of the West Fork of the Little Kanawha, at one time more prosperous and vibrant than the county seat of Grantsville.

Elva Duskey Wilson lived her early life with her store-keeping parents, and experienced the glory years of the Village of Richardson, its stores, hotel, livery stables, barbershop, physician's office, drug store and the famous Richardson Mill. Her father was also an assessor and school teacher. It was the oil and gas boom days during the early 1900's.

James S. and Joanna Shaffer Duskey Family
Front, left to right: Charles C. Duskey, Sr., Joanna Shaffer Duskey, James S. Duskey (son of Civil War soldier, Daniel Duskey), William Duskey, Elva Duskey (twin of William); Back: George Duskey, Amy Duskey, French Duskey, Myrtle Duskey, Tensey Duskey, Brook Duskey, Daniel D. Duskey. Missing from photo are Mont Duskey and Edith Duskey. (Photo Courtesy of Edna Duskey Kingsbury)
James Duskey Store at Richardson About 1910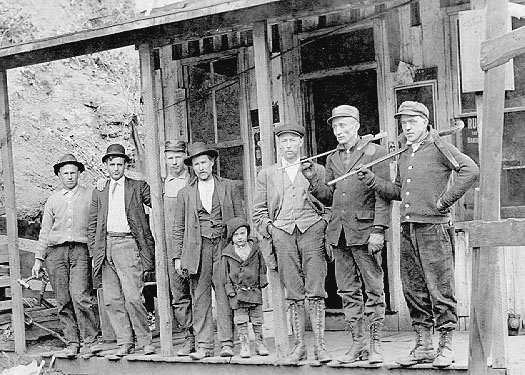 Left to right: Godfrey or Alfred Kemmner, Mont Duskey, George Kemmner, James Duskey, William Duskey, Unknown, Unknown, Unknown (Photo Courtesy of Bob Weaver from the Randall Whytsell Collection)
James and Joanna Shaffer Duskey, Richardson storekeepers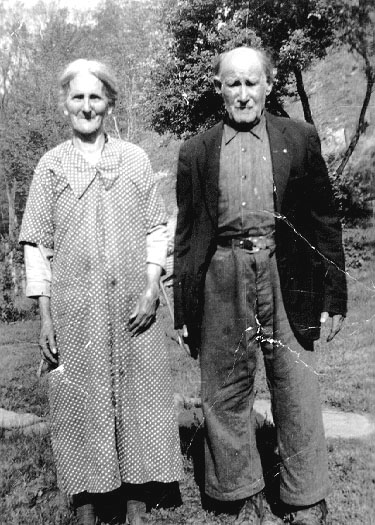 "I remember a paddle boat built special to come up the West Fork from Creston to Richardson and Hassig," she said. "It had steel spikes on the paddles to dig its way over the sand banks." She said sometimes the boat went up to Arnoldsburg when the water was up.
Her grandfather Captain Daniel Duskey, born in 1809, became a leader of a group of Calhoun's irregulars attached to the Moccasin Rangers. Duskey's group was not as murderous as those led by Captain Perry Conley, but the Moccasin Rangers became notorious for for their forays throughout the Civil War, terrorizing the Union element. Duskey was in his 50's during the war, a farmer, storekeeper and Justice of the Peace.
Duskey and some of his men were eventually captured by Federal troops sent to Calhoun to bring him under control. He and his son George were sent to prison for his war crimes, but he was pardoned by President Abraham Lincoln when the war was over.
He was one of the first members of the Calhoun County Court prior to the war, but because of his Confederate allegiance, animosity continued toward Duskey and his family long after the Civil War, losing citizenship rights and the right to vote. The Duskey's were not included in the county census for several years.
Elva Duskey Wilson was married to the late Clarence C. Wilson. She is survived by two sons, Robert J. and Homer L. Wilson of Parkersburg, five grandchildren, 13 great-grandchildren and one great-great grandson. She was a member of the Order of the Eastern Star and several other lodge groups, and was an early member of the Richardson Methodist Church. She and her husband operated a lumber business in Parkersburg for many years.
She was preceded in death by brothers Brooks; Mont; Charles, Sr. (father of Charles Duskey, Jr. of Mt. Zion); Daniel; George Duskey, Sr. (victim of a well-lnown murder in Richardson); French and James Everett (her twin).
She was preceded in death by sisters, Amy Stutler; Edith Bright; Tensey Kirby and Myrtle Ritchea.
Funeral services will be conducted Monday, December 13, 2001 at the Vaughan Funeral Home in Parkersburg with the Rev. Wendell Stutler officiating. Burial will be in Parkersburg. Visitation 2-4 p.m. and 6-8 p.m. Sunday.
Editor's Note: It was my privilege to have spent time with Elva during the past five years and record some of her stories about life in the early days of Richardson. She was fascinated with the history of her family and their ability to survive some trying times. Her twinkling eyes and frequent smiles revealed a personality full of life and gratitude. She also shared many unpublished photos that have now become part of The Hur Herald and Norma Knotts Shaffer's collection of historic photos. God rest her soul.