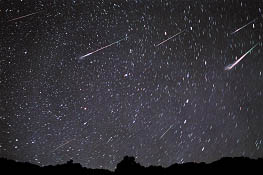 It is "Meteor Madness" Sunday morning! It could be one of the largest meteor showers to strike the earth in many years, and a few hardy folks have organized a sky-watch for the display at the Calhoun County Park. The Leonid meteors will be visible in this part of the world between 4 and 6 a.m.

Sky watchers say it may be the biggest shower since 1966 when 100,000 meteors entered the atmosphere.

In 1998 a Leonid meteor entered the atmosphere creating a fireball as bright as the full moon. Some of the objects lit up the sky like bolts of lightning and others provided spectacular multi-colored light shows.

"Bring your coffee, hot chocolate and early morning snacks and join us on the brim between the two shelters (on the right as you enter park)," says Jeanne Wilson, who is helping organize the "ad hoc" event. Calhoun scoutmaster Kitty Wilson will be there too. Bring your binoculars or telescope, if you have them.
Yes it's early, but it may well be worth putting the kids to bed a little sooner and rising for the occasion. It doesn't happen often.
If it is cloudy cancel, unless you want to have an early visit with some die-hards at the park.
Photos courtesy of Sky and Telescope