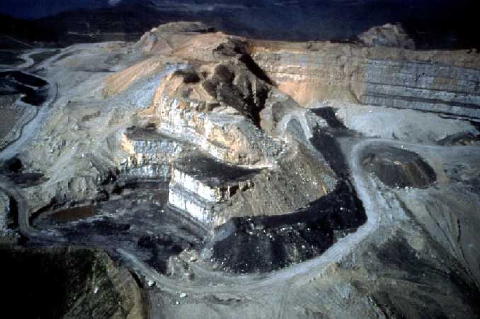 The aftermath of mountaintop removal photo by Vivian Stockman
Coal's Ascent Is Re-Igniting Familiar Debate
By John Donnelly
BOSTON GLOBE
TWILIGHT, W.Va. - Even the name of this place speaks of an end ahead.Surrounded by the rubble of mountaintops obliterated to mine coal, several of tiny Twilight's homes have been demolished. King Coal bought and removed them. Now, the town is on the same path as scores of other West Virginia communities that gradually lost their residents and died in the shadow of a vast mining operation.
When Maria Gunnoe drove through last week, she didn't think of stopping. Gunnoe, 39, a descendant of Cherokees and Scots in Appalachia, has received death threats lately for her fight against filling valleys with the coal trash from the mountaintop excavations. And for her, any place, even this rapidly shrinking one, doesn't feel safe anymore. She travels now with a bullet-proof vest and a can of Mace.
"If I stop, I could be a dead woman," she said.
Her battle in the Appalachian Mountains is set against a backdrop of a great global fight over coal.
Over the past several months in Washington, D.C., places such as Twilight have become the center of a growing debate over carbon dioxide emissions that contribute to global warming, the US drive for greater energy independence, the economic future of a coal-producing region, and the health of people who live among the coal fields.
On one side: environmentalists who want to sharply curtail coal use because of carbon dioxide emissions linked to global warming and mining operations they say destroy the nature of a land and its people. On the other side: the coal industry and those who seek America's independence from foreign oil, who argue that technology can create "clean coal" by burying the emissions in underground caverns.
But almost no one in Washington - and none of the Democratic or Republican presidential candidates - has mentioned what increased dependence on inexpensive, plentiful coal means for the people living amid the excavations.
In Twilight, 350 miles southwest of the nation's capital, residents say decisions made in Congress and at the White House shake their world like the powerful explosions on Montcoal Mountain that rattle the foundations of their homes. Some say these uncertain times for coal miners - whose jobs hang in the balance - eliminate tolerance for dissent.
Even though the US coal industry has reaped billions of dollars in revenue - Peabody Energy reported $5.2 billion in revenues in 2006 - the coal-rich regions have some of the worst poverty in the country. According to the US Census, the median income for Twilight and the surrounding region is less than $20,000 a year, and more than a quarter of families live below the poverty line.
Twilight is simply a line of double-wide trailers with no general store, set in the folds of steep hills, on a road that ends at a mountaintop coal operation.
"The coal industry just wants to keep what's happening here a secret," said Steve "Spankey" Webb, 51, of Twilight, who now works in an underground coal mine, a 33-year veteran of the business. "I know the country needs coal, but they don't worry about the people who live in these areas. They just don't care, I reckon."
Added Robbie Blevins, the retired president of United Mine Workers Local 9177: "We need the jobs here. I think if the coal companies were a little bit more responsible about how they do this mountaintop removal, it wouldn't be near as bad."
Few are betting against the coal industry now.
Coal accounts for at least half of the energy used to meet America's electricity needs, and coal-fired power plants produce 40 percent of the country's carbon dioxide emissions.
Since 2001, coal consumption nationally has risen gradually, according to US government figures, but several industry officials have forecast that demand could double by 2017 - if plans develop to turn coal into a liquid fuel.
Last week, Congress passed a bill that would allow the government to give up to $8 billion in loan guarantees to develop "clean coal" power plants and create liquid coal. Meanwhile, the new energy bill provides up to $240 million a year through 2012 on projects that would capture and store underground the carbon dioxide emissions from coal-fired plants.
Pro-coal lawmakers and industry officials contend that if emissions-capture technology works, the pace of removing coal would probably accelerate, bringing more jobs to West Virginia and an increase in the mountaintop removal of coal.
Mountaintop removal involves stripping trees and topsoil and blasting away layers of rock to get at coal seams underneath. The blasting and the removal of tons of debris often have literally buried streams; or sent a torrent of water tainted with heavy metals downhill, flooding areas; or coated towns with layers of coal dust.
In Appalachia, activists say, coal companies have leveled more than 470 mountains in the region since the late 1970s. That pace stepped up considerably after 2002, when the Bush administration changed just one word in federal environmental regulations; it reclassified mining debris "waste" - rock blasted from the mountain, then pushed into a valley - as "fill," allowing companies to dump debris into mountain streams.
The Department of Interior is considering an additional change in the Clean Water Act that would effectively end a Reagan administration ban on mining within 100 feet of a stream.
In a Washington speech last week, Senator John F. Kerry - Democrat of Massachusetts and the party's 2004 presidential nominee - said the United States should invest billions in clean-coal technology. "Coal is cheap, dirty, and abundant not only here at home, but also in countries like China," he said.
Kerry later said that while he opposes "blasting off mountains" to mine coal, the resource must be a part of the United States' long-term energy strategy.
West Virginia's governor, two US senators, and three US representatives, however, have supported the practice; each declined requests by the Globe to comment on mountaintop-removal coal mining.
Bill Raney, president of the West Virginia Coal Association, contends that the industry's future is extremely bright. He said 20,000 West Virginians are working in the industry, which has given residents "an opportunity to stay home in West Virginia and raise their kids here."
Coal is a promising solution to several urgent energy problems, he said: "We have plenty of coal resources in this country, we can make electricity with it, we can make liquid fuels with it, and we can sequester the carbon. I don't understand the hesitancy" to commit to it.
Raney also said the industry has made "tremendous strides" in environmental cleanup from mountaintop removal. "My conscience is completely clean," he said.
Gunnoe, a full-time organizer for the Ohio Valley Environmental Coalition, rejected the idea that coal can be a viable, environmentally friendly energy source. Since 2001, she said, seven floods - some possibly caused by waste water-containment pools that burst - have submerged almost five acres of her family farm and polluted her drinking water.
"Clean coal is a complete and total lie," Gunnoe said last week on her 24-acre property in Bob White, W.Va. "Coal is black, through and through."
Mountaintop-removal mining, she said, is a moral test for society: Will it choose cleaner alternatives, or will it choose to generate electricity from a process that "is helping kill off a whole culture" of people whose lives are intertwined with the region's wooded environment.
Gunnoe and others have filed lawsuits to stop mining companies from dumping debris into valleys; their aim is stop mountaintop removal of coal throughout the Appalachians.
After winning a case in October that shut down one mining operation, resulting in the layoff of 39 workers, Gunnoe and others received death threats. One person, she said, walked up to her and threatened to destroy her property if she didn't stop.
But Gunnoe, a slender, tough-talking mother of two whose brown hair reaches to the small of her back, said she and others will press ahead - carefully.
"The mining companies want to depopulate the area, like in Twilight," she said. "They can destroy the land and the water, but I'm not leaving. I'm here for the long haul. I'm going to continue fighting."
Joseph Williams of the Globe staff contributed to this story. John Donnelly can be reached at donnelly@globe.com
© 2007 The Boston Globe