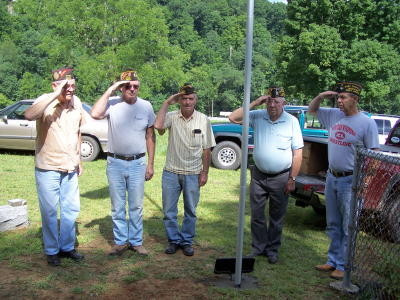 "We salute those who have protected America and our freedom"
By Bob Weaver July 2007
VFW Post 5959 vets traveled last week to the long-gone Village of Richardson along the lower West Fork to erect a pole and flag.
The flag now flies above what was once Calhoun's largest village, now vanished but for a large grassy meadow.
This is about the 20th flag and pole set by the vets in memory of those who have served in America's wars.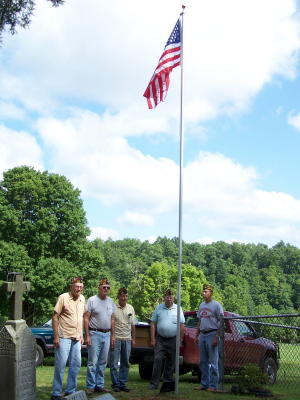 FADING INTO MEMORY
The town of Richardson, a center of commerce on the lower West Fork, was named for Charles H. Richardson, moving to this county in 1866 from Watertown, Mass.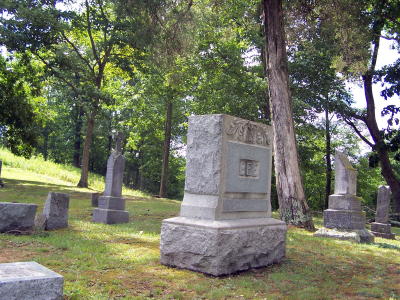 Carl Kemmner WW I (1894-1963) son of original German
settler John Kemmner and Stennett Bee (1830-1923) reposes
in the Bee Cemetery, the latter once operating the Bee Hotel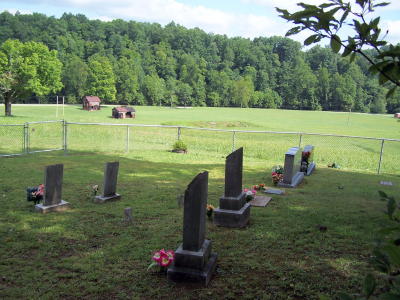 The Meadows Cemetery (and Bee Cemetery) overlook a grassy
meadow, once the site of the bustling Village of Richardson,
hotels, drug store, barber shop, mill, general stores and
houses, spurred by oil and gas development about 1900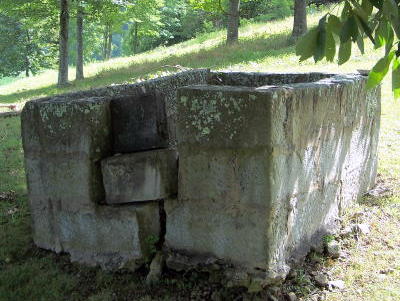 A hand-constructed stone crypt, the resting place of Bernard
Freemont Hardman, age four, who burned to death in the village in 1906
- To read more use keywords, Richardson and Hassig under the Herald's Search