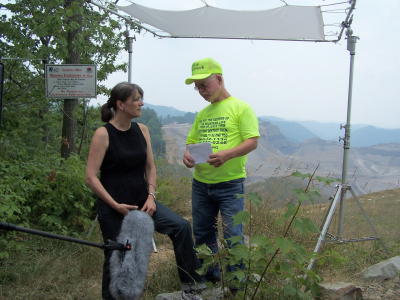 Country music singer Kathy Mattea (left) talks with
Kayford Mountain resident Larry Gibson about how
mountaintop removal has changed his home (Hur Herald Photo)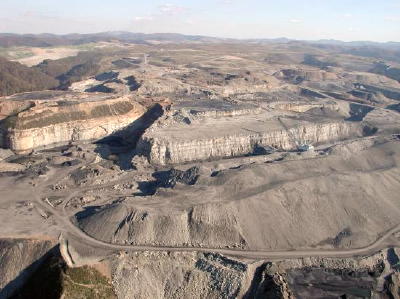 Several generations of Gibson's family have lived
on Kayford Mountain, one of the region's largest
mountaintop removal sites (Vivian Stockman Photo)
By Bob Weaver
Country music singer Kathy Mattea says mountaintop removal mining is "devastating" and has made West Virginia's beautiful mountain vistas harder to find in southern West Virginia.
The West Virginia native, whose grandfathers were coal miners, toured several mountaintop removal mining sites yesterday, by air and by land. "I was overwhelmed by the extent," of the operations, she said.
"I looked down at those big machines that take six or seven men for mountaintop removal of coal, and realize 'coal mining' is not about jobs," indicating the state once had about 200,000 miners and now has 13,000.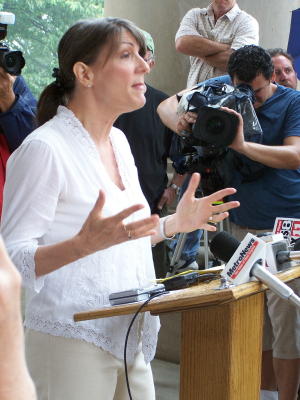 Mattea shares her thoughts about mountaintop
removal with media on capitol steps (Hur Herald Photo)
"We're challenged with how to feed our energy appetite, and there must be some way those with very different views can come together for our survival," she said.
Mattea met with residents of Kayford Mountain, which is near a major mountaintop removal operation. She grew emotional and wept while listening to residents' stories of how mining has changed both the land their lives.
Nearly 500 West Virginia mountains have been leveled by mountaintop removal, and hundreds of miles of streams have been filled.
Kayford Mountain resident Larry Gibson thanked Mattea for lending an ear, saying many rural residents often feel overlooked and isolated.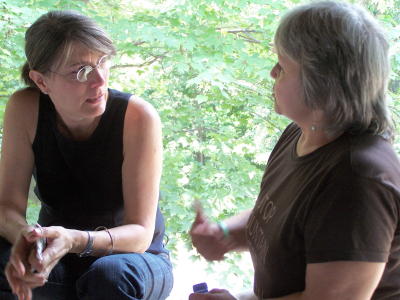 Mattea (left) speaks with international award-winning environmentalist Judy Bond (right) from Coal River Mountain Watch (Hur Herald Photo)
More to follow