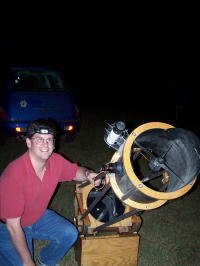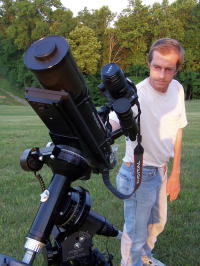 Phil Creed (left) aligns his Dobsonian telescope and astro-photographer Dave Miller (right) prepares for a night of photography at Calhoun Park
By Bob Weaver-June, 2007
The night was young Monday at Calhoun Park as stargazers Phil Creed and Dave Miller of the Akron-Barberton Ohio area set up their telescopes for a night of universe watching.
Creed says the Calhoun Park is "a notch above" most every place stargazers practice their hobby, at least along the Eastern USA.
"The lack of artificial light allows for be best viewing," he said.
Creed and several of his friends have been coming to Calhoun in recent years.
"This beautiful park is a real treasure," he said.
"One thing that happens to stargazers," he said "is ego reduction. You re-learn what a speck you are in the grand scheme."
"It is an awesome universe in which we dwell."