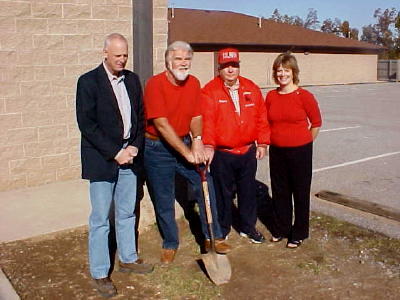 Breaking ground (L to R) Donnie Pitts, Loyd "Sonny" Wright,
Dewayne Wolverton, and Connie Roberts
A groundbreaking for the construction of the Wayne Underwood Museum was held last week at the Calhoun Middle-High School athletic complex at Mt. Zion.
Supporter Loyd Wright said nearly $30,000 has been raised for the project, including a $10,000 donation from the Ox Johnson family. It was Johnson's vision to erect the museum, which also includes box seats on the second floor to view sports activities.
Wright said about $6,000-$7,000 is needed to complete the project.
The building, which will be the same dimensions as the press box, will be used to display memorabilia from the Underwood years.
The sale of the seats will be used as a fund-raiser for athletic programs, said Wright, who said financial assistance is still needed to complete the project.
Actual construction was to begin this week.
Donations can be made to Wayne Underwood Museum, c/o Connie Roberts, HC 89, Box 119, Mt. Zion WV 26151.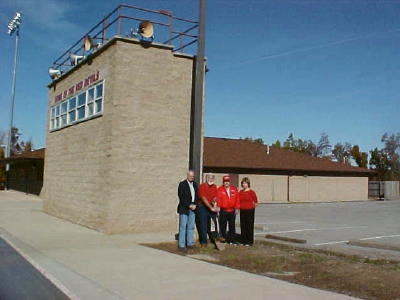 Museum building will be same size as press box,
with second story used for fund-raising box seats