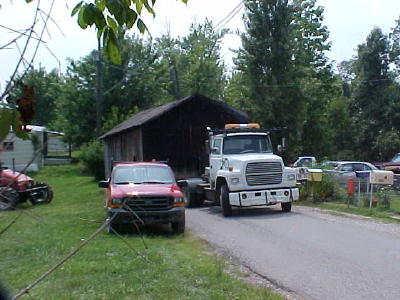 The building was snaked up steep Buckhorn Hill to downtown Hur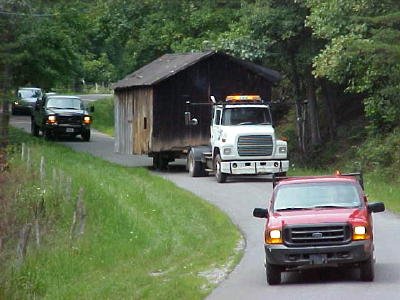 Then brought down Hur Hill toward ...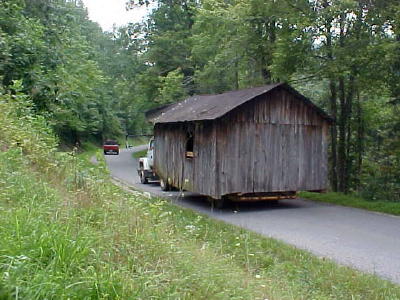 ... Slider (Dennis) Fork where Uncle Charley,
owner of the blacksmith shop, lived and had a store
Finally, resting in Heritage Village at Calhoun Park
By Bob Weaver 2005
What would Uncle Charley Starcher say if he was sitting in front of his store down at the foot of Hur Hill and see his blacksmith shop coming down the road, headed for the county park?
He certainly would say "Bye gracious alive!," a frequent expression that commenced most of his comments. He would likely wonder about the 21st century interest, since there is little horseshoeing going on these days.
Uncle Charley's blacksmith shop, a Hur fixture for most of the last century, is now resting at the Calhoun County Park after two days of hard work by May's Moving outfit from Arnoldsburg.
Jim Bell said after the building was brought up steep Buckhorn Hill, there were few hitches over the six mile move.
"There's more work now, getting it in place and getting the tools back in the building," said Bell.
"The area is beginning to look like an old-time Calhoun Village," he said.
The shop was donated to the Calhoun Historical Society by Lewis and Dottie Slider of Hur.
Bell says there will soon be a fourth addition to Heritage Village - the Freed Post Office.