BLACKSMITH SHOP REPOSES AT HERITAGE PARK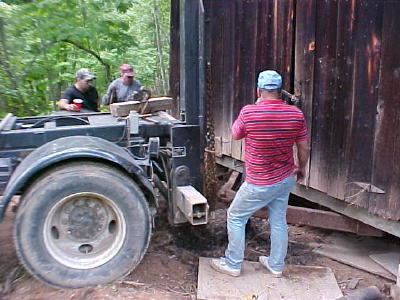 The old blacksmith shop was being elevated,
bundled up and being placed on wheels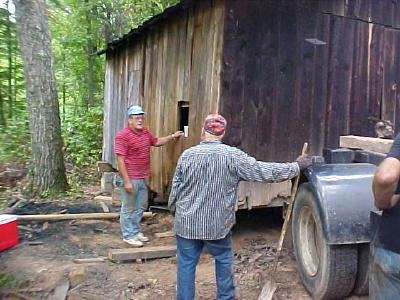 Jim Bell and Gary May work on details for the movin'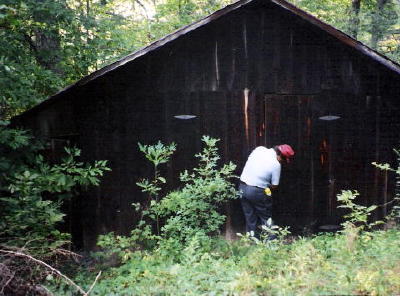 Hur mayor Lewis Slider opens long closed blacksmith
shop in 1996 down Buckhorn Hill for the first time in 35 years
By Bob Weaver 2005
The Village of Hur, since it was proclaimed an official US post office in 1890, maintained several important institutions and businesses, all gone except for the Mt. Olive Church and cemetery.
Still standing is Charley Starcher's blacksmith shop, down the hill on the back side of the village.
Once the thriving village had three stores, a telephone switch office, two grist mills, a one-room school, a parsonage and several houses.
The shop held the usual smithy tools and implements ...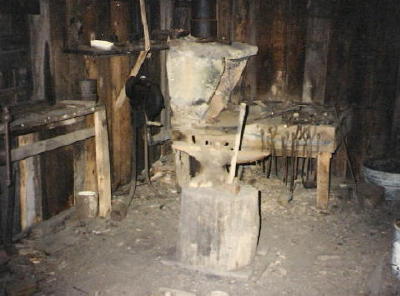 ... including a container for a bed of hot coals with a blower and anvil
Farmers out the Husk, down on Buckhorn, around the Kerby Ridge and over on Rowels and Barnes Run, would bring their steeds to get "shawed," or have Charley do specialty ironwork.
"We're expecting to have it moving down the highway Thursday," said Bell, who was assisting mover Gary May yesterday, bundling the structure and getting it on rollers.
The shop was donated to the Calhoun Historical Society in 1996 by Lewis and Dottie Slider. It is about to become part of the historic Heritage Village at Calhoun Park, according to society member Jim Bell, who is spearheading the project.
Slider donated the tools to the local historical society in 1996, saying he would like to have blacksmithing be remembered as part of Calhoun life.
May said "It's a pretty tricky deal to get it off the side of the hill," having to hit the Buckhorn Road just right, and inch it up the steep hillside.
"But it can't go anyway but down the road," to the county park.
The blacksmith shop will join the Steven's School and the Jarvis Store, both of which have been moved to the site by the historical society with lots of volunteer labor.
Uncle Charley maintained his shop for several years on Slider Fork, where he later operated a country store, but during the earlier part of the 20th century, moved its operation to Hur for business hours.
When some of the photos used in this story were taken in 1996, it was the first time in nearly 35 years the shop had been opened. The contents were moved to Grantsville in 1996, for the preservation project.
Today, if you're traveling Slider Fork, Barnes Run and Rt. 16 between the Mt. Zion Church and the county park - watch out for the blacksmith shop.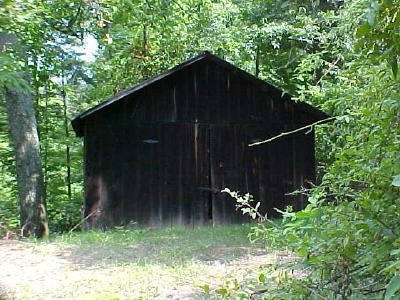 Charley's shop has been on the backside
of the Village of Hur for about 85 years
SEE "Bye Gracious Alive-Remembering Charley Starcher" under PEOPLE, HUMOR AND HISTORY