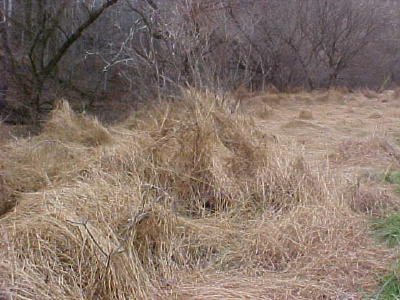 Stilt Grass covers large area along Henry's Fork
By Bob Weaver
That wicked Japanese Stilt Grass is now covering more area and expanding to new locations, now evidenced by its rambling brown patches since the frost.
It is on a growing rampage since the ice storm and increased logging in the area, mostly because of increased light into the Forrest and seed distribution.
Piles of the grass can be seen covering several sections of land along Henry's Fork since the onset of cold weather, but it can be found in most sections of Calhoun County.
Few people have heard of the Stilt Grass invasion, but the toxic plant has been in Calhoun for eight or more years and is now present in nearly all West Virginia counties.
Forester Russ Richardson, who owns a tree farm on the right fork of Crummies Creek, says the rapid growth and climbing nature of this exotic invasive grass has the potential to cause an ecological disaster.
"It could be the likes of which the Appalachian hardwood forest may never recover," he said, making multi-flora rose look like a minor problem.
It kills almost everything underneath it, from valuable plants, flowers and herbs to seedlings for future forests. "It actually gives off a toxic poison," Richardson said.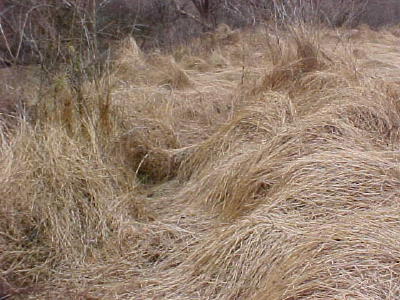 The tight thatch of stilt grass along Henry's Fork is evidence how it can kill everything beneath it.
And don't drop a match.
SEE "Something Wicked This Way Comes..." Archives 6/13/2004