Introduction: Calhoun recluse and individualist Emma Metz has now passed, but her memory lives on in the backwoods of Crummies Creek, her field of flowers now in bloom.

By Bob Weaver 2001

Standing in a field of daffodils, 77-year-old Emma Metz told about making it on her own.

"If you can make out without it, you don't need it," she said.

Proud of the thousands of daffodils she has planted on her 91 acres on the right fork of Crummies Creek, she said in a few more days they will be in full bloom.

She touched each plant, carefully identifying the varieties, King Alfred, Mt. Hood and Ice Follies. "Would you like some?" she asked.
Daffodils, "King Alfred", "Mt. Hood", and "Ice Follies"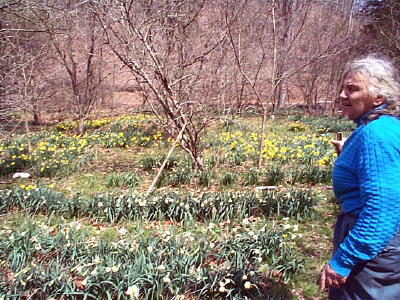 Crummies Creek near Bear Fork backwoods

Just before you get to her humble dwelling a sign advises "Back of Beyond."

Sometimes the stream floods and it comes around her house and washes through the flower fields.

"This place is really called Twin Hollows, you know."

Emma used to raise cows and pigs on her place which she purchased about 1945.

"I couldn't keep up with them, keeping the fence" and they would wander off into Bear Fork.

She would go after them, sometimes spending two or three days sleeping in the woods.

She was born in 1923 in this remote hollow which borders the Bear Fork backwoods.

Her father was a timber man, George Metz who married Effie Parsons.

She has eight siblings, none of which remained in the area.

"We lived at High Bank," a small spot along Crummies Creek.

"Dad helped build this road when he worked for the WPA."

She said her family operated a store at the Corder Bridge and at the "Y" at one time.

Emma received NYA machinist training at Eleanor Roosevelt's economic experiment at Arthurdale, Preston County.

NYA was a depression era program that brought skills and work to young people.

"They sent me to Springfield, Massachusetts during World War II to make parts."

She later went to Ohio and worked at Goodyear Aircraft for fifty to eight-five cents an hour, but has rarely been away from the creek these past 50 years.

She doesn't need electric or a telephone, but a wood stove heats her cabin. "I haven't listened to the radio for several years" and she doesn't have a mailbox.

"I turned down government help several times. They seemed to have too many rules signing up. People have been real good helping me, and I do need some help sometimes," she continued.

"I get around pretty slow on some days."

Still a gleam in her eye and a smile on her face as infrequent neighbors drive down the creek, she said "You know "God is truth.

A belief in God is a journey about which you understand a little."

Emma Metz is still on her journey, holding fast to beliefs fostered in early America, fiercely independent and connected to the earth.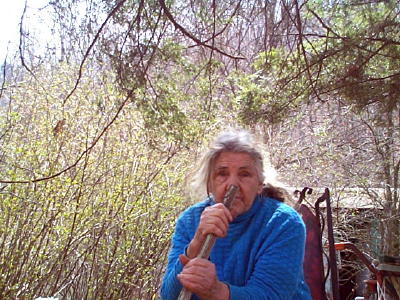 "you believe in God, it's a journey about which you understand a little"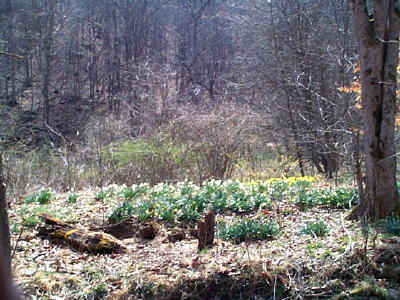 Fields of Emma's flowers along Crummies Creek

EDITORS NOTE: We have written many stories on the life and times of Emma Metz, all to be found under People, Humor and History.